Total Conquest APK 2.1.5a
Do you love wars and roman conquests? In Total Conquest APK you'll create your own city and army to defend against other players. Train units, go on campaigns and more!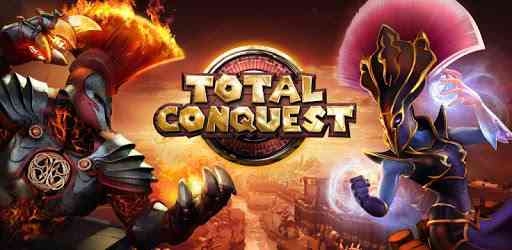 If you've played Clash of Clans, then you have some amazing tastes. In this game, you get to create a city and train warriors that would let you defend yourself against countless enemies. Similar to this game is Total Conquest which is a product of Gameloft SE. This is a battle strategy game where you can create a city from the ground up and surround yourself with towers, weapons, and troops! Don't let other players raid your city.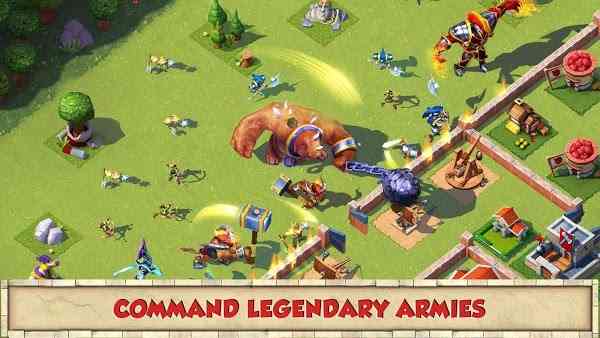 This game is for people who enjoy creating strategies in wars and seeing them take fruition. Create an unbeatable fortress around your city by surrounding it with towers, traps, walls, gates and units. Train up to 10 types of units and upgrade them as well. Take on different enemies and don't let anyone through! Protect your city and get incredible rewards.
Protect Your City
There are many fun war games that you can try playing right now. But the most popular ones are Clash of Clans and Total Conquest. Even though these games are similar, the latter features epic mythical units, legendary armies and roman empires. In here, you will create a city from the ground up and surround it with protection. Protect your base with numerous walls, traps, towers, gates and units.
Here, you can create a powerful city by implementing strategies that would let you win wars. Furthermore, you have the power to hire and train 10 different unit types with different roles each. There are long-range heroes, close-range ones, magicians and more. Battle through the campaign mode and invade many places using your mighty units. You can upgrade your units so they will gain more power and stats.
Overall, there are a lot of fun legions to join in or you can create one. Invite your Facebook friends and get reinforcements from your members. Conduct Legion wars to obtain essential rewards and increase your rankings. You will enjoy numerous strategies in this war game.
Highlights of Total Conquest APK
There have been many wars that have been fought in the history of the world. It's not a great thing to be in but if you want to participate in one, do so in Total Conquest.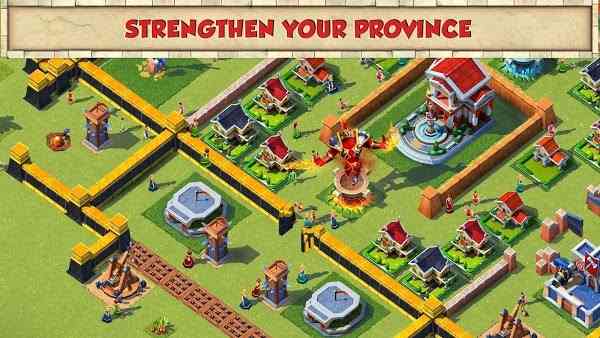 Create Your Kingdom – When it comes to wars, the romans were the ones who would dominate the world back then. Today, you must create your own city and keep off the Romans from invading! In Total Conquest, you can build your own city from scratch using your resources. Your city's layout will entirely depend on your strategies to keep the enemies out. Build numerous gates, traps, walls, and towers!
Then, you can also place numerous troops to keep the enemies at bay. Place them at strategic points and don't let a single one of them break through your defenses. Upgrade your units so they can take on stronger enemies in this game. You can also go for PVP and invade other player's kingdoms and loot rewards. In this game, it's the survival of the fittest.
Erect Buildings, Walls, Towers, Traps, Gates – To protect your city, you must build different buildings, walls, towers, traps and gates. Each of these costs' certain amounts of money so you must be wise in your decisions. You can focus on fortifying your walls or you can spend the majority of your money on units. The decision rests entirely on your hands. But keep in mind that you can fortify and edit your base as you see fit so you can last longer.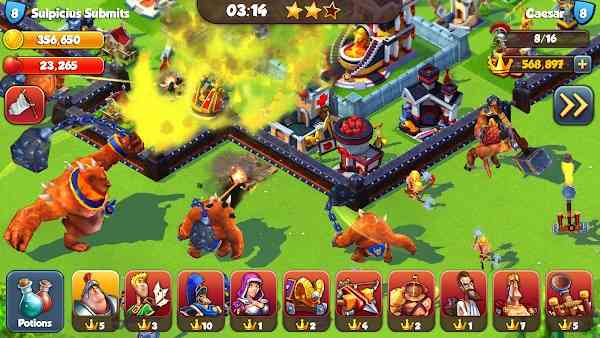 10 Unit Types – In Total Conquest, there are a total of 14 different units you can use. These include Legionario, Sagittarius, Praetorian, Speculator, Aries, Ballista, Gladiator, Medicus, Centurio, Onager, Centaur, Minotaur, Cyclops and Harpy. Each of these have different ranges and damages. They also have they own favorite targets so you should take note of all of this info. Aside from that, you must take into consideration their training time and housing cost.
Campaign and Real Battles – In this game, you can go on a lot of campaigns which is the story mode. Here, you will fight against a set of cities with unique layouts and elements. Each of these have their own units as well and the difficulty gradually increases as you complete them. Then, you can find a match as well and fight against plenty of real opponents!
Forge a Legion – You can also create or join a legion and participate in Legion Wars. Get more rewards as your Legion gets a higher ranking!
Total Conquest APK
Build a kingdom and protect it now in Total Conquest! Raid others and get plenty of loots in this game.