Rush Royale APK 19.1.59484
If you love tower defense games, try playing Rush Royale APK now. Enjoy this game today which allows you to collect different cards and protect your kingdom.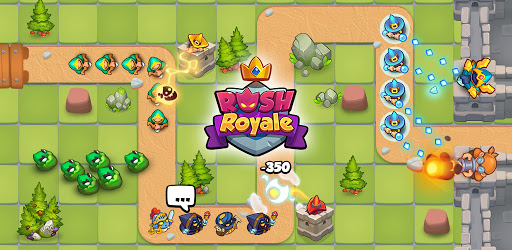 | | |
| --- | --- |
| Name | Rush Royale |
| Updated | |
| Compatible with | Android 4.4+ |
| Last version | 19.1.59484 |
| Size | 228.89 Mb |
| Category | Strategy |
| Developer | My.com B.V. |
| Price | Free |
| Google Play Link | com.my.defense |
Tower defense games are popular ones today that you can enjoy. There are many tower defense games today but it's always an offline game where you'll just play against computer enemies. There are so many fun and enjoyable tower defense games now but Rush Royale is one of the most unique today. Here, you can get a fun tower defense game where you can battle against other real players. Here, you can enjoy collecting different cards with unique powers and stats.
Published by My.com B.V., this game is a PVP game where you can build your army of heroes by collecting them. The design is insanely similar to Clash Royale down from the layout to the design. The only difference would be the mechanics of the game which allows you to get lucky with the cards at the start. Here, you will win if you can defend your kingdom against invaders! This is a fun tower defense game that lets you collect different cards now.
A Unique Tower Defense Game
There are so many mobile games that one can enjoy right now that it's only a question of what your favorite genre is. If you find tower defense to be a great one, then there are many fun games to play right now. But if you're tired of the same old tower defense where you're playing against computer foes, it's time to experience something different. Rush Royale is a unique tower defense game that's online which lets you compete with real players.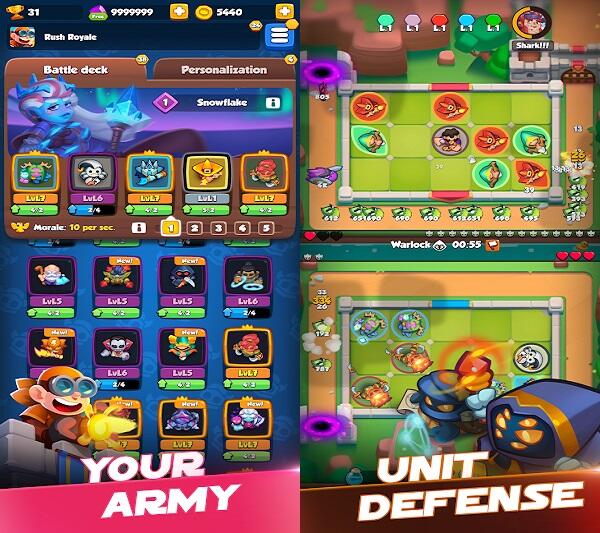 Here, you will not face with others directly but you'll need to fight against monsters as well. The game lets you randomly summon cards that you own which allows you to defend yourself against the monsters. The only way to win here is by defending your kingdom successfully and getting more scores. Or, you'll also win when the opponent can't defend their kingdom against the attackers. Here, you can collect many types of characters!
Unlock the best and the most powerful characters today. Here, you can freely place the heroes to the different available placeholders. Can you defend your kingdom against invaders?
Highlights of Rush Royale
There are a ton of tower defense games available right now. But if you're looking for a unique one, download Rush Royale now.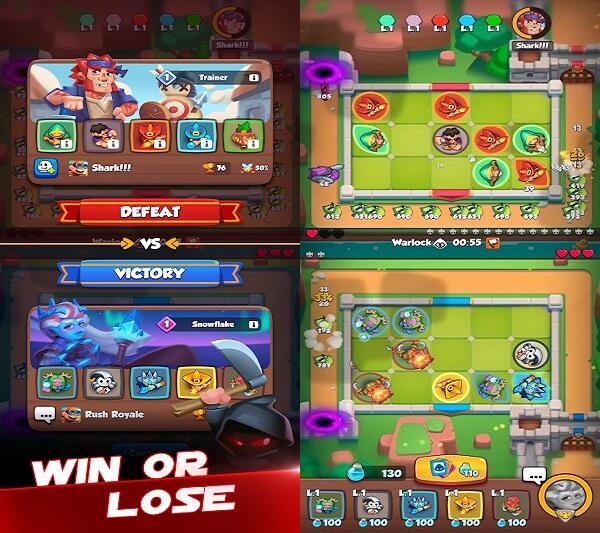 A Unique Tower Defense – In the age of advanced gaming, there are still many tower defense games today. These games are quite enjoyable since they offer quick fun for everyone. But since they're all the same, you can get tired quickly as the gameplay will not change much. So, if you're in the market for something more, try Rush Royale today! A tower defense game that presents unique mechanics, this game will rock your world! Prepare for a different type of tower defense now and enjoy.
This game is a PVP one where you can face against real players worldwide! The way this works is you'll both have your own playable area where you can play your heroes. Then, there will be invaders that will attack you and you'll need to hold out until the end. The first player that lets many invaders go inside their base will lose! The graphics and layout here is similar to Clash Royale but it has unique mechanics.
Collect Cards – In this game, you can collect many types of cards that will allow you to annihilate the invaders. You can collect many of them today to include in your army. They have different skills and stats today and you can enjoy different types of decks today. You can arrange your cards today but the game will randomly select a deck of cards at the start. Here, you can then make the best choices to try and protect your kingdom.
Battle Against Real Players – What allows this game to thrive away from others is the fact that it's online. Here, you'll fight with real players albeit not directly but it's still fun! It presents a whole new element for tower defense lovers so it's a win-win situation. Here, you can enjoy fighting against others 1v1 or playing in co-op mode.
Battle Passes – In this game, there are also free chests that you can collect which contains different cards that you can use to level up and unlock new characters. But you can also buy the Battle Pass to get lots of chests as you unlock certain stages.
Colorful Visuals and Design – If you've played Clash Royale before, then you'll notice a lot of similarities with this game. However, this one presents a unique strategy game that you can enjoy now!
Rush Royale APK
If you're craving for a unique game, download Rush Royale now and enjoy tower defense at its finest.