The Sword of Rhivenia APK 1.0.4
If you like playing interactive novels, try your hand at The Sword of Rhivenia APK and prove your worth as an heir to King Charles. Can you rule the kingdom? 
| | |
| --- | --- |
| Name | The Sword of Rhivenia |
| Updated | |
| Compatible with | Android 4.0+ |
| Last version | 1.0.4 |
| Size | 6 MB |
| Category | Tools |
| Developer | Hosted Games |
| Price | Free |
Download The Sword of Rhivenia APK – Interactive Novel
Interactive novels aren't a new genre as there have been many games in the past. One of the newest games to come out is The Sword of Rhivenia which features a fictional story with 750,000 words.
The story was written by a talented writer called Ayan Mammadli which feature an impressive story. You'll play the role of an heir as you play in an interactive novel.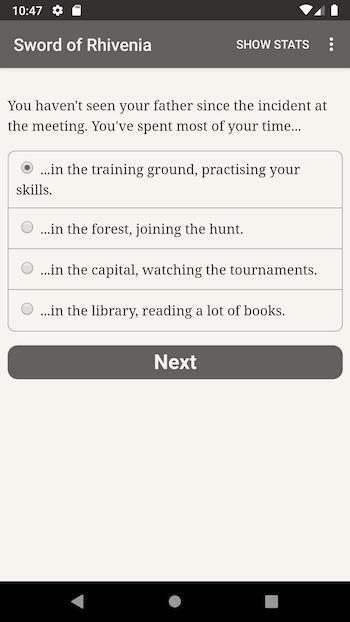 This game is a bit different from others since there are no texts, sound effects or any visual graphics. It's like reading a book but you'll get the chance to carve your own story.
Here, you will make your choices as the heir of King Charles as there are new enemies in the kingdom. You'll need to prove your worth to your siblings, father, and the entire kingdom. There are many battles to take place aside from the drama and funny scenes.
The Intricate Story of The Sword of Rhivenia
You may have read a lot of fiction books before and found the ending to be unsatisfactory. If so, then The Sword of Rhivenia can change your perception of books.
This is an interactive novel game which features you as the character. The war of the three brothers took place and Prince Charles was selected by the Sword to rule. His brothers tried to take the throne which was why he executed them after the war.
Now, the kingdom is living in peace but there are new enemies that threaten the people. You'll play as one of the heirs of King Charles as there are four children including you.
The story is a unique one with plenty of twists and turns that can happen. Ultimately, your choices will reflect what kind of heir you'll be. Will you be able to rule the kingdom? Can you overpower your siblings and prove your worth?
Why Play The Sword of Rhivenia?
For some people, the concept of an interactive novel might be boring. But the features of this game might prove you wrong.
Choose your destiny – Books are an integral part of our civilization. But a lot of book lovers would love to be able to play the main character for once. In The Sword of Rhivenia, you'll get that rare chance as you embark on an impressive journey.
In the game, you can choose from different actions that you can take in different moments. What you choose will influence your traits and ending. You'll be given four choices each time.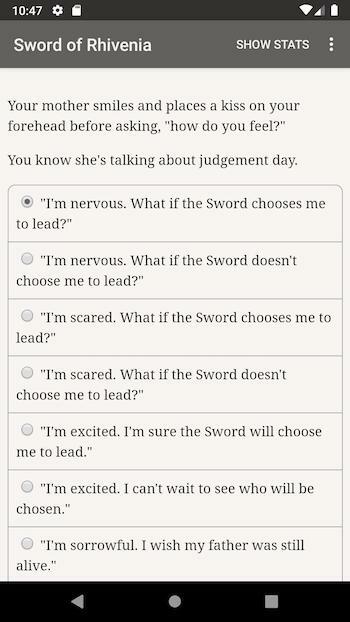 Customize your character – You might be playing an interactive novel, but you still get to customize your character. The game allows you to make customize your appearance by selecting your skin color, hair style, characteristics and more. You may not be able to see your character, but you can imagine it through the features displayed.
Nurture relationships – In the game you'll meet different characters that can become your allies and enemies. First, there are your three siblings who belong to the two wives of King Charles.
You're also an heir but you'll need to fight for your right to rule the throne. To do this, you'll need allies, but you'll also make enemies. Your choices will influence your relationships.
Entirely text-based – This game doesn't feature any animations or pictures to satisfy you. It operates just like a book, but the only difference is that you can choose your destiny. As such, you'll go through the story by tapping next and then selecting the action you can take. Once you select an action, you can't go back to undo it.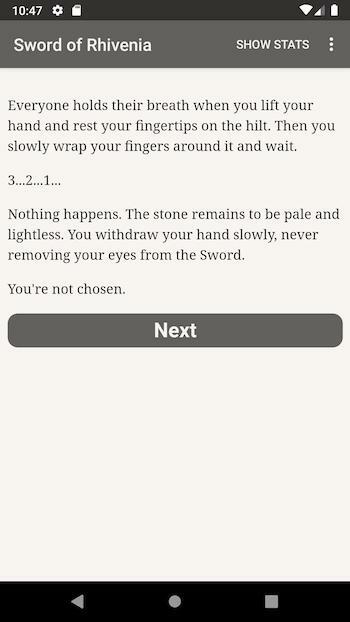 Stats – A unique feature of The Sword of Rhivenia are the stats. As you choose different actions, your stats will change. You can choose to be charming, serious, confident, and more.
Each stat has two opposite traits which you can lean into using percentages. For instance, you can be 70% merciful and 30% cruel. Here, you can't directly change your stats. It will change overtime with every decision that you make.
Why is The Sword of Rhivenia Unique?
Even though this game is just one of the many interactive novels out there, it has quite a lot of features. It's unique in the sense that it features many choices and a captivating story.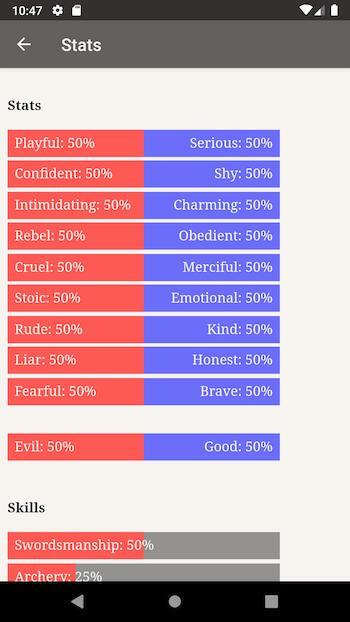 You can also play as a prince or a princess, get married or even start a family. You'll select whether you want to be chosen by the Sword or stay as one of the heirs.
Whatever you select, it affects the ending ultimately. Plus, you'll get to see your stats anytime you want.
Download The Sword of Rhivenia APK – latest version
If you want to rule a kingdom, you need to make a lot of hard choices! Do your bets now in The Sword of Rhivenia.