The Soul Stone War 2 APK 1.3.1
Download the Soul Stone War 2 APK latest version and engage in one of the most interactive fantasies ever. The game is text-based, designed to stir your imagination.
| | |
| --- | --- |
| Name | The Soul Stone War 2 |
| Updated | |
| Compatible with | Android 4.4+ |
| Last version | 1.3.1 |
| Size | 9 MB |
| Category | Strategy |
| Developer | Hosted Games INC |
| Price | Free |
In-Depth Analysis of the Soul Stone War 2
The Soul Stone War 2 is the continuation of the first version. It adds more features and characters, making the game highly immersive. Just like the originator, the game lacks sound systems. Its graphical elements are quite simplistic, allowing you to concentrate fully on the gameplay.
The game challenges you to overcome various difficult situations and fight for your future. It gives you the leeway to play as a male, female, or non-binary (you can be bisexual, gay, or straight). When you join the game, you will have an incredible journey of sacrifice and self-discovery.
Fortunately, you will have the power of the Gods run through your systems. You will use this power to fight for your course. Ensure that you find allies and gather as many soul stones as possible. The choices you make will determine the direction the gameplay takes.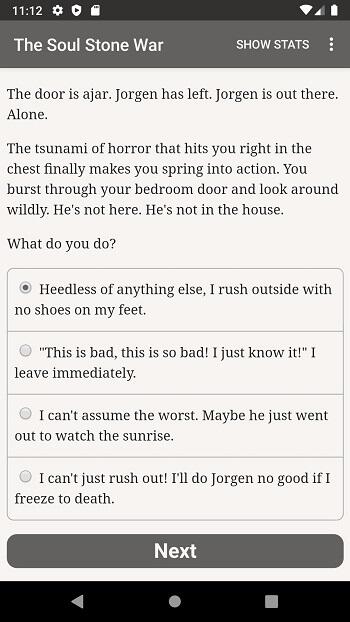 If you're ready for the adventure, you should download the Soul Stone War 2 for Android. The game is only 10M and works optimally with all Android 5.0+ devices.
A Catchy Background of the Soul Stone War 2
This is a game of self-discovery and heroism. It starts when you survive so many difficulties that come your way, courtesy of the Gods. However, you lost your companion to Manerkol. You have to infiltrate the palace and save him!
You have to fight for yourself and your peers. You were not born a hero; you take these challenges and become one.
Every step of your way will be riddled with disturbing experiences. You will be forced to make difficult decisions that will determine your future. These decisions will also determine the kind of person you become, and how others perceive you.
Are you going to resign to fate, or will you fight to better your world? The choice is yours to make.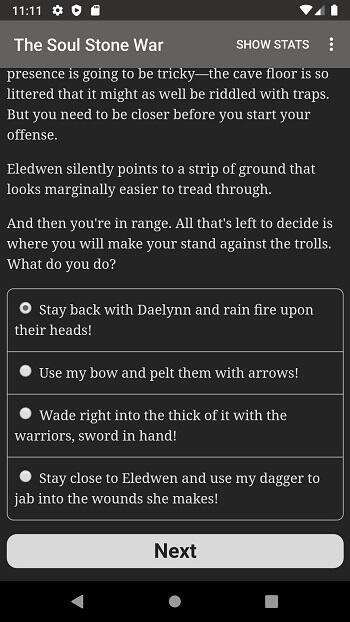 If you're ready to collect more souls and become a legend, do not hesitate to download the Soul of Stone War 2! You will meet people, fall in love, and explore the world!
An Immersive Gameplay
Soul Stone War 2 is one of the best text-based adventures out there. You will have to keep your eyes peeled, or you may miss opportunities. The game takes interactive fiction to the next level by including elements of role-playing games in its gameplay.
You have to form a party with your allies. You will need them to defeat the different enemies you meet. The game also has several bosses and events that require your skill and wit to win.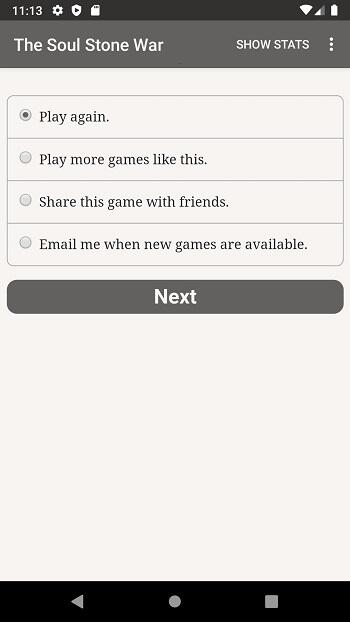 However, you shouldn't let all these features dampen your spirits. It is an enjoyable adventure puzzle-solving experience with incredible artwork and interesting lore. You will be able to choose your path in the game, giving you full control over the destiny of your character.
Unique Features of the Game
A 487,000- Word Interactive Fantasy. The game has a lot of characters, mysteries, and hidden secrets. It has no voiceovers nor sound effects to give your imagination room to breathe.
Highly Dynamic Gameplay. You will have to use all your skill to navigate the multiple quests in this world. With patience, you can maneuver through the tough terrain, find clues, and become the hero you were born to be.
A Detailed World Map. The world map is divided into regions, based on the character arcs in the story. You can explore all these regions to find quests and clues that will help you in your journey.
Diverse Backgrounds. The game comes with three backgrounds to choose from. You should choose one that suits you.
Choose Your Gender. The game allows you to play as a man, woman, or non-binary character. You can even opt to be bisexual, gay, or straight.


Realistic NPCs. The game allows you to interact with several interesting characters that will help you out on your journey. You can also romance them if they are available as female or male choices. There are even options for transsexual people.
Become a Choice for an All-Powerful Artifact. The Soul Stone assumes the form of eight superior weapons and six different gemstones. This will give you unmatched powers to advance your gameplay.
Distinct Characters and Fierce Battles
You will interact with several characters, including warriors, half-dragon women, mysterious antagonists, and a she-elf. You can form relations with any of the characters or enter into a polyamorous relationship with all of them.
Additionally, you can engage in heated battles with the foes you meet on your journey. These battles will require strategy, magic, and skill to win. Your party members can help you out in these fights, so use them to gain an advantage.
Download the Soul Stone War 2 APK for Android
If you want to experience phenomenal gameplay, you should get the Soul Stone War 2 APK latest version. This modded version has unlimited resources to help you progress faster in the game.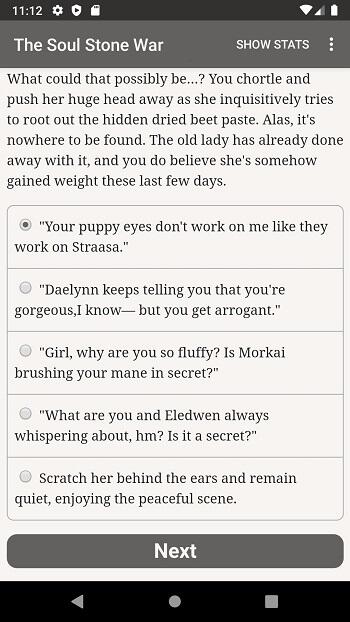 The Soul Stone War 2 APK download is also free of intrusive ads. As such, you can enjoy a full gaming experience without worrying about any ads.
Conclusion
If you are tired of playing the same classic games, you should try Soul Stone War 2 APK latest version. It comes with amazing features that will give you an unparalleled experience. Download it to explore a vast fantasy world right now!