Task Mate APK 1.0 (Beta)
Download Task Mate Apk Latest Version Free for Android. The app works perfectly fine on Android devices. Start earning with this app as you complete different tasks.
| | |
| --- | --- |
| Name | Task Mate |
| Updated | |
| Compatible with | Android 5.0+ |
| Last version | 1.0 |
| Size | 15 MB |
| Category | Tools |
| Developer | Google LLC |
| Price | Free |
Want to convert your mobile device money to a money-making device? People now use their phones for different things apart from communicating with people across the world. Although communication is key, you could do so many things with your phone to earn money. It all depends on the type of applications you download and install.
The world is rapidly changing, and there are currently new ways to earn money. You can now use mobile applications to achieve this, of which there are diverse options for you. One of these options is the Task Mate Apk, which is relatively new.
No one can ever get tired of making money, not even the richest man in the world. People are always in constant search of new opportunities. Therefore, you should grab hold of this one as soon as you can. The interesting thing is that you don't need much to get this apk file on your mobile device.
Google LLC is one of the largest companies in the world today, and it is the brain behind Task Mate. The company has made Task Mate available for free download on Google Play Store. Task Mate is also installable on any operating system. This is to ensure that so many users across the world can use it. Download Task Mate now to find out more.
With over 100 thousand installs, you can rest assured that Task Mate is worth downloading.
Want to know more about this app? Continue reading because you are about to make a life-changing decision by downloading Task Mate.
One thing you should know before you install this app is that it is only available to a few users. However, this is not a permanent thing, and it would be available to everyone pretty soon. Another vital thing is the referral code, which you must have before downloading Task Mate.
With these requirements, you can easily find nearby tasks, complete them, and start earning big. Payday is around the corner with this app, and you can easily cash out all your earnings. What are you waiting for?
Task Mate is a beta application, and it will give you access to different tasks, most of which are simple. These tasks are posted by business owners across the world. Task Mate will help you connect to the outside world as you find these tasks and complete them.
Are you wondering the type of tasks you'd find in Task Mate? It includes jobs like answering survey questions mostly determined by your preference. Another example is taking pictures of nearby structures like schools, restaurants, and more. You can also help people to translate languages on this app. What's certain is that there's something for you to complete and earn cool cash.
When you start using Task Mate, you'd see these tasks regularly. You can skip anyone you are not interested in. For the ones you are interested in, you can complete them anywhere and anytime.
You must be wondering how you'd get your payment from this app. This is not a thing to worry about because you'd get your money in your local currency. However, this is only for tasks that you complete accurately.
This app utilizes third-party payment platforms. Therefore, you'd need to register an e-wallet to your account. You can also use the payment partner that is provided by the app. Put a smile on your face by withdrawing your earnings in your local currency.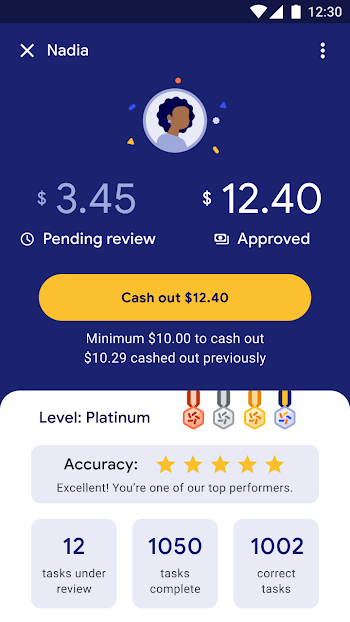 Don't sleep on this over; take action now and install Task Mate on your phone without thinking twice. There's so much more for you to learn about Task Mate. This is the main reason why you should download it.
Task Mate Apk Free Download - Latest version for Android
You have no reason to ignore this life-changing opportunity from Google LLC. Download the latest version of Task Mate to start completing tasks and earning money on your phone.