Strong Granny APK 3.2
Download Strong Granny APK – latest version – for Android and experience what it's like to be a strong grandma running away from the clinic and earning money!
Idle clicker games have recently exploded in the gaming industry. They seem to be the theme for most games published nowadays as they are quick, easy and enjoyable to play. For the developers, this means that they don't have to bother creating highly-complex gameplays and controls for games – they just create idle clicker games.
Strong Granny is one prime example of this genre. It's extremely simple yet so addictive! With over 100 thousand installs on Google Play alone, this game is sure to make your day better. Excited to know more? Read on!
A Simple Yet Addictive Game
Mobile games nowadays tend to have simpler controls and gameplay for the most part. We're seeing a trend here as simple games are the ones being downloaded the most. They're easy to play, quick, and simple addictive. Plus, you'll get rewarded with coins.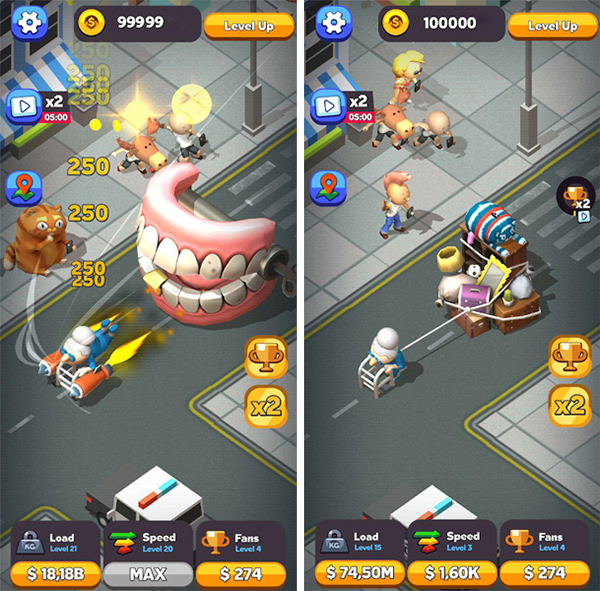 In Strong Granny, you have to run away from the clinic as people cheer you on and give you money. In this one, your character is a Strong Granny who can pull even grandpa in a donkey! You can use the electricity up bonus so granny can run faster. It's a funny and entertaining game that will surely keep you at the edge of the seat every time.
As you run faster, the crowd doubles and becomes your raving fans that are willing to give you money. Tap them and you can collect more coins so you can upgrade your walker. This will help you power up granny so she can run faster and become the strongest granny every! Ready to take on the challenge?
Features of Strong Granny
Even though Strong Granny may seem like a simple game at first, it actually has more than that. The game offers so much that you can't even expect. There are tons of way to be entertained by this game. Having said that, here are features:
Easy controls – Mobile games nowadays have easy controls mostly. However, not all of them are as easy to play as Strong Granny. This game literally just lets you tap the screen an you're all good! That's how easy to play this game is. You don't need to memorize any complex controls nor get accustomed to new ones. You just tap accordingly and you can play to your heart's content. How convenient is that?
Simplistic Gameplay – Along with the simplistic controls is the simple gameplay. Your character granny wants to escape from the clinic but even if she looks extremely old and fragile, she can definitely run. With the help of the people of course. It's up to you to choose what you want her to pull so people can be impressed and give coins to her. You'll then use these coins to upgrade her and make her run faster for more rewards. It can't get any simpler than that! You can get her a rocket as she pulls a tank! That's how hilariously entertaining this game can get!
Incredible Graphics – Although this game isn't offering a full 3D experience, it's still better than most games. The semi-flat 3D graphics is a feast for the eyes as your character pulls all things on her back non-stop. The objects, characters as well as the background are all incredibly well-designed to supplement the over-the-top entertainment this game offers. Everything you need to know is flashed on the screen such as the rewards, coins, trophies, levels, speed, load, fans, and more! The amount of detail is spot on as you can clearly see the efforts of the developers in making this game an enjoyable one for all. You'll also appreciate the effects of the objects as they are being used and pulled-up by the granny. Overall, the balance between the funny designs and simplistic display brings a harmonious blend of excitement and non-stop fun for the gamers.
Big Rewards – In Strong Granny, as you gain more speed by tapping her, you also gain more fans. This will allow you to earn more coins so you can power up Granny and make her pull all sorts of heavy objects. The goal of this game is simple – get more money to get more rewards! Spend your coins so you can change weights and enjoy the different heavy objects you can pull! It's all up to you on which objects you choose. Enjoy every object as you pull it and amaze the crowd to become your fans. What's even more amazing is that the game allows you to exchange your rublims for robux! 100 rublims is equivalent to 1 robux. It's better than nothing, right?
Interesting sounds – In any game, the sounds are one of the key aspects that makes it even more interesting and realistic. After all, you can't appreciate a game if you don't feel that it's enjoyable, right? In Strong Granny, they have the perfect sound effects for every situation there is! Even if you're pulling a heavy cat or a tank, the sounds effects are on point. The accompanying sounds also makes it even more exciting to play this game.
Strong Granny Tips
Even though this game is a simple idle-clicker, there are tons more complex moves you want to take note of. Here are some tips for beginners:
Click faster – In order to make granny faster, you need to tap her faster. This is the sure-fire way to earn more coins and to get more rewards so you can unlock more heavy objects.
Download an auto-clicker app – If you don't want to your fingers to get tired constantly tapping in the screen, you can always download an auto-clicker app. There are many available in the market and this lets you automatically tap the screen without physically doing it. Ingenious, right?
Strong Granny APK
Want to play Strong Granny but don't want to bother with ads every now and then? Download the fast speed, no ads now and be the strongest granny the world has ever seen!