SpongeBob: Krusty Cook-Off APK 5.4.4
Download Spongebob Krusty Cook Off APK – latest version – free for Android to join Spongebob and Co.to satisfy the hunger of starving fishes.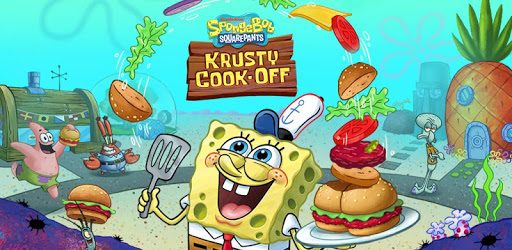 Bikini bottom is swarming with starving fishes. And it's up to you to join Spongebob and Co. to satisfy their hunger in Spongebob Krusty Cook Off APK.
Spongebob Krusty Cook Off APK – Best Bikini Bottom Food Experience
"Are you ready kids?" You better be, because all of your favorite faces from Bikini Bottom are here. This is – Spongebob Krusty Cook Off! And you can download the Spongebob Krusty Cook Off APK latest version for some cool perks.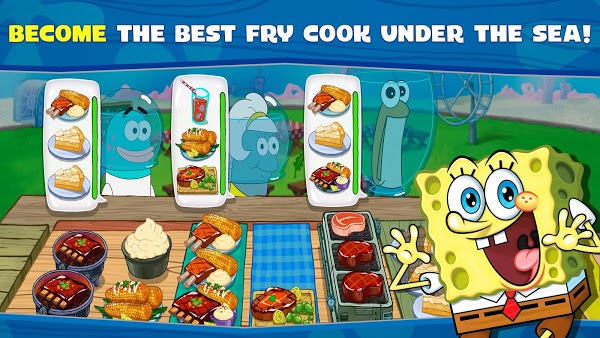 Here's everything you need to know, courtesy of Techbigs.com…
Time for a Quick Introduction to Spongebob Krust Cook Off
If you've ever played a cooking game or simulator, you'll pretty much know what to expect. Except, now there's a twist – Spongebob, Patrick, Sandy, Mt. Krabs and more familiar characters join in on the fun. That's the charm of Krusty Cook Off. Why would you play any old simulator when you can hang out with the cast of Spongebob Squarepants?
Gameplay wise
You would expect to serve krabby patties to your customers. However, that isn't the case. You're whipping up loads of different dishes for the hungry fishes. These include pancakes, bbq, and yes, even Krabby Patties.
Make sure to know your guests and serve them up as fast as possible. Because each customer will be on a timer. Additionally, with progression, orders will become more intricate and complex. But, nothing a sponge can't handle.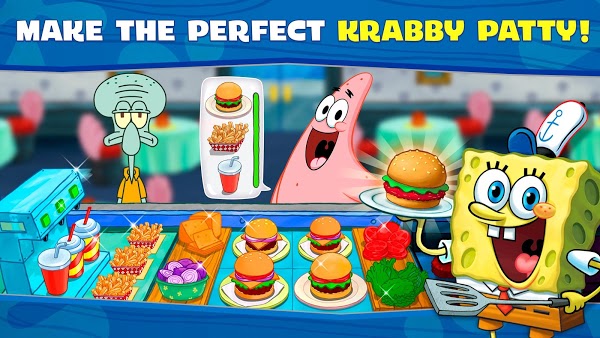 You'll also need to maintain your place in Spongebob Krust Cook-Off. The in-game currency will help you buy more items to increase your cash! You can spruce up your kitchen and add more equipment or food efficiency options.
You'll start at the iconic yellow goofball's Pineapple house where you'll be making pancakes. As you progress and improve, you'll move on to:
The Krusty Krab
Sandy's Dome
Even the Goo Lagoon!
Also, you'll also get cookies to keep your customers happy, if you take too long. Don't worry, there are on a timer. Eventually, you'll have enough cookies to satisfy the entire city! You can even use gems to speed up the timer. Watch a quick ad to get free gems!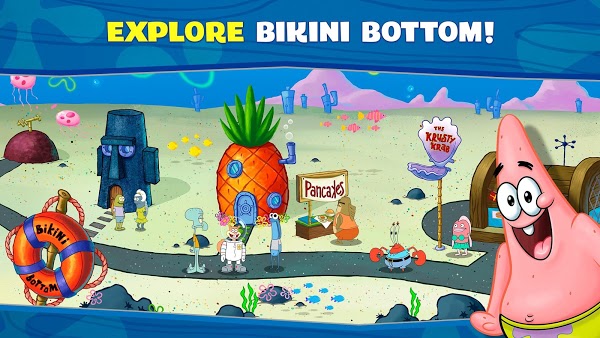 There are even achievements and leaderboards to add even more SPICE to your gameplay. Have a literal Cook-Off with your buddies to see who's the top dog (or fish…or sponge) in Bikini Bottom!
We don't want to spoil everything so you should definitely grab the game for yourself to check it out.
As for the visuals…
Everything is what you would expect to see from Spongebob. All the sea critters look how they should. We feel like a part of the show, just from playing a bit too long. How's that for immersion?
To add even more FLARE to Bikini Bottom, you can dress up your favorite characters to keep yourself amused. Get gems and lots of money to buy yourself every set available.
Do You Want More?
Ultimately, there are so many things to do in the game, and you'll rack up even more benefits. Like with the Spongebob Krusty Cook Off APK unlimited money and gems version!
With that, you will be all set for success in the food industry. So, stop wasting time! Grab your spatula, preheat your grill, and get to cooking! There so much money to be made in the deep blue sea. Specifically, in a pineapple under the sea. Or man your stations at the best burger joint in all of Bikini Bottom.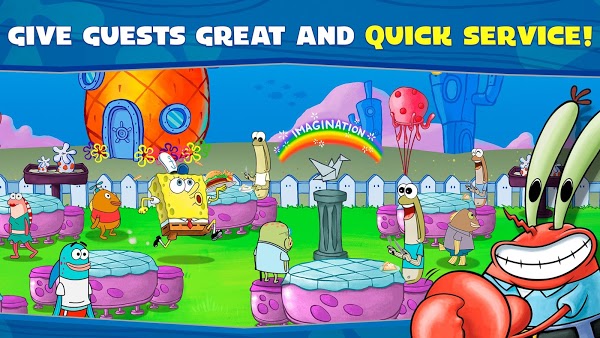 Regardless, there are loads of fun to be had in the restaurant simulator / food simulator game inspired by one of the most famous cartoons.
We grew up loving Spongebob Squarepants and can honeslty say, we had a blast playing the Spongebob Krusty Cook Off APK. Especially when we're supplied with unlimited gems and money.
Contrary to belief, any old or new fans, and even those unfamiliar with Spongebob can have fun playing this game.
The verdict – whether from the Google Play Store, or the Apk version, we give Spongebob Krusty Cook Off a solid 4/5 Stars ★★★★!