SoundCloud APK 2023.09.29-release
Download SoundCloud APK – Latest version – Free for Android and stream unlimited music and upload your own! Connect with like-minded people and create a brand!
Music has always been around. It connects people and allows us to express ourselves, emotions and thoughts. It's an artform that has existed for many centuries and it will continue to do so for many more. But during the past decades, technology has changed how we listen to music. Now, we no longer need big bulky hardware when we can stream music through our phones. CDs are also becoming obsolete as more and more songs are becoming digital.
Music streaming apps like SoundCloud makes all this possible. This popular music streaming app has over 100 million downloads in Google Play Store alone! But this isn't just your normal streaming service. Countless artists have been discovered just by uploading their original tracks in SoundCloud! It's a platform for music listeners and aspiring artists to commune! This is where music transcends all barriers and limitations. Read on to learn more!
What is SoundCloud?
Music is more than just music for most. It's a way to express our emotions, feelings and thoughts that mere words can't. It has always been this way ever since. We humans are big music lovers. We've used ancient instruments that allowed us to create symphonies and epic orchestras. Now, almost all music exists digitally. With just one tap, we can listen to our favorite tracks anytime and anywhere.
SoundCloud is a music streaming app that has over 100 million downloads in Google Play Store. This popular app is similar to other apps such as Napster, Spotify, iTunes, Mixcloud and more. At its core, you can listen to millions of tracks thanks to its huge library of diverse content. You can discover millions of emerging and established artists, DJs and podcasters. You can also get suggested tracks based on your music taste. Everything there is to do about music, SoundCloud has it!
You can also create unlimited playlists, find new music and connect with others. But perhaps the most defining feature that aspiring artists are looking forward to in SoundCloud is the ability to upload their songs. SoundCloud makes it easy to upload your original tracks for millions of people to discover. You can also connect with fellow artists and your listeners! Overall, this app makes listening to music easier thanks to its streaming service and other features. Read on below to know more!
Features of SoundCloud
SoundCloud isn't just your normal music streaming app, it has so much more in store for you! In this app, you can do a lot of things! Here are its features: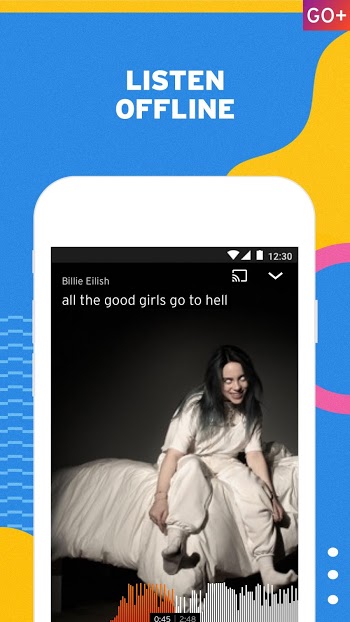 Huge library of diverse content – SoundCloud is the biggest music and audio streaming app with over 200 million tracks! Aside from that, it also features 20 million plus artists from all over the world. This makes SoundCloud one of the best music streaming platform to have especially if you're a music lover. This means that you can listen to whatever genre you're into: pop, rap, electronic, rock, hip-hop, classical, jazz, and podcasts. There are also sub-genres within these communities so you can get as many songs as you want. Whatever song you're looking for, there's a high chance that you'll find it in SoundCloud!
Connect with your community – SoundCloud isn't just your normal music streaming app, it also allows users to upload their own original tracks! This is good news for aspiring artists worldwide because now, your chances of being recognized is multiplied! This is because SoundCloud has millions of listeners monthly so you can maximize the platform to your advantage. After uploading your songs, you can also connect with fellow artists and your listeners. SoundCloud allows artists and listeners to mesh together to bring music to new heights! Think of this as a social media platform but for all things music! This means you can listen to new music from emerging artists within seconds of them uploading! This will also allow fellow artists to connect with fans and give them incentive for listening to their music. Now, the world is much smaller thanks to SoundCloud!
Support the artists – Thanks to SoundCloud, you no longer need to make your way through stardom through music labels. Countless artists today were discovered through SoundCloud. And that was possible thanks to the fans that believed in them through the platform. If you're an aspiring artist, you can make a living thanks to this platform. In SoundCloud, fans can show their appreciation by liking, playing, commenting and reposting your content! Every purchase and listen puts more money to the artists you love so they can continue to provide you with more quality soundtracks. That's how this awesome platform works!
Offline download – If you purchase the premium plan in SoundCloud, you can download songs for offline consumption! This means that you don't need constant internet connection just to listen to your favorite tracks! Just download them and you'll be able to listen anywhere and anytime you like.
High-quality audio – All the tracks in SoundCloud are guaranteed to have the highest possible audio quality. SoundCloud ensures that you will only listen to audio that will resonate with you and your standards. This is part of SoundCloud commitment to making it one of the top music streaming platforms in the world!
Playlists – If you love some songs so much, why not create a playlist for it? But why stop there when you can virtually create a playlist for every mood? Feeling down? Create a collection of sad songs you can listen to! Feeling upbeat? Add some happy songs in your playlist now and jam to the beat! Whatever you need, you can create thanks to SoundCloud. Now your favorite tracks will always be available to you whenever you need to listen to them.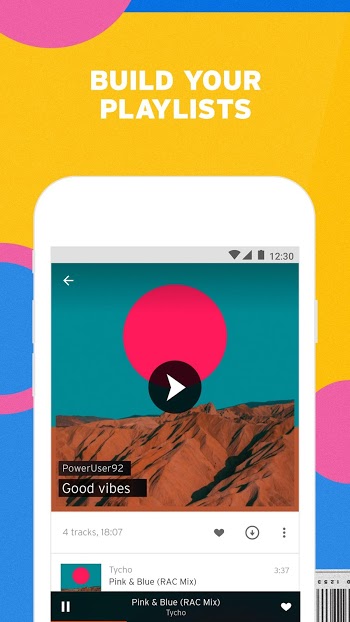 Clean interface – SoundCloud makes it easy for the user and the artists to listen and upload music. Thanks to the clean and minimal interface of SoundCloud, there's not much clutter around so you can focus on music. But the app also ensures that whatever you need, you can access within a few taps.
Download SoundCloud Premium APK – Latest version