Slap That APK 1.1.0
Download Slap That APK – latest version – for Android to take part in the most epic slapping contest ever and become the undisputed king of slapping.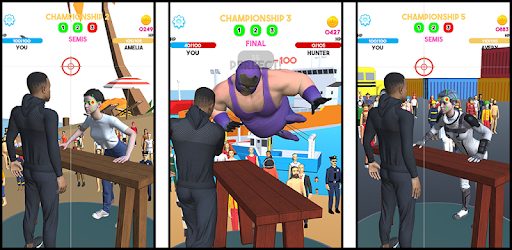 Looking to slap someone in the face? Download Slap That APK for Android to get the most epic slapping game you've ever seen. With world-class graphics and awesome slapping mechanics, this is the last slapping game you'll ever need to download!
If you want something simple and fun to relieve stress, then this is the perfect game for you. Imagine that the person you're slapping is your boss, your neighbor, and annoying colleague, or the President, and slap away!
The aim of the game is the KO your opponent by slapping them in the face – but be careful, they've got the same aim and you're their target. As you progress through the game, you'll be faced with increasingly stronger opponents and you'll have to slap your way through them all. Just make sure that you don't get slapped out in the process!
Epic slapping fun
Believe it or not, but this game is actually based on a real sporting competition. Competitive slapping began in Russia, as far as we know, and a quick YouTube search will reveal some hilarious videos of massive giants slapping people unconscious – all in the name of good sport.
If you're curious about the sport, or just want to experience how hilarious it is, but you're not keen on travelling to Russia to see it, then this is the perfect game for you. Admittedly, this will probably never become an Olympic sport, but all the same, we feel that it deserves its place in the world.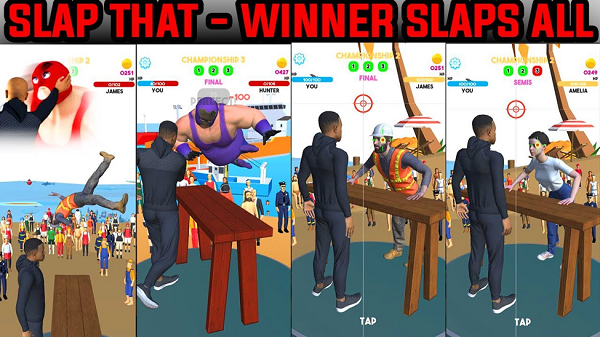 With Slap That APK, you can enjoy competitive slapping and not have to walk away with a red cheek! You get to become the slapping champion, whether you're personally good at throwing slaps or not. Fight against dedicated opponents and cement your place in history – and probably a Vice documentary – as the King of Slapping.
Other features of Slap That APK
Aside from slapping people out of their chair, this game has some awesome features that will keep you coming back for more. Here are some of the other attributes that make it worth your time.
Awesome graphics: This isn't the only slapping game out there for Android, but it is without a doubt the best looking one. The graphics are surprisingly good – almost to console level. This makes slapping your opponents even more realistic and fun. This is slapping to a whole new level!
Incoming features: The developers have announced a mysterious new feature that sounds as though it will allow you to paste someone else's face on your opponent, meaning that you can actually slap them and not just the AI character! What an awesome way to vent your hatred of your ex, boss, or the guy who works in the DMV.
Simple but fun: The game's mechanics really don't leave too much for skill – you just slap and hope that you hit. There is some niche to it – you will get better at landing your hits the more you play – but for the most part, it's easy enough that anyone could pick it up and play. Be careful, though – if you miss too many hits then your opponent will land a solid slap on you and you'll get knocked out.
Slap That APK - Free upgrade, No ads
If you're ready to join in the action, then download the Slap That APK game now and charge up your hand to send your opponents flying. It's super addictive and fun, so let's get into it!