SIERRA 7 APK 0.0.318
Download SIERRA 7 - Tactical Shooter APK - latest version - on Android to shoot your way through hardened opponents and save people from terrorists and thugs.
Developed by SHD Games – the same guys who brought you LONEWOLF – this first-person shooter game is designed to keep you entertained throughout the whole gameplay. Comprised of a 12-hour long single-player campaign, the game puts you against militiamen and rebels who are willing to die for their cause.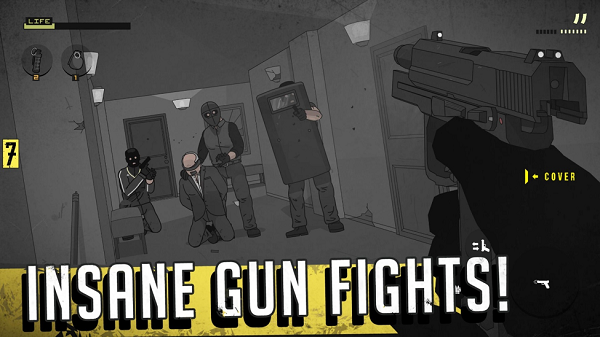 In SIERRA 7 – Tactical Shooter, you'll have to face off against determined enemies who are not about to retreat and who will do anything to get their job done. Their job involves harming innocent people and seeing the downfall of democracy and individual liberty – it's your mission to make sure that they don't succeed.
SIERRA 7 gameplay
The game features a minimalist design, which puts more emphasis on the gameplay itself and brings you back to those classic arcade-style games of the past. This is a refreshing break from the ultra-realistic Call of Duty-style games which have dominated the market for some time now.
Aside from realistic gameplay and entertaining graphics, you also get the benefit of ultra-realistic gun sounds and motion physics, which adds to the challenge of the game while also making it seem more legit. Levels are designed to incorporate realistic situations which allows you to take advantage of these features more vividly.
The weapons featured throughout SIERRA 7 are based on real-world firearms such as the AK-47, the AR-15, and the MP4. There is a wide variety of firearms to choose from, and of course, many of your enemies will be wielding AK-47s… what kind of international villain lacks an AK?
Global missions. Travel around the world fighting determined villains in a variety of environments and situations. Your missions will focus on stopping criminal organizations with ties to dangerous militias – it's not just a few bad eggs, these guys are a genuine threat to global peace and order.
Save hostages. Don't let the thugs execute innocent hostages and bystanders – do everything that you can to protect the innocent and take out the criminals.
How to play SIERRA 7
The game is a little different to the desktop flash game that it's based on. First of all, the graphics are much better than they were in the flash game, although that is to be expected. Due to the mobile gameplay, you'll have slightly a tweaked experience which allows you to focus more on the shooting and less on running around the map.
Automatic movement. You don't have to worry about getting around in SIERRA 7. You'll automatically run around the map and stop when it's time for another shootout. This means that you don't have to waste time and energy running around trying to find your way to the next part of the mission – you simply clear the room when it's time to do business. You can, of course, duck for cover when necessary, but this is the extent of the movement that you'll be doing in the game.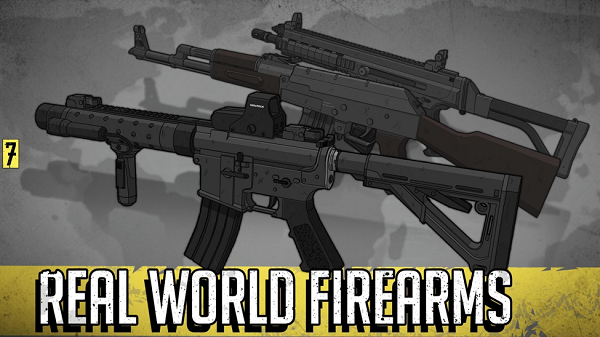 13 missions. There are 13 missions to shoot your way through in total. Each one lasts around 40-minutes or so. The game is meant to last 12-hours in total, although we haven't played through the whole thing yet, so we can't say for sure. Either way, there are plenty of shootouts to get involved in throughout the game.
38 guns. On top of the hours of gameplay, there are a whopping 38 firearms to choose from. This means that there is something for everyone – even the choosiest players. Each firearm offers its own unique benefits – for example, the shotgun is better for close-range, while the assault rifle is better at medium to long-range.
On top of guns, there's also a wide range of armor, vests, belts, and other bits of kit to help you progress through the missions. These will allow you to take more damage, carry more ammo, and so on. They can be unlocked with the money that you earn from your missions. It's certainly worth kitting yourself out with some body armor and so on to ensure that you're not taken out in a difficult mission.
Different environments. Your shootouts will take you on a journey through a variety of different environments, including tight apartment blocks and wide open spaces like fields and forests. This will challenge the player in a variety of ways and test your skills in combat. Make sure that you're always paying attention to cover and that you use the right weapon for each stage of the game – a shotgun will work much more effectively in an apartment block than in a forest!
SIERRA 7 Tactical Shooter
If you want to take your game to the next level, then download the Unlimited money for SIERRA 7 to unlock all the best weapons and vests right from the beginning of the game. Make your play easier and dominate in the field!