Review Gaming APK 1.1.3
Download Review Gaming APK latest version and get game reviews, tips, strategies, and tricks. The app has an intuitive user interface for guaranteed ease of use.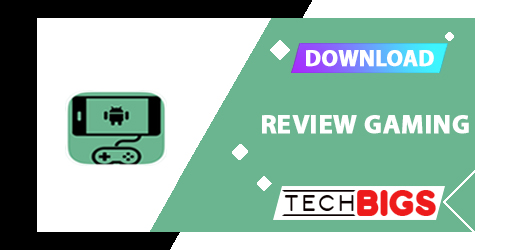 | | |
| --- | --- |
| Name | Review Gaming |
| Updated | |
| Compatible with | Android 5.0 + |
| Last version | 1.1.3 |
| Size | 11 MB |
| Category | Entertainment |
| Developer | AGAMOB |
| Price | Free |
In-Depth Analysis of Review Gaming APK
The Gaming APK Review app is a highly informative app that brings you all the updates about various games. It offers reviews, guides, and tricks to progress through gameplays easier.
All reviews are compiled by gaming experts. As such, you will get tested and proven gaming tips. You can be sure that implementing all the tricks will be revolutionary. It will turn your gaming experience around in no time!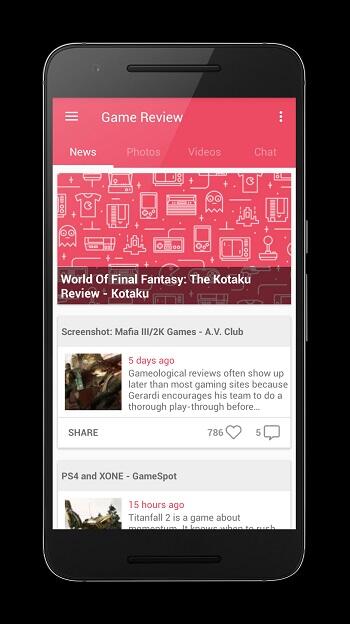 Even better, the app is relatively lightweight. It is optimized to work optimally with most android devices. It will not cause any lags or buffering problems to your phone.
How Game Reviews App Works
This is an all-inclusive app offering reviews, guides, and strategies about various games. The app also features trending games, ensuring that you do not miss out on anything new.
When you download the app, you will find all the available game reviews neatly organized under their respective category. The categories are arranged according to date, enabling you to pick your desired review easily.
Additionally, the app comes with an intuitive user interface that is easy to use. Just select your game of choice and read the guide to understand how it works best for you.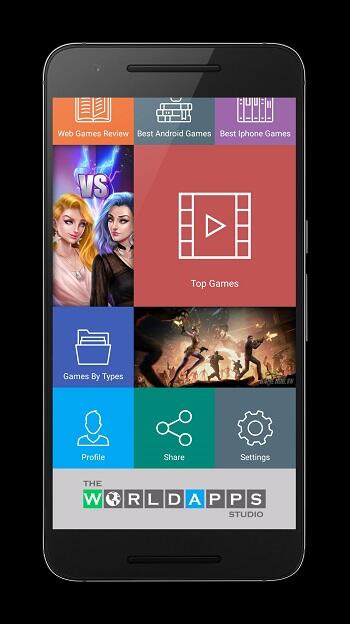 All the reviews you get on this app are compiled from top-rated channels, including Gamesutra, N4G, GotGame, GiantBomb, Kotaku, ShackNews, EpicBattleAxe, and Destructoid. As such, you are assured of tested and trusted reviews that will give you rich information about various games.
Well-Thought Out Game Classification
The app offers a properly- classified list of games. As such, it will be easier for users to find what they are looking for.
The types of games available in this app include RPGs, strategy games, open-world games, racing simulators, sandbox, FPS shooter games, fighting action titles, and more.
When you click on your favorite category, you will find all the games sorted by popularity. You can then read various gaming strategies and tips to ensure that you progress in the game quickly.
Reliable and Fact-Based Reviews
The app offers well-researched reviews that are informative and reliable. The reviewers ensure that you understand the game before offering any specific tips.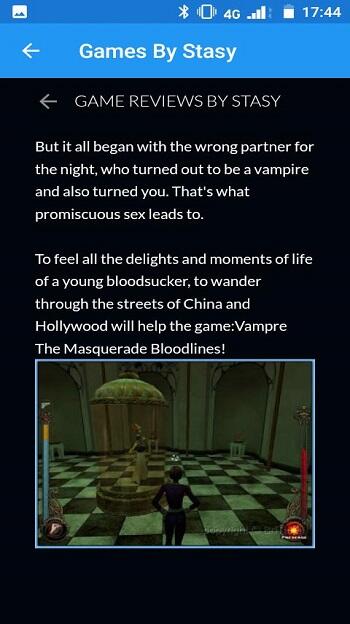 You will get in-depth information about various games when you read the reviews on this app. You can even read the pros and cons of each game. This will allow you to make an informed decision before downloading any game on your phone.
This app also offers in-depth tips that are reliable. Professional gamers test these tips before they are released. As such, they can help you progress through tough levels or achieve optimum performance when playing the games under review.
Furthermore, you will be introduced to characters and gameplay in the games. This will ensure that you do not feel lost when playing a new game.
It even incorporates professionals such as Game Informer, GamePro, Nintendo Power, Magazinesgame, Electronic Gaming Monthly, Retro Gamer, Games Master, and GameFan.
Unique Features of Review Gaming APK Download
Detailed Introduction to Each Game
The app offers you a unique opportunity to read detailed game reviews. As such, you will understand the game better and have an easy time navigating through it. By the time you finish reading the introduction, you will have a good idea of what you should expect from the game.
You will learn more about the storyline and gameplay so that you can decide whether or not to download it on your phone. It even offers in-depth details such as screen resolution, graphics quality, controls, and music of a particular game together with a concise description. This means that you will find the game you want easily and quickly.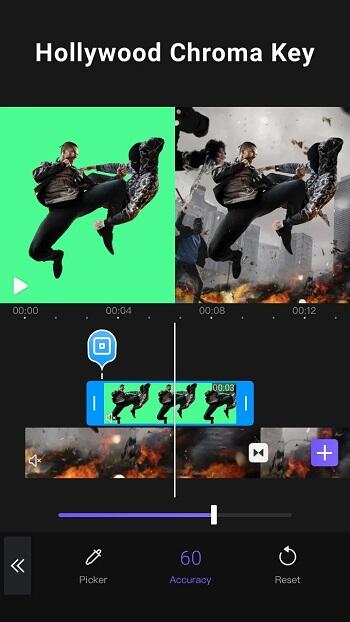 Detailed Tips on How to Play Each Game
The app offers detailed tips to ensure that you do not feel lost in the game. It even comes with guides on how to defeat enemies, unlock levels, reach new heights, and overcome various challenges in your favorite game.
Full Guides on How to Master a Game
The app also provides guides that show the best techniques and strategies to use when playing a particular game. You can read these guides in a step-by-step manner, which will enable you to learn more about the game. As such, this is an important tool for gamers who are struggling with their favorite games.
In addition, you can chat with other gamers who have downloaded the app on their phone. This will allow you to share strategies and gaming tips as well as gain insight from people who have been playing various games for a long time.
The app allows you to get the latest information and trends regarding your favorite game. It also updates gamers on where they can buy new games that are not yet available in online gaming shops or offline gaming centers near them.
Additionally, you can access a guide based on your expertise. For example, a Beginners Guide, Intermediate Guide, and Advanced Guide are available. This will allow you to play the game according to your level of expertise.
Download Review Gaming APK for Android
The app is easy to download and use. First, search for an ideal third-party website that offers free APK downloads. Second, you should find the icon for 'Install' and tap on it to begin the process.
Once you are done, you can open the app icon and read interesting game reviews, get handy tips on how to improve your gaming skills, share your opinions with fellow gamers in chat rooms, and even access demos.
Conclusion
As a gamer, you deserve detailed and reliable tips on how to access the best games. To get this information, you should download Review Gaming APK. This will help you make an informed decision while buying or playing a new game.