Red Ball 4 APK 1.07.05
Download Red Ball 4 APK latest version and maneuver through tricky traps and difficult challenges. You must defeat all monsters & bosses and save the world!
In-Depth Details about Red Ball 4 APK
Red Ball 4 APK is an exciting adventure game offered by FDG Entertainment GmbH & Co.KG. It has a simple gameplay that requires you to guide a red ball as it rolls, jumps, and bounces its way to the finish line.
However, the ride will not be all smooth! You will have to face many obstacles and enemies along the way, all while trying to collect as many stars as possible.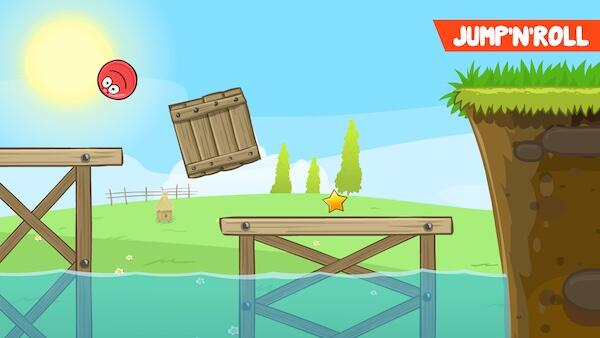 In some instances, you will be locked out of the level until you find and collect a specific key. No need to worry though, as the game provides you with plenty of hints along the way.
Overall, you can expect a thrilling and challenging experience with Red Ball 4 APK for Android! It is only 53MB and ideal for any Android 4.4+ device.
A Fun-Filled Gameplay
What makes Red Ball 4 APK so engaging is its unique gameplay. While the premise may be simple enough, the game does a great job of gradually increasing the difficulty level.
This ensures that you are always kept on your toes and that there is a good sense of progression as you make your way through the different levels.
One of the key features of the game is the use of physics. This is evident from the way the red ball moves and interacts with the different elements in the environment.
For instance, you must take into account the speed and trajectory of the ball when making jumps. The same goes for when you are trying to avoid traps or enemies.
This makes the gameplay both challenging and satisfying as you learn to master the different mechanics.
There is also a good sense of variety in the levels. While some may focus more on platforming, others may require you to solve puzzles or defeat enemies. This helps to keep things fresh and prevents the game from becoming too repetitive.
In terms of graphics, Red Ball 4 APK is colorful and cartoonish. This fits in well with the overall tone of the game and ensures that it remains suitable for all ages. The sound design is also well done and helps to create an immersive gaming experience.
More than 75 Levels!
This game was designed to ensure that you never get bored! In total, there are more than 75 levels for you to complete.
Each level presents its challenges and requires you to think outside the box to progress. This is further compounded by the fact that some levels are locked until you collect a specific number of stars.
Stars are earned by completing levels or by finding them hidden in secret areas. This provides an incentive to go back and replay levels to get a perfect score.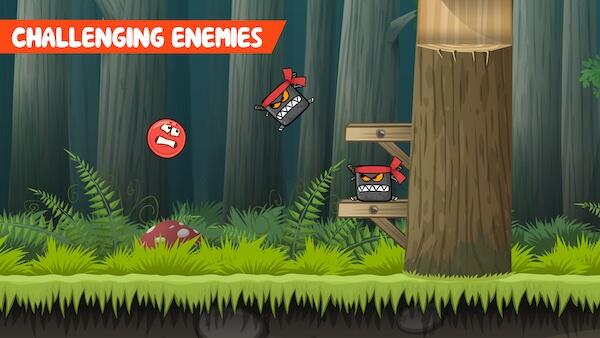 The level design is also impressive. There is a good mix of easy, medium, and hard levels. This ensures that players of all skill levels can find something to enjoy.
In addition, the developers have done a great job of ensuring that the levels are replayable. This is thanks to the use of procedurally generated elements. This means that no two playthroughs will be the same, providing a unique experience each time.
Epic Boss Battles!
Besides the regular platforming levels, Red Ball 4 APK also features several boss battles. These are usually more challenging and require you to have a good understanding of the mechanics.
The boss battles are also well designed and provide a good sense of progression. You will need to learn the different attack patterns and find the right moment to strike.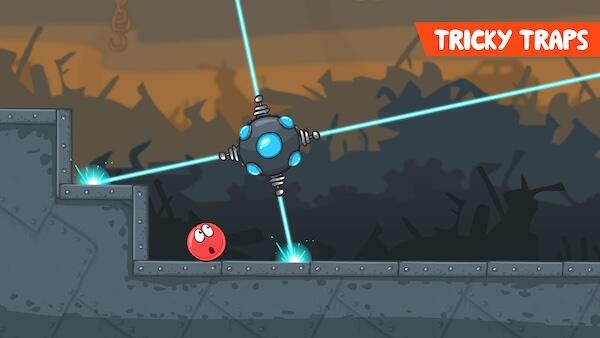 Defeating a boss usually results in a dramatic cut scene. These help to add to the overall story and provide some much-needed context.
Additionally, these levels have incredible rewards! You will get the chance to collect new skins for the red ball as well as other power-ups. You can use them in future playthroughs and make the game even more enjoyable.
Other Unique Features of Red Ball 4 APK
Cloud Support. This game comes with cloud support. This means that you can pick up where you left off on another device. This is incredibly convenient and ensures that you never lose your progress.
HID Controller Support. Red Ball 4 also supports HID controllers. This means that you can connect a physical controller and play the game with greater precision. You can also use this to play the game on a TV if you have the necessary hardware.
Family-Friendly. This game is suitable for all ages. The graphics are colorful and cartoonish. The gameplay is also easy to pick up but challenging to master. This makes it ideal for family gaming sessions.
Groovy Soundtrack. The game features an excellent soundtrack. The music is upbeat and fits in well with the overall tone of the game. You can also choose to listen to your music if you prefer.
Simple Graphics. The graphics are deliberately simple. This ensures that the game can run on a wide range of devices. It is lightweight (53MB) and does not take up much space on your device.
Lots of Enemies & Tricky Traps! You will need to use all of your platforming skills to overcome the many enemies and traps that you will encounter. Some levels also have secret areas for you to find.
Affordable In-App Purchases. The game features some affordable in-app purchases ($1.99). These include new skins for the red ball and other power-ups. They are not necessary to progress but can help to make the game more enjoyable.
Conclusion
Red Ball 4 is an excellent platformer with tons of content. You will need to use all of your skills to overcome the game's many challenges. The MOD features will help you to progress through the game more easily.