Rage Road APK 1.3.20
Download Rage Road APK – latest version – free for Android to take out the other hitmen from the back of your truck. Shoot cars, helicopters, missiles, and more.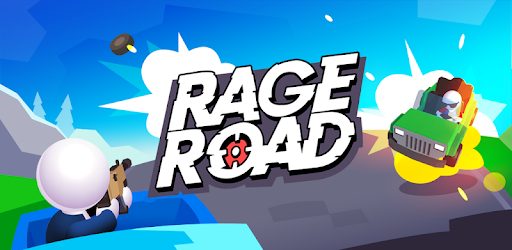 | | |
| --- | --- |
| Name | Rage Road |
| Updated | |
| Compatible with | Android 5.0+ |
| Last version | 1.3.20 |
| Size | 95.04 Mb |
| Category | Action |
| Developer | SayGames |
| Price | Free |
| Google Play Link | com.rage.road |
Take out the other bald hitmen with your assault rifle from the back of a pickup truck. Download Rage Road APK to make the ultimate getaway and shoot at all the other baldies who are chasing you and trying to kill you.
Some games are better left simple. Rage Road APK is the perfect simple game. All you have to do is shoot everything that moves behind you. From cars with guys shooting out the window to helicopters firing guided missiles at you, there's a lot to shoot in Rage Road APK.
Point 'n' Shoot
This game is very simple, as we've already mentioned. You literally just go through levels shooting all the bad guys who are tailing you. It might sound repetitive, but honestly, it's a lot of fun. The levels get more challenging as different vehicles and more determined hitmen attack you.
Shoot out the tires, or aim for the driver, or just riddle the vehicle with so many bullets that it explodes. There are trucks, quads, bikes, helicopters, jeeps, and more. You'll have some enemies that are quicker than others, but all of them suffer from acute male pattern hair loss – that is consistent throughout the game, much as it is in life.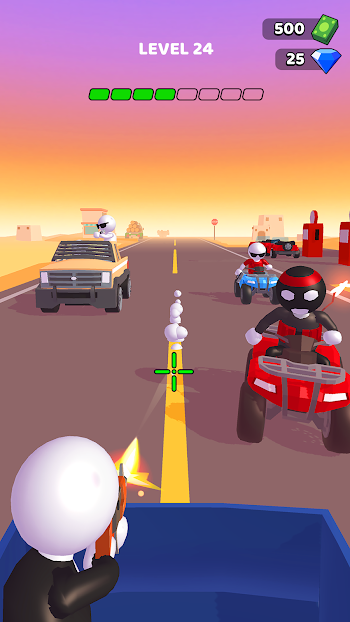 You don't control the truck, so you're free to focus all of your attention on the shooting. It's like one big getaway from God only knows what kind of hitman job. This simple dynamic makes the game seriously fun and addicting.
There are also boss fights that will really put your skills to the test. Due to these, you'll need to be extra careful when choosing your weapon and preserving your health.
Tips for playing Rage Road APK
While the game is simple, there are some pro tips that will help you to get a better score when playing it. Here they are.
Choose your weapons wisely
There are lots of guns to choose from in Rage Road APK. Some of them are more powerful than others, while some will have a larger magazine or a faster rate of fire. On top of that, some of them take longer than others to reload.
You want a weapon that is powerful and quick to reload so that you can make precise shots and not get stuck for ammo during boss fights. Realistically, having a high rate of fire of a big magazine will only temp you to shoot at nothing like a maniac.
Understand the vehicles
The type of vehicle determines the type of enemy you'll be facing. The armored cars, for example, always have enemies that pop up from the back, meaning a bullet to the head is the best way to deal with them (until helmets are introduced…). For many other cars, just hit the tires or the driver.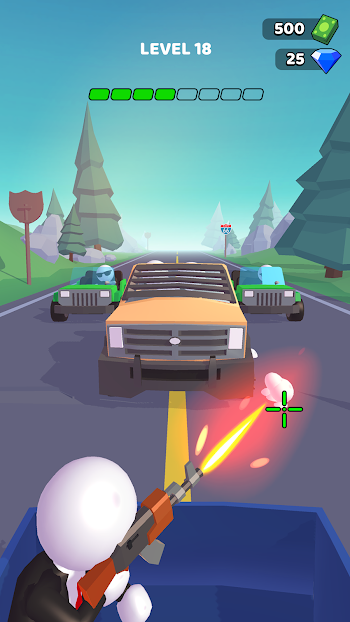 For boss vehicles, just shoot them until they explode and duck to dodge their bullets. Boss vehicles are in a way the easiest targets as all they do is absorb bullets until they're done for.
Use the auto-aim
It should go without saying that the auto-aim will come in handy when you're trying to hit a tiny piece of a moving target. Using the auto-aim will help you a lot with semi-auto weapons like handguns and rifles, although it might get a little trickier with fully automatic weapons.
Rage Road APK
While this game was initially just for iOS, it is now available on Android as well. Download Rage Road APK latest version for Android now to get in on the awesome action and put your hitman skills to the test. How long will you lasy?!