PUBG New State APK 0.9.53.516
Love PUBG Mobile? You'll love PUBG: New State APK even more! This game introduces an advanced graphics, gameplay, gunplay and many more features.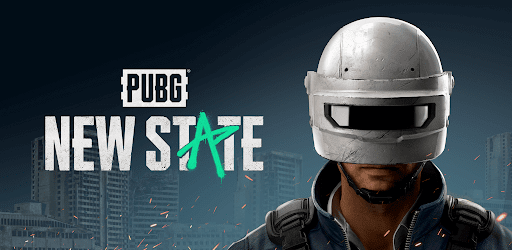 The battle royale genre is one of the most popular ones today and it features many games such as Fortnite, PUBG, Rules of Survival and many more. With this, players have many choices when it comes to shooting games that they play today. But if you're someone who's not satisfied with the current battle royale games, then it's time to ditch them and download PUBG New State! This is an improvement on the PUBG game that we all love. This is a game that's set in 2051 where everything is advanced.
Published by Krafton and developed by PUBG Studio which was responsible with the hit game PUBG, this one is a new game entirely. It promises ultra-realistic graphics that other mobile games can't even compare! There's also a unique PUBG weapon attachment system which allows you to customize your guns. Then, you can also enjoy a variety of things such as drone calls, support request, dodging and many more. Here, you can enjoy new vehicles and a more immersive gaming experience.
New and Improved
If you think you have what it takes to shoot and survive, then battle royale games are one of the best games to play today. The genre is popular right now since there are many battle royale games in existence. A lot of people today enjoy these games because they offer an equal footing for every player. This is because players need to collect resources on the ground as opposed to equipping them beforehand. This alone is a huge factor that allows the skills of the players to flourish today.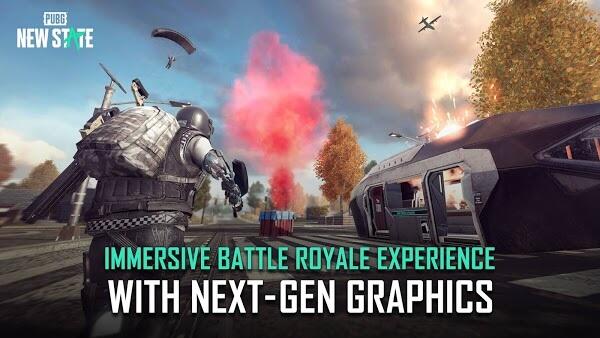 Then, there are also other factors that makes battle royale incredibly fun today. This includes the massive map in which the players will all converge and play in. All battle royale games today feature massive maps where players can land randomly at the start. Then, they will collect various resources like weapons, armors, items and many more that can help you. Aside from that, you can easily enjoy quite a lot of features such as skins, new weapons and more.
But with PUBG New State, you can enjoy a new and improved PUBG. Basically, this game features more realistic graphics that looks and feels as if you're playing on a console! The number of details they put and the advanced and futuristic vehicles in here will wow you. Aside from that, there are new weapons and more incredible things to enjoy in here. You can enjoy making drone calls, support requests and dodging bullets as well.
PUBG New State Features
In this game, you'll enjoy incredible features! Download PUBG New State today and enjoy these new features today:
The Ultimate Battle Royale – Battle royale has been the biggest genre in mobile gaming ever since it exploded in 2017. Today, you can enjoy a number of them with unique features and from different companies. Aside from that, players are now becoming tired of the old ones that have outdated graphics. But with PUBG New State, you can enjoy a new and improved experience. Basically, the developers wanted to create a new experience that will allow players to feel like they're playing on console!
The game is set in 2051 which is a future full of anarchy and chaotic things. But you can enjoy next-gen graphics here that will blow your mind. Enjoy electrifying graphics that will allow you to see more details such as glasses, shadows, doors, trees, and many more. You'll also be able to enjoy futuristic designs and items that you can use such as the ability to use drones, vehicles, air support, electric trains and many more. Moreover, you can enjoy the same gameplay but with customized weapons that you can freely personalize.
Ultra-Realistic Graphics – In terms of graphics, PUBG is already one of the best ones today. It beats out other games like Rules of Survival, Free Fire and other games today. But with PUBG New State, you can enjoy next-gen graphics that will completely blow your mind today! Here, the shadows are more prominent and the character designs have improved drastically. Enjoy the realistic gameplay today that defines the PUBG experience.
Here, the PUBG Studio uses the global illumination technology to achieve this insane level of realism. Because of this, you can enjoy quite a lot of things from the game today.
Dynamic Gunplay – You can also enjoy more or less the same gameplay from the game you love. It lets you play in 3rd person POV, allows you to switch weapons easily and you can also shoot and aim as well. But more than that, this new game allows you to customize your guns so that they can better fit your needs. Here, there's a unique weapon attachment system that allows you to change the nozzle, suppressor, and many other parts of the guns. This allows users to create a customized gun that can play to their needs!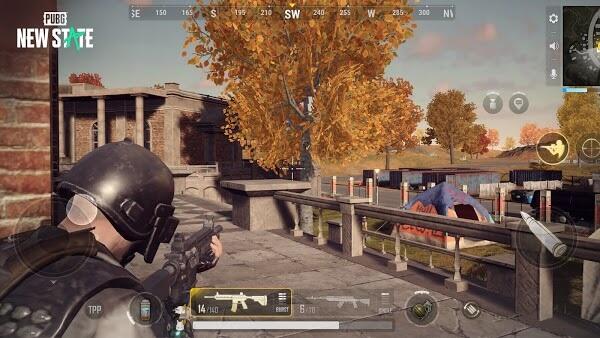 Interactive Gameplay – This game also allows you to enjoy the new features such as the drone calls. This allows you to have some support in the air in the form of drones. Then, there's also the support request and the ability to dodge! What you can enjoy as well are the newer vehicles as well as the electric train system.
Expansive Universe – In PUBG New State, you can experience a newer and a more advanced shooting experience today. Here, you can enjoy newer maps, design locations and many more things.
Download PUBG New State APK – Latest version
Get the best shooting experience ever with PUBG New State. In here, you can enjoy quite a lot of advanced features.