Dragon Ball Z Dokkan Battle APK 5.16.1
Download Dragon Ball Z Dokkan Battle APK – latest version – for Android and see where your Super Saiyan skills will take you in this world of supers!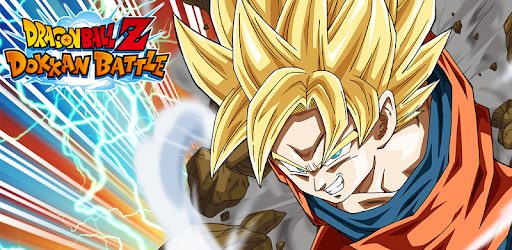 If you're an anime lover, chances are you've heard of Dragon Ball. It's a very popular anime worldwide that was first released in 1986. Even if it was released more than 3 decades ago, it's still widely popular today.
Super Gameplay
The hard evidence of this is the continuous release of games bearing the Dragon Ball title. One of the most recent ones – Dragon Ball Z Dokkan Battle is a massive success in the mobile gaming industry. What contributes to this success and what is this game all about? Let's find out now!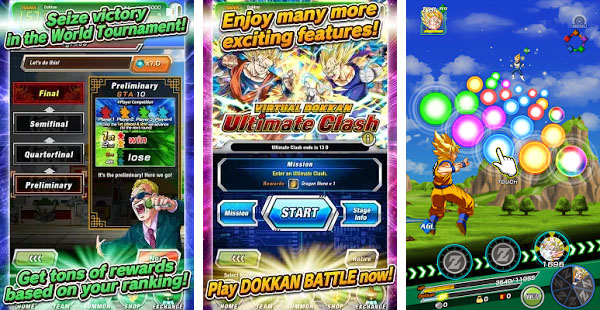 If you aren't familiar with this epic Anime, basically it tells the story of a Super Saiyan Goku and his quest to find the Dragon Balls to save the Earth. Along the way, he's surrounded by people he's become friends with. Together, they fight invaders from trying to destroy the planet.
In Dragon Ball Z Dokkan Battle APK, you'll join with the familiar warriors to protect the Earth from enemies. But this isn't just a mindless fighting game, it's much more complex and fun than that. This game utilizes Match-3 puzzles in the fight sequences. Although that being said, it still shows some action and RPG elements at times.
In this game, you'll see spherical Ki spheres with different colors. The tricky part is arranging them such that they're the same color to attack, defend or increase power. What makes this game unique is that each character has its own strengths and skill that corresponds to a Ki. It's a puzzle game of all sorts combining fighting with thinking. Once you play this game, you'll be sucked into a never-ending game of wits.
Super Characters
If you're a fan of the Manga and the Anime series, you'd love this game! It has all the familiar faces characters you've come to know and love. As well as characters you hate to love. That being said, you can't just get all the characters. You need to collect them all as cards. Furthermore, these cards are split into a rarity classification. The rarest cards are called SSR and the most common is Normal.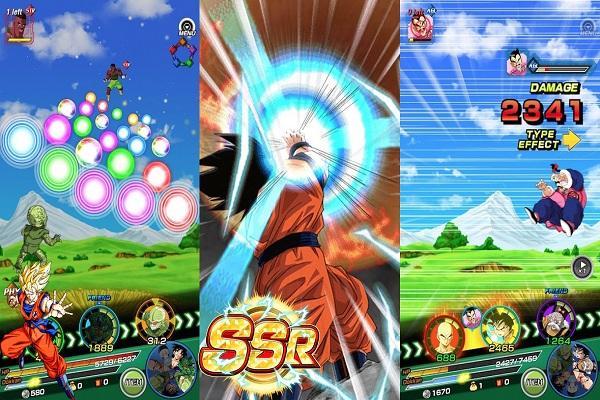 Aside from that, you can further customize a card by crafting a duplicate card to increase the rate and the stats of the cards. This way, you won't have duplicate cards that are useless. Sounds challenging? That's because this game has a bit of a learning curve. But once you get the hang of things, it becomes so much better!
Features of Dragon Ball Z Dokkan Battle
Dragon Ball Z Dokkan Battle is an extremely popular game with players around the world even today. To fully grasp just how great this game is, we're going to talk about the features it offers. Let's just say, they're over 9000!
Collectible DBZ Heroes – Almost every character you love from the original Manga and Anime series is here! Not only that but the villains as well! Choose characters from a variety of classes such as Androids, Saiyans, Humans and Gods! What more can you ask for? They also offer character specials that are an upgraded version of a character.
Unique Gameplay – When you hear Dragon Ball Z, you'd immediately thing of fighting, right? But in this game, that's not the entire story. Instead, you get a puzzle game that's completely reliant on your wits! It's not every day that you get to play this so grab it while it's hot!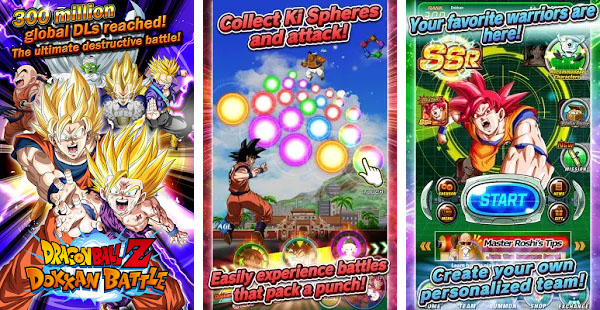 Different game modes - Aside from the unique gameplay, DBZ Dokkan also offers a variety of game modes. You can play the game's story mode and also play the special events for extra rewards. This way, you won't get easily bored!
Compete against other players – As this is an online game, you can compete with other players worldwide! Dominate through the rankings with your card collection and plow through the enemies. It's a completely scary fighting world out there.
Action scenes - As this is DBZ, there are still action and fighting scenes here and there. In each of your turn to attack, your character acts out the attack in an amazing animation!
Tips for Playing Dragon Ball Z Dokkan Battle
Newbie DBZ Dokkan players may not get things right the first time. And that's completely understandable! Because of that, here are our tips for beginners:
Don't skip the training mode – After you download the game, you'll be greeted by the training mode in order for you to familiarize yourself with the gameplay. Don't skip this! As much as possible, learn all you can from this. Select a training partner with the same color as the character you want to level up. You'll also earn a lot of XP by doing this.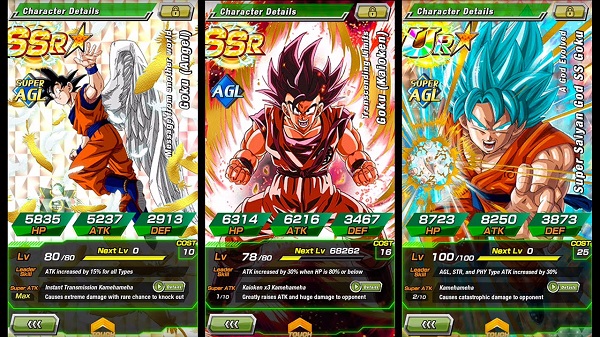 Be familiar with the type chart – In this game, your ability to connect the color spheres are your keys to victory. This isn't your typical game where you just smash buttons and hope for a win. To give characters a fair fighting chance against other cards, this game came up with a clever category system. To understand it better, here's the chart:
PHY - Strong against INT, but weak against STR
INT - Strong against TEQ, but weak against PHY
TEQ - Strong against AGL, but weak against INT
AGL - Strong against STR, but weak against TEQ
STR - Strong against PHY, but weak against AGL
Collect all 7 Dragon Balls – Just like in the Anime and Manga, collecting the 7 dragon balls grants you rewards. Depending on what you choose, you can choose to increase your character slot to 10 or others.
Log in every day – Even if you don't have time to play every day, simply logging in to the game each day will give you bonus rewards. Even better, try logging in for consecutive days and your rewards will double.
Dragon Ball Z Dokkan Battle - Menu , Dmg Multiple, One Hit, God Mode
If you don't want to bother with small rewards and hard rankings, download the High Damage, God Mode now to get all the things you need!