Racing Fever Moto APK 1.95.0
Download Racing Fever Moto APK – latest version – Free for Android race in the fastest bikes in the world in this motorbike racing game! Can you outrace others?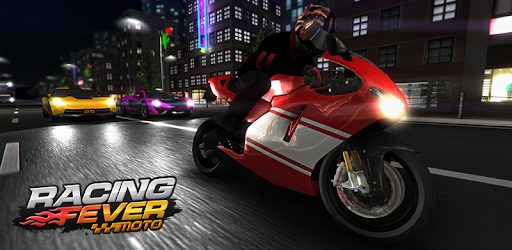 The racing genre is popular no matter what time it is. But there are so many types of racing games out there that it's hard to choose what's for you. But if you like motorbikes, then this game is for you!
Racing Fever Moto by Gameguru is a popular bike racing game with over 50 million downloads in Google Play Store! This game is an old-school bike racing game that combines old elements with modern ones. In this game, you take on the role of a racing maniac who only wants to become the best racer in the world! To do this, you need the best bikes and the skills to match it. Are you in? Read on!
What is Racing Fever Moto?
Unless you haven't been playing for long, you'd know that racing games are one of the most popular genres ever. When talking about mobile games, you can't disregard the racing genre as it has one of the most active fans and players around. They are always eager to play the new releases and they are dedicated to racing.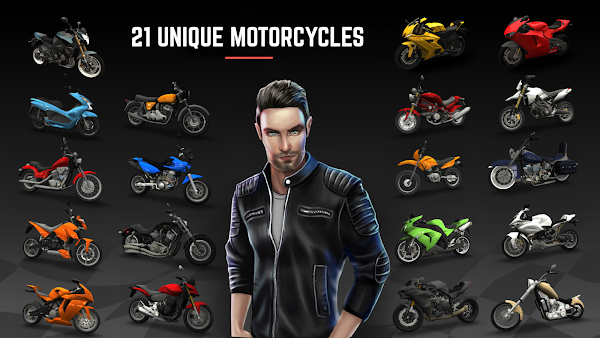 Racing Fever Moto exceeds all expectations by reaching 50 million downloads in Google Play Store alone! This popular racing game about bikes is everything you need especially if you love bikes. Not that cars aren't exciting, but bikes give off a different kind of adrenaline rush to riders. In this game, you can collect 16 different powered bikes to take into your races. There are tons of modes for you to enjoy and plenty of races to participate in. Overall, the gameplay is different from your typical car racing game – this is far more exciting!
Features of Racing Fever Moto
Racing Fever Moto is a very exciting motorbike racing game that will make your heart pound in every race. There are plenty of things that this game has which others doesn't. Here are its features:
Different bikes to collect – We all know that the bikes are the stars of the show in Racing Fever Moto. But just how well-made are they? Well, in this game, you can collect up to 16 different motorcycles. Whatever design you have in mind, the game probably has it. Plus, each motorcycle is different from one another in terms of speed, power and the feel to it. Feeling old-school? Then take your big bike to the road. But what if you want to show that modern bike you have? Take the bike of your dreams to the road now!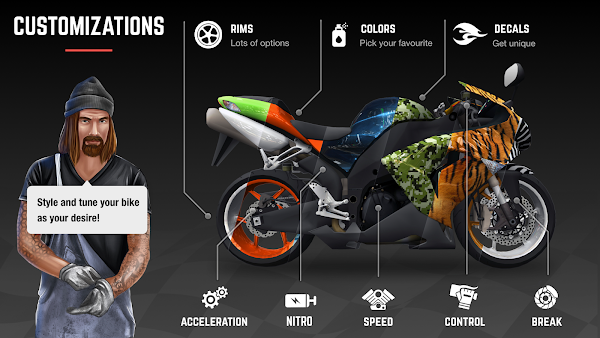 Upgrades – In this game, you have the opportunity to upgrade your motorbikes to make them faster. At first, you'll have a bike that's will suit your needs. But as you face different opponents, you'll soon realize that this isn't enough. Thankfully, you can upgrade your bikes to be faster and more powerful. You just need money to do so.
4 Different gang leaders – In this game, you'll be on an adventure with 4 different gang leaders and tens of levels. That means you'll be put in 3 different regions in different seasons! You'll race every type of racer there is in the name of being the fastest racer alive. Defeat all the 4 leaders to show dominance!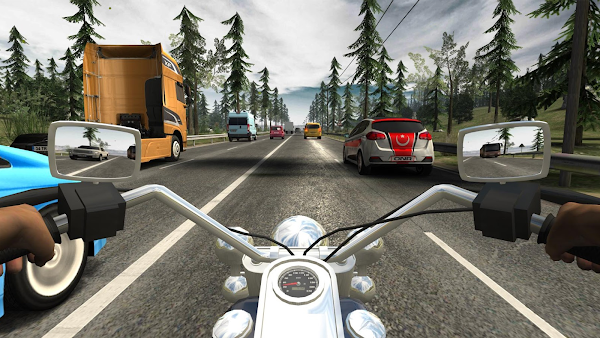 Epic graphics – As expected of a game of this caliber, Racing Fever Moto's graphics are top-notch. Not only do the bikes feel and look realistic but so are the surroundings. You'll also feel your heart pound as you have near-collision experiences that will boost your rewards!
Download Racing Fever Moto APK
Racing Fever Moto is an epic bike racing game that will test your limits. If you want to unlock everything instantly, just download!