Punch Guys APK 4.0.10
Are you searching for the best boxing game? Punch Guys APK is an addictive casual boxing game. The goal is to upgrade your abilities to fight tough boxers.
Download Punch Guys APK – Boxing Game
Boxing is a global sport that's been around for many years now. Punch Guys from UNCOSOFT is an appealing sports casual game featuring boxing. In the first few levels, you'll need to work on your skills using a sandbag.
As you upgrade your stats, you'll face tough foes and win matches. Completing levels will give you money that can be used in a variety of ways.
The game is a casual one where players don't have to push buttons to box. To punch you just need to tap the screen repeatedly while outlasting the opponent.
This is a boxing game with a lot of heat and opponents for you to face. Having what it takes to win requires great sacrifice, upgrades, and the patience to do so. Can you fight your way to victory using your gloves?
What is Punch Guys?
In the sports world, boxing is a prestigious sport with a long history. There are countless hall of famers in the sport and it's still celebrated today. What makes this sport different is the physicality in which it is played.
To win, a boxer needs to outhit his opponent or get a knockout. There are a lot of things that goes on in a boxing match which makes it interesting.
While there are many boxing games that feature first-person POV, Punch Guys is different. It's a simple casual boxing game that makes use of levels and level ups to provide a great game play. At first, you'll need to train using sandbags before you face real opponents.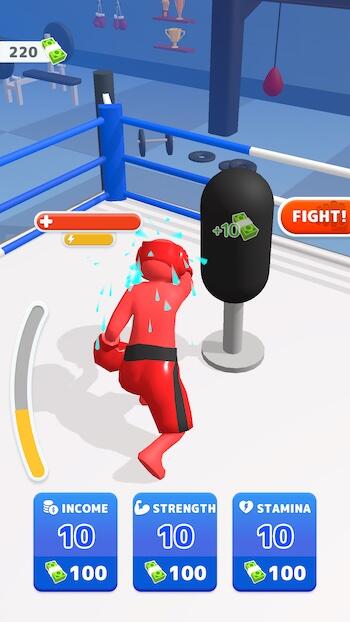 Then, you can upgrade your skills as you win more matches and use your money. Fighting opponents will grant you rewards and make you move on to the next level. There are a lot of opponents waiting for you with stronger bodies, faster reflexes, and more stamina.
Reasons to Download Punch Guys
Punch Guys is an addictive game with a high rating of 4.2 stars. It has been played by more than a million people but if you're not sure about this, here are the reasons to play it.
Reason #1: It's an addictive casual game
Many players are ditching the complicated games in exchange for casual ones. Punch Guys is a casual sport game that features boxing. In the game, players can train and fight real foes in a boxing match. It's a simple game without the need to perform combos or move in the right.
The main reason for its effectiveness lies in the ability of players to get stronger. It's a casual game with an action style so it lets players get stronger with training.
Reason #2: You can become stronger with upgrades
As mentioned, players can get stronger by training and upgrading their stats. There are three core stats that you can upgrade:
The income should be upgraded if you want to get more money when you win matches. For the strength, it allows your guy to punch harder taking the life of your opponent more. Lastly, the stamina is what allows you to throw more punches more than your opponents.
Reason #3: There are numerous rewards to get
Completing raining and winning fights will give you rewards. Players will get money just by punching the sandbag and defeating a foe. You'll need every money you can get so you can upgrade your stats.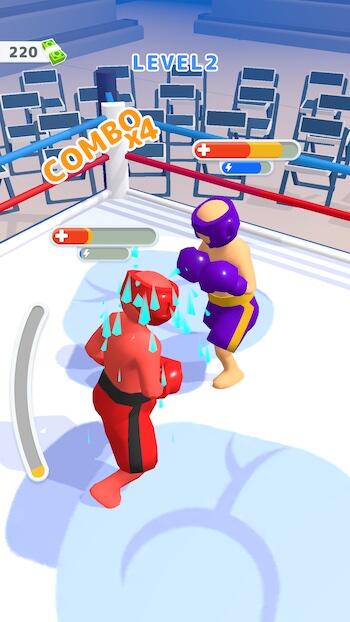 As you upgrade each stat, it will cost more to upgrade it to the next level. But you'll also earn more if you climb up in levels and fight stronger opponents. You can also double your rewards just by watching video ads. Performing combos will also get you more money.
Reason #4: Many tough opponents to face
The game has many tough opponents in store for you. You'll fight them in succession which means that you must fight and win continually. Each boxer has different stats like stamina and strength.
You must outlast the opponent to win in the game. To do this, continuous training and upgrading is the key to victory.
Reason #5: Train before fights
In the real world, boxers train for months and sometimes even years before fights. In Punch Guys, the training doesn't last that long but, in a few seconds, only. But in those few seconds, you can earn money from each punch you do.
Then, you can upgrade your stats before fights and get stronger. You'll have the opportunity to train before fights and even after you lose.
Reason #6: Fight in 3D
Fighting in the game is delivered in 3D graphics. Although you don't have a first-person POV, you'll get a nice camera view from the top. The character designs are simple but enough to make you excited. Most importantly, the background sounds are satisfying.
Download Punch Guys APK – latest version
Train using sandbags and fight your way to victory in Punch Guys! Unlock all the upgrades now.