Pull Him Out APK 1.6.0
Download Pull Him Out APK Latest Version Free for Android. Slide to release different levers and lead your hunter to the treasure.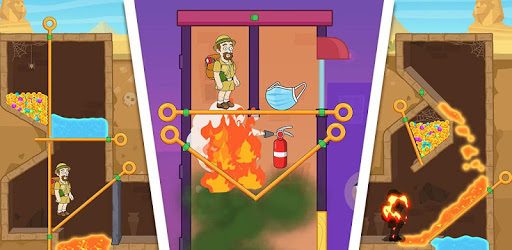 The game isn't anything too extraordinary, yet it's still and addicting game to play.
In the beginning, each level may seem simple and easy enough. But, after enough time, levels may increase in difficulty a bit. You'll really need to use your noggin in order to successfully solve these puzzles.
Be careful, depending on the situation, you may find a quick death for your hunter. Anything can happen to ruin your puzzle attempt. It doesn't necessarily mean a zombie or mummy taking you out. It could also be lava or the likes of a boulder crushing you to a pancake.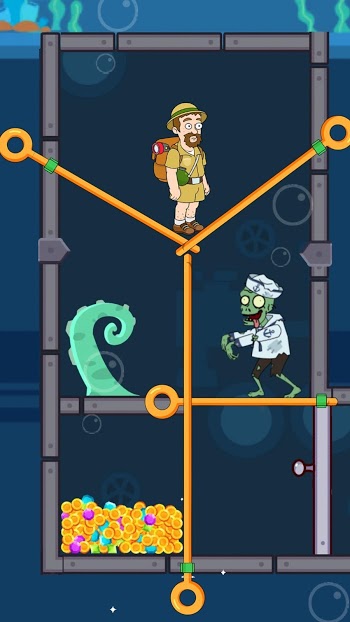 You need to properly organize the order of what you pull. Pulling one opening first could lead to the death of your hunter. So, really think about your next mood.
One extremely glaring issue with Pull Him Out for Android is the advertisements. In fact, you'd think someone mistakenly added a game into their ads. Every second that passes by in the game is another opportunity for an ad to interrupt your fun.
You have just completed a level…AD! You're clicking on the next level to play…AD! You take a sip of water… AD. The game is littered with advertisements in literally every corner. You cannot, for the life of you, get away from all of these pesky ads trying to bore you to death.
In fact, we'd rather just play another game than to spend the time watching 10 minutes of ads, only to play for a few seconds at a time. It's redundant and annoying, so we'd rather just avoid it altogether.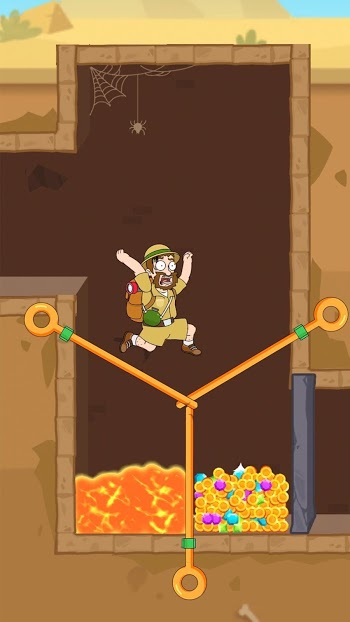 Besides that, this is an offline game. That means it can be enjoyed from various locations without worrying about an internet connection. Don't worry about Wi-Fi, there's no need to look for a router or hotspot. No matter where you go, you'll always be able to pull out your Android and play a few puzzles.
So, at least there's one saving grace to the astonishing amount of ads in the game. You may even be able to avoid a few of them if you remain offline and playing without a connection. Regardless, it may or may not be enough for you to continue playing this game. It all depends on your attitude.
Graphics
The art style is really cartoony and interesting to look at. There's barely anything wrong to say about the graphics to the game. Everything looks good and your hunter has personality that explodes through his animations.
Controls
The game is very simple to control. There is no interface. This is because you simply need to slide your finger to control where to pull the lever.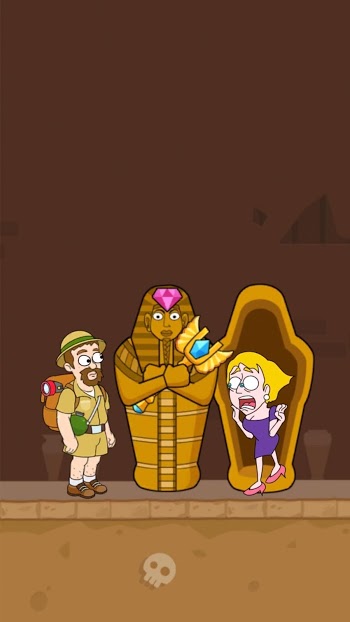 Although, you still need to watch out for the order in which you swipe. Don't let your hunter die a meaningless death, out of your impulsiveness.
Pull Him Out APK Free Download
Actually, there is one solution for the constant ads within the game. We are talking about downloading the version of the game. With this updated and improved version, you may be able to play unlimited coins. You heard correctly – Unlimited coins
And there's no need to worry, the Pull Him Out APK latest version is safe to download. You can look over our installation guide to review how to download APK files to your Android.
Besides that, there shouldn't be a reason not to choose the APK over the original. Download the file now.