Panda Mouse Pro APK 1.5.0
You can play a lot of games on mobile phones today. With Panda Mouse Pro APK , you can game easier! You can use a keyboard and mouse to play mobile games!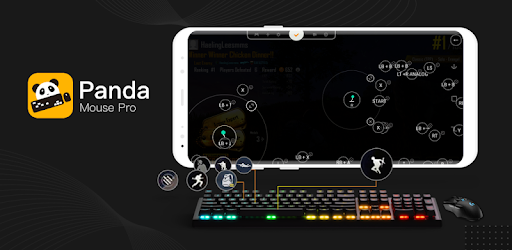 Download Panda Mouse Pro APK – Keymapping App
You can enjoy so many mobile games today that are available for your phone. There are so many fun ones to get right now in genres like shooting, racing, fighting, puzzles, simulation, and more.
Whatever game you like to play, you can download so many of them right now. But if you want to gain an advantage on playing games, you can install Panda Mouse Pro so you can play with a mouse and keyboard.
When it comes to mobile games, most of them have been optimized, so you can enjoy playing them as much as you want. But they still can't come close to the experience when playing PC games.
But thanks to Panda Mouse Pro, you can now play mobile games using a keyboard and a mouse! This essential mapper tool will let you play various types of games quickly. You need to activate the app on your PC or root your phone. The choice is yours!
Play Mobile Games Comfortably
You can enjoy quite many interesting games to play right now from the Google Play Store. There are games available on mobile in genres like puzzle, casual, shooting, strategy, sports, and many more.
Today, most games have been optimized for mobile gaming, which means that the controls were carefully created. Since we can only play with a small screen, our controls should be simple to fit them. But with Panda Mouse Pro, you can play games with a keyboard and mouse!
If you've ever wanted to play a mobile game with a keyboard and mouse, then this is the perfect app for you. This is a crucial mapper tool that works well with many games today.
Here, you can play it in various games like Fortnite, PUBG, Genshin Impact, and many more. Thanks to this app, you'll now have more control over your gaming experience. You can also customize the keys so you can create shortcuts.
The app is still in beta, but it looks promising! You can download it now and enjoy it.
Highlights of Panda Mouse Pro
Do you want to have an unfair advantage when playing mobile games? Download Panda Mouse Pro right now!
Keymapping tool – You can play many cool games on mobile today. Smartphones have become more advanced as time goes on, so we can enjoy many games today.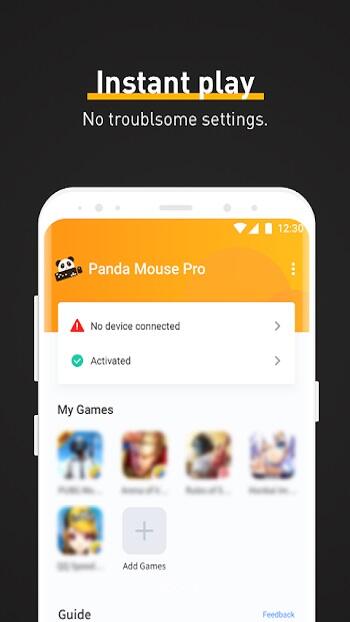 Many games right now look like they're PC or console games that let you enjoy them more. But even though they've advanced so much, they still can't compete with PC games. But with Panda Mouse Pro, you're now able to play mobile games just like you would with PC games!
This keymapping app lets you use a keyboard or a mouse to play any mobile game today. With this, you can aim more precisely at shooting games; you can spam your skills in MOBA games and enjoy other games.
Thanks to this app, you'll get a lot of controls and shortcuts. This is usually impossible, but you can run games directly without cloning, thanks to this app. You can enjoy this app as it supports all types of keyboards and mice.
Use keyboard and mouse – If you're someone who loves playing mobile games, you can now game more comfortably with Panda Mouse Pro! This app is a free one that lets you use a keyboard and mouse while playing mobile games.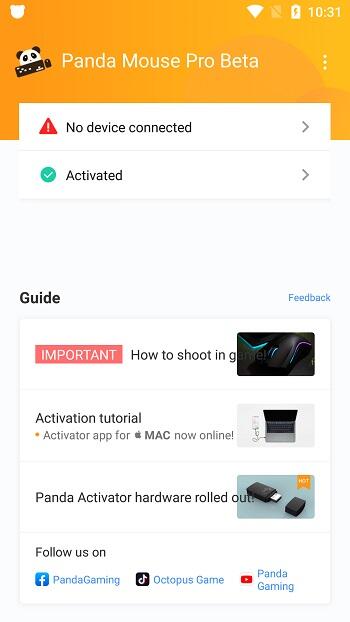 This revolutionary app lets you play mobile games as if you're playing a computer one! With this, you can aim more precisely; you can access more controls and enjoy the game more! There are a lot of benefits you can get to using this app right now!
Create shortcuts – With Panda Mouse Pro, you're able to create various shortcuts on your keyboard and mouse. It works well with nearly all types of mice and keyboards so that you won't have any problems.
With this app, you can create various shortcuts to save you time when attacking or defending. There are many ways you can customize this app to get the best gaming experience right now.
Easy to use – To use the app's complete functions, you need to root your mobile phone or active it via PC. There's a tutorial in the app that you can easily follow to enjoy today. You can enjoy all sorts of customization with this app for free!
Download Panda Mouse Pro APK – Latest version
If you want to experience a different mobile gaming experience, download Panda Mouse Pro now!