Mudness Offroad APK v1.3.4
Mudness Offroad APK is a spectacular offroad car simulator. Unlock lots of offroad vehicles that can be customized. Delivery tasks are available to do.
| | |
| --- | --- |
| Name | Mudness Offroad |
| Updated | |
| Compatible with | Android 5+ |
| Last version | v1.3.4 |
| Size | 1.37 GB |
| Category | Racing |
| Developer | Radomir Rotaru |
| Price | Free |
Download Mudness Offroad APK – Car Simulator
Car simulation games are plenty and they offer a ton of fun. What makes such games great is the fact that it can be played without much thought. Mudness Offroad is an action-packed car simulator game that's played off-road.
The simulation game greatly depicts the outdoor especially the vehicles like pickup, trucks, 4x4 cars and more. The cars are completely customizable as the parts are upgradeable.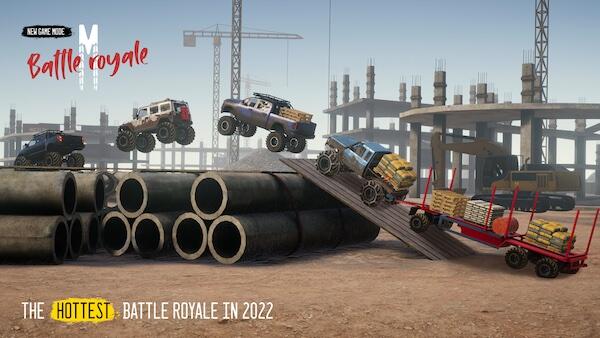 Up to 20 players can enjoy playing in a server together. With the game, you can go through countless obstacles with different biomes and terrains. The game also lets you go through multiplayer races as you complete delivery tasks as well.
Offroad vehicles are a different beast that has many controls for different terrains and situations. Make sure to use your vehicle's full potential to enjoy the car simulation game.
An Intricate Offroad Simulator
Simulation games are exciting as they bring realism to the next level. Car simulation games are everywhere and in Mudness Offroad, you can experience the outdoors.
Car simulator games are enjoyable especially those that can be played offline. In the game, you can unlock tons of vehicles with incredible designs suitable for different weathers and situations.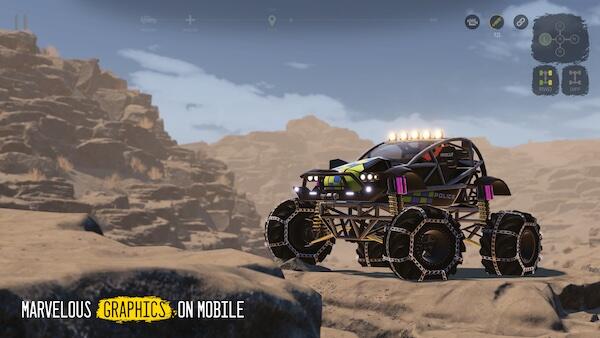 The game allows you to move around and drive in different vehicles and places. Multiplayer lets you to enjoy playing with real players and do races together. One of the best things about Mudness Offroad is that it allows for limitless customizations. In here, you can completely change how your vehicle looks and feels.
Tons of Offroad Vehicles to Choose From
The game features a wide range of offroad vehicles that you can drive. From pickup trucks to stunning 4-wheel drive cars, there are so many to choose from. Each of them can be personalized as you add lights and customize different parts.
The game lets you change the tires, body paint, add accessories, lights, chains and more. Whatever you need, the game has a part that you can buy and use for your vehicle. In this game, the player has the freedom to buy as many vehicles as their money can buy.
Each vehicle is perfect for different terrains and situations. There are also different upgrades that you can do anytime.
Lots of Mechanics
You can use different mechanics and items that are available on vehicles. Since this is an offroad simulation, there are times when you'll need to haul another car. The solution is to attach trailers using hooks and enjoy a fun pulling experience.
The app also has easy enough controls to drive your vehicle. It consists of a left and right button plus the brake and acceleration. There's also an option to change the camera view, transmission and the map. There's also a direction map at the top to see your current navigation.
There are cars with AWD/RWD controls, differential locks, low and high gears and more. You're able to use them for different vehicles and in various situations.
Enjoy Multiplayer
The multiplayer mode is even more enjoyable because it allows up to 20 players on a server. The players can do races to see who can conquer the forest first. The game allows you to invite your friends and do friendly races with different challenges on the way.
But more than that, you can enjoy exploring the open world in many maps together with others. There are many biomes such as the forest, snow, desert and more. There are also different objectives to do in the offline mode like Main Base, Industrial Career, Gold Mine, Mine, Maine Base and more.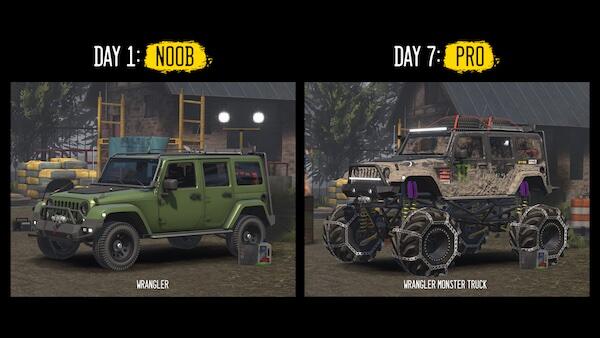 Multiplayer and offline modes are free to play, and they come with the game. Feel free to explore the modes and enjoy.
Complete Objectives
There are many objectives to complete when it comes to missions. The game will require you to pickup and leave cargo in different destinations. You can also pickup workers, transport them to the gold mine and more.
The objectives consist of everyday activities that's amplified by the interesting gameplay. No matter the trivial task, you can earn rewards by completing them. The money you earn can be used to customize your vehicles to enjoy more places.
Ultra-Realistic Graphics
Mudness Offroad is a fun game with the most realistic graphics. It's a simulation game which replicates the outdoors detail by detail. The vehicles as well as the elements in the maps like woods, grass, flowers, and rocks are all amazing. The car physics are realistic as well to provide the best off-road experience.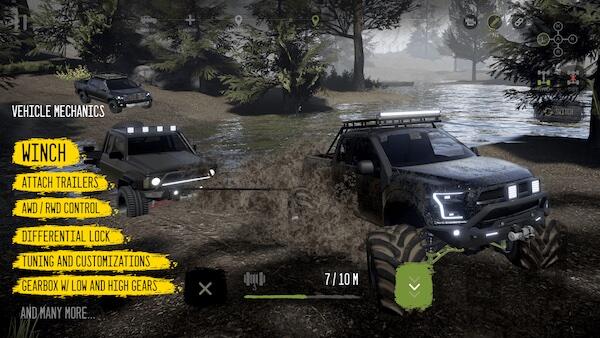 The shifting of gears works just like in real life as well to create the best environment for players. The weather also works in the game to provide a realistic feeling. Mud and other harsh elements are present too.
Download Mudness Offroad APK – latest version
Mudness Offroad is a fun offroad car simulation which lets you race in multiplayer as you go through incredible elements.