MMA Manager APK 0.35.9
Download MMA Manager APK – latest version – for Android to build your own MMA, train, and manage fighters to compete in major tournaments. Epic MMA fun.
Want to build a prestigious MMA gym and train fighters to compete in major MMA tournaments? Download MMA Manager APK for Android now to train fighters in a variety of disciplines and techniques to ensure that they're ready to take on some of the world's most legendary competitors.
You'll have your very own gym to decorate and kit out however you see fit. You'll then be able to attract customers and train them to compete in MMA tournaments. The more customers you have, the more money you can invest back into your gym, and then the better caliber of customers you'll attract.
Hire the best trainers, get the best equipment, and breed the world's new elite of MMA fighters. Once you've trained them, you can send them into the Octagon to fight against powerful bosses and other competitors.
Train and manage MMA fighters
You'll want to hire the appropriate trainers early on in the game to ensure that you can train your fighters in all the necessary basics of combat. It's important in the early stages of the game that your fighters have trainers so that they can use all the equipment in your gym.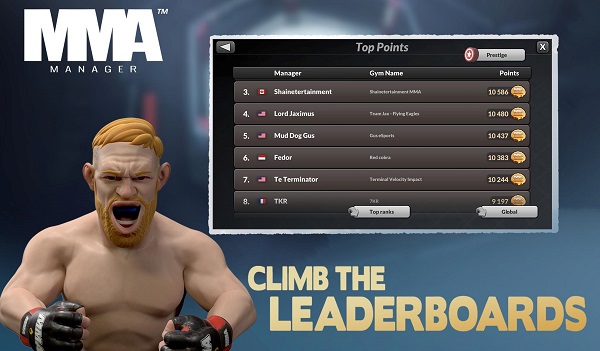 In the early stages of the game, most of your fighters will be boxers, which means they'll be vulnerable to submissions by fighters with more wrestling techniques. It's certainly worth trying to train them in grappling early on so that they don't fall prey to this.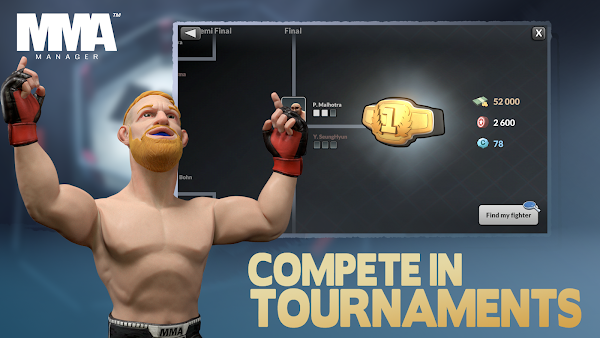 Once you've got more people coming into your gym, you'll be able to afford better trainers and enter fighters into more prestigious competitions, which, in turn, will allow you to have even better fighters. The game gets increasingly addictive and the rewards begin to pay off once you've invested the time and energy into perfecting your fighters. Any fighting fan will appreciate this!
Tips for playing MMA Manager APK
If you want to build the ultimate gym, then you'll want to have the proper knowledge to do so. First, you'll need to have the proper trainers to use the equipment. If you don't have the trainers, your fighters won't be able to use the equipment. It's that simple. This should, therefore, be your first priority.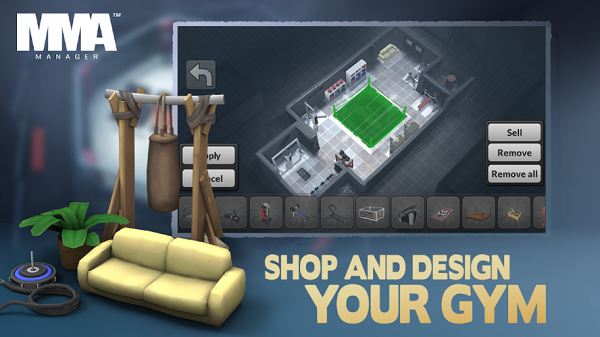 Recruiting fighters: If you recruit fighters they'll have a training bonus which will allow them to be more effective in the ring and in the gym.
Making your own fighters: Fighters that you make yourself can max out the weight class of your category. This can give them a slight advantage in the ring.
Micro training: This is where you can really train a fighter to get those unique perks that will win them the fight. General training makes the foundations – micro training will make a warrior.
Equipment: Try to get something of everything in your gym and don't worry about getting multi star equipment at first – it won't be necessary until later on in the game.
Do the quests: You'll notice that you're given daily quests each day – try to complete them as they'll pay you pretty handsomely, which means you'll have more money to spend on equipment and recruiting better fighters to up the prestige of your gym.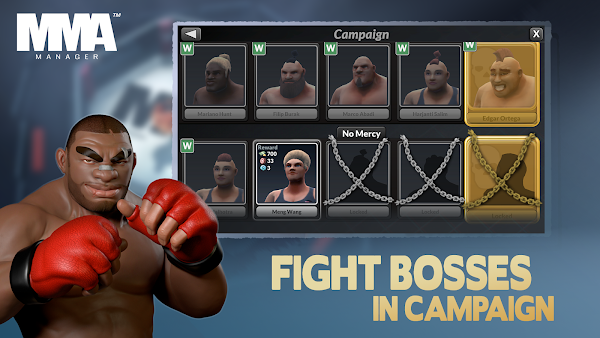 Coaches: Get a coach for everything early on – they don't have to be the best, they just have to be able to train. This will make your fighters way better early on in the game.
MMA Manager APK
Want to build the ULTIMATE MMA GYM? Download MMA Manager APK Always Win to have infinite funds to invest in trainers, coaches, equipment, and furnishing your gym. You'll be able to DOMINATE in the ring and in business. Try it now. Enjoy!