Mining Inc APK 1.16.0
Download Mining Inc APK – latest version – Free for Android if you want to have your own mining company and experience earning money from it!
Simulation games have become part of the norm these days. A lot of games being developed seems to belong in this category. Why? Well, partly because they're enjoyable and such a fun waste of time for most people! They focus on a single theme/topic and they go over all the things related to that.
Mining Inc. by Green Panda Games is a popular mining simulation game with over 500 thousand installs in Google Play Store. In this game, your ultimate goal is to establish a mining empire and earn tons of money. Automate your way to victory as you buy new machineries, hire new people and plant new buildings! Curious for more? Read on!
What is Mining Inc.?
Since simulation games like The Sims experienced success in the past up to now, more and more games follow in their suit. Plenty of games are now under this category and they focus on a single them so you can enjoy unlimited playability. This trend seems to continue these days as a new simulation game has risen.
Mining Inc. is a mining simulation game by Green Panda Games. In this game, you'll see what its like to build a mining company from scratch! At first, you'll have less equipment, buildings and people. But as you generate more income from mining, that's where you can scale up. This is how businesses are made in real life. In here, you'll learn a lot about what makes a successful mining company. And you'll find that it's not easy to run them.
But in terms of enjoyability, this game can provide you entertainment for hours. You'll find that you'll be obsessed with generating more income in your company. You'll do everything just to speed up the process or automate it. That's what it means to play a mining simulation game. For more information about this awesome game, read on!
Features of Mining Inc.
Mining Inc. may seem like a simple simulation game, but it's not! In this game, you'll be experiencing everything there is related to running a successful mining company. If you're curious, here are its features:
Upgrade buildings, vehicles, and machines – Like in any mining companies in real life, the goal is to upgrade everything. Of course, at the start of the game there would be less equipment, vehicles and machines. But as you progress, you'll find that you need to upgrade these in order to keep up with production and demand. That's what it means to scale up your business, otherwise you'll get stuck with the same output and earnings. However, you need to do it gradually. You don't need to upgrade everything at once. You can upgrade them on by one.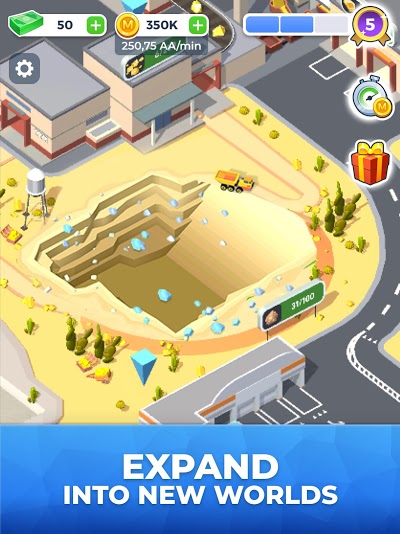 Gemstones – In this game, you will start with one production line – a gold mine. This is how you build a successful mining game. But as you progress through the game, you can unlock other mines such as diamonds, rubies and other gemstones! That's the fun part in this game, that's how you get to make more money in this game. It's your job to find the other gemstones.
Hire people – To build a successful company, you need to hire people. But not just any people, the very best in their field! In here, you need to gather the best managers to manage every production line. You can assign them according to their skills so you can increase the productivity in your company. This is how you make more money. But you will get weak cards at first but you can upgrade them overtime!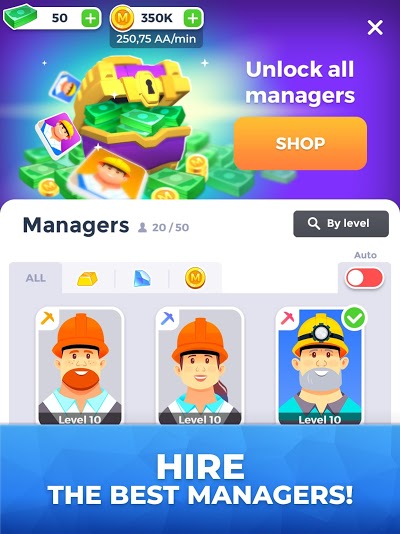 Unique boosters – In this game, to make production even faster, you can acquire unique boosters. But you will get these after you reach specific prestige ranks. This is how you make your production run faster to earn more money! Be on the lookout for these as these will significantly make everything easier.
Numerous challenges – In Mining Inc., there are a lot of mining challenges you can partake in. You need to complete these challenges to unlock new content! This will make this game more exciting.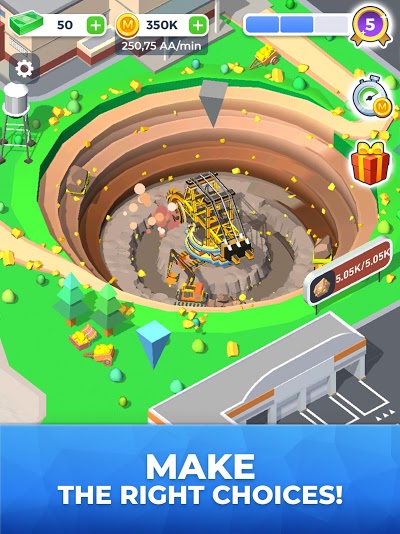 Epic graphics – In this game, the graphics is a big part of the game. And in this one, the graphics are epic! The design is similar to the popular game Clash Royale especially the chests. But in this game, there are a lot more elements that you'll enjoy. From the cards (managers) to the buildings, there are a lot of things you can do.
Simple controls – Since this is just a simple simulation game, the controls are simple enough that even newbies can get the hang of it immediately! You can just tap the necessary elements if you need.
Mining Inc.APK
Mining Inc. is a great mining simulation game that has a lot of elements to make it more interesting. But if you want to speed things up and get more people, buildings and machineries instantly, just download the free shopping now!