Match 3D APK 1245.56.2
Download Match 3D APK – Latest version – Free for Android and experience a brand-new puzzle game that allows you to mix and match tons of different 3D objects!
Puzzle games have been around for a long time. They are one of the most popular game genres because they provide challenging, engaging and enjoyable gameplay. In the mobile gaming scene, there are tons of different types of puzzle games out there. But whatever it is, if you're a fan of this genre, you'll love this game!
Match 3D is a game developed by Loop Games. The game currently has more than 5 million downloads in the Google Play Store. In this popular puzzle game, you need to match the 3D objects on the ground to clear the level! Of course, matching 5-10 pairs are easy. But as you progress, you'll match literally tons of 3D objects! But that's not the hardest part, you must do it within the time limit! If you think you have what it takes to complete the challenges, read on!
What is Match 3D?
Puzzle games are one of the most popular genres in not just mobile but in gaming in general. Because of this, there are countless puzzle games out there that you can play. They have different subgenres as well such as horror, action, arcade, and more! But what's important is that they provide incredibly challenging and entertaining gameplay for everyone! If you love puzzles, then you'll love this game!
Match 3D is an awesome game developed by Loop Games. It has over 5 million downloads in Google Play Store because it's such an entertaining game! In this game you only need to match the objects to the same ones so they will be eliminated! Sounds simple enough right? But what if you have tons of objects to pair and you're only given a limited time to match all of the pairs? Now it becomes more challenging, right? That's the beauty of Match 3D. In here as you progress, you'll get tons of different pairs that you need to match. These objects range include wheels, megaphones, bones, cans, food, animals and more!
The 3D objects make everything so satisfying! In Match 3D, there are plenty of objects that you'll match so the fun never stops! This is a unique puzzle game that utilizes epic graphics and incredibly simple gameplay. This game isn't just your typical game as it will increase your thinking skills as you play more. Nothing beats a classic matching game with some modern twists! Read on to learn more!
Features of Match 3D
Match 3D is an awesome 3D matching game that allows you to mix and match tons of objects! There are plenty of levels to complete in this game and plenty of objects to match. Here are its features:
Unique gameplay – For puzzle lovers, it's hard to find a game that will allow you to exercise your brain without being bored nowadays. There are plenty of puzzle games in the market but not a lot of them will excite you like Match 3D. This game boasts incredibly simple but fun gameplay. In this one, you'll just match each object to its correct pair. To match, just drag each object to the machine at the bottom and once your correctly pair them, they'll automatically fall. But as you progress, there will be different objects to play with!
Tons of levels – In Match 3D, there are tons of levels to play with! Each level is different from the other such as the number of objects, the objects and the time limit! But in each level, you'll need to drag the items to the circle to pair them with the other match! It's up to your searching skills to finish the puzzle on time or not. You can also definitely finish the puzzle earlier as you'll gain more rewards the earlier you finish! As you progress, the puzzles will be harder to do!
Tons of objects – In Match 3D, the 3D objects are the stars of the show! In these games, there are plenty of objects that you can match which include: animals, letters, tomatoes, hats, pianos, books, beach balls, and more! The more levels you complete, the more objects you can unlock! Of course, when you encounter a level where there are tons of objects, you can get easily confused! This is where the challenge start and your brain start to work. But as you progress, you'll slowly get used to the objects which will allow you to solve the puzzle faster.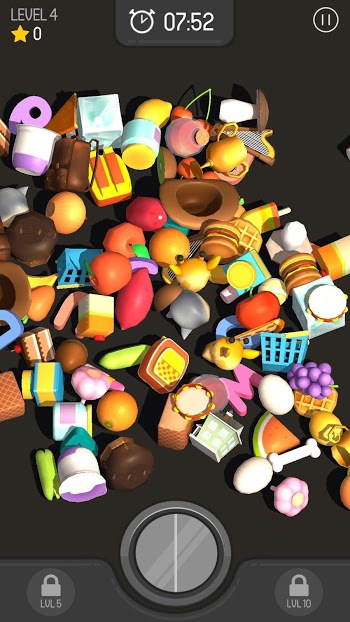 3D Graphics – The 3D objects of Match 3D is what makes this game so fun! They are well-designed and you can clearly see which objects are which based on their color. These objects are 3D and you can drag them to wherever you want. Plus, the colors are so vibrant and obvious that you'll instantly see the pairs for some objects! Aside from that, the elements of the game and the interface are simple yet effective. There are so many things that make this game so attractive to the eyes!
Easy controls – In this puzzle game, the controls are easy! You just need to hold and drag the objects to the circle to match them! You can also drag and put the objects anywhere you wish to easily find the matching pairs! It's up to you on how to find the matching objects easily.
Auto save – In Match 3D, you can easily get on your last game thanks to the auto save feature. Want to rest your eyes and brain for a bit? Just close the app and get back to it whenever you feel! You can easily go back to it since the game is auto saved!
Offline – Match 3D also features offline gameplay! In this game, you can play this without internet connection and data. This means you can play the game wherever and whenever you want! No need to be bombarded with ads if you don't want to!
Match 3D APK
Match 3D is an awesome puzzle game that lets you mix and match 3D objects! Download the unlimited money now!