Marvs VPN APK 1.0.5
Download Marvs VPN APK to enjoy a free network designed to improve your data security while browsing; it offers several network connection methods like SSL, Inject, etc.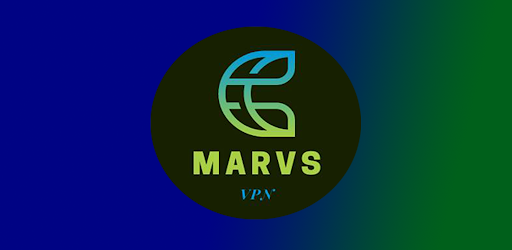 | | |
| --- | --- |
| Name | Marvs VPN |
| Updated | |
| Compatible with | Android 5.0+ |
| Last version | 1.0.5 |
| Size | 41.61 Mb |
| Category | Tools |
| Developer | sando--k |
| Price | Free |
| Google Play Link | vpn.marvs.v2ray |
Detailed Information of Marvs VPN APK
Do you want to enjoy high data security while browsing? Or do you want to enjoy a high privacy fast network? Then download Marvs VPN APK. This is an incredibly fast, secure shell Android application that is developed to enhance data privacy and security when users are browsing or surfing the net. Marvs VPN APK offers all users several direct connection methods like Inject, SSL, SlowDNS, etc.
Marvs VPN APK is an effective VPN that unblocks all restricted websites and enables access to free internet connection, unlimited bandwidth connection etc. Users will get the most out of this VPN with its many features. This app guarantees users a smooth experience.
You will agree that some websites and the internet pose a threat to personal data or restrict access to some information; therefore, you need a good VPN app. The VPN functions as a secure tunnel for data privacy and ease of internet traffic. Asides from that, the application helps you hide your IP address, restricting or blocking third-party access to your file and other activities online.
Marvs VPN APK Android is a great application to consider for a fast and smooth VPN network, and it offers its features effortlessly with premium quality. It encrypts and ensures security while browsing. Furthermore, the VPN is easy to use with a simple layout of the app. Technical experts curated the app, and they did a great job while at it. Download the Marvs VPN APK and see this yourself; you can get the Marvs VPN APK download link as you read further.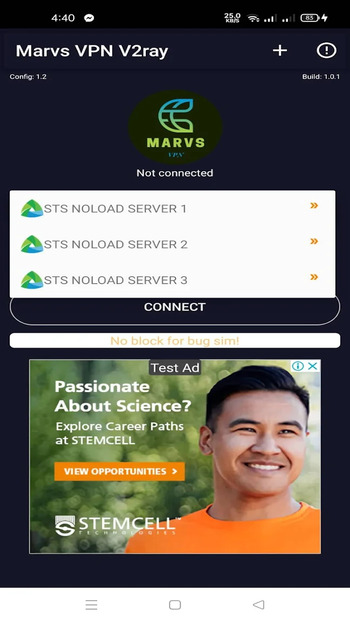 The SSH protocol incorporated into Marvs VPN APK transfers your data and encrypts it into a secured channel. Marvs VPN APK selects the best network connection to provide you with a smooth online browsing experience. You can't go wrong with the use of the app. Marvs VPN APK latest version masks your IP address and location, blocking any third party or intruder's access to all your online activities.
With this APK, you can use public WiFi effectively because you have a high level of security and data privacy on the app. Also, you will get access to a free internet connection at all times; the app offers many free internet networks in many countries, which can be used without interruptions or restrictions. In addition, you will break all geographical restrictions. This is super cool.
Sando - - K developed and published the application with over 1000 downloads. Although the application just started growing, it has captured many users with its simple interface. Join many other users to download and use this application.
Interesting Features of Marvs VPN APK
Marvs VPN APK is a seamlessly great application everyone should have. Below are some amazing features of Marvs VPN;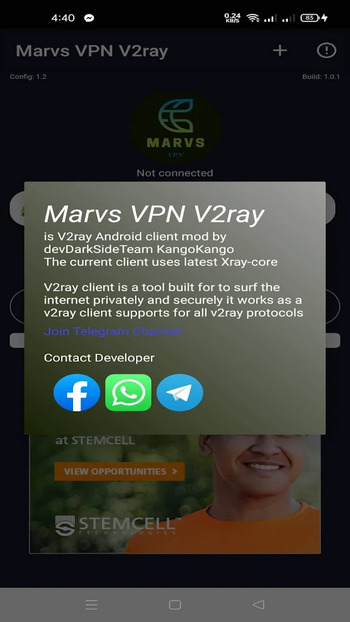 Simple Interface
This is one of the many features that attract users to Marvs VPN, and it has an easy-to-use interface; anyone can easily navigate through its operations. All settings, features, option, geographical location and connection is easy to access. Marvs VPN APK for Android is a great app with a simple layout.
Free VPN Service
Marvs VPN APK is 100% free to everyone, and it is reliable. This application offers all its features for free, and you don't have to worry about the subscription fee. In addition, we offer a Marvs VPN APK free download link to give users the best experience while downloading and using the app.
Access several streaming platforms
There are some websites or locations with restrictions; however, with the use of Marvs VPN APK, you will access all websites and streaming platforms and enjoy uninterrupted entertainment.
No distracting Ads
Everyone finds ads distracting and disturbing; the developers of Marvs VPN APK understand this and developed an app with no ads that might disrupt users' browsing experience. This way, you won't see any popping ads while trying to browse or connect to the internet.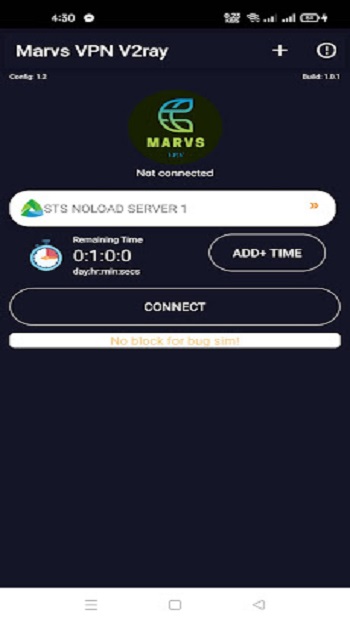 Enjoy using Public WiFi
Many people can't connect to public WiFi because they don't want a breach of their privacy by other devices; Marvs VPN ensures this does not happen and therefore allows you to use public networks without any traces of access to your data.
Great network compatibility
Marvs VPN is compatible with all networks, either 3G, LTE and more. Also, you can use it with all mobile devices without interruption, thereby increasing convenience while browsing.
Enjoy unlimited bandwidth
Most VPNs have a restricted number of device connections; however, Marvs VPN offers unlimited bandwidth. You will enjoy the high speed with this app; this way, your browsing experience has improved.
No log Policies
Marvs VPN APK does not track your online activities while browsing or streaming, guaranteeing high data privacy. Most importantly, your browsing history is safe and not recorded.
Additional Features
No registration or login requirement
No permits
Single tap connect feature
No time limit
Conclusion
This is a must-have VPN APK server with high privacy and security. Download Marvs VPN APK to enjoy its many features and join other users worldwide.