MARVEL Strike Force APK 7.5.2
Try out Marvel Strike Force APK latest version today and jump into a world of RPG fun - become the leader of an elite superhero team and save the world!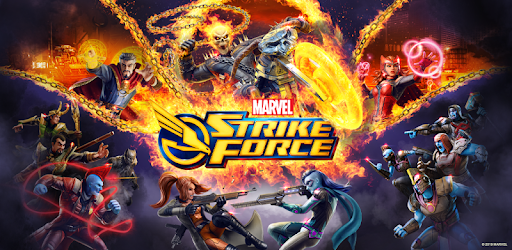 Marvel Strike Force is a popular Android game from FoxNext games which lets you control some of the most iconic characters from the Marvel Universe, including Spider Man, Groot, and Thor! These characters are all rendered in super high quality and brought to life with plenty of RPG and strategic elements in this turn-based fighting game. Can you defend planet Earth against the attacking aliens? You've got all the SuperHeroes and Super Villains you could ever need!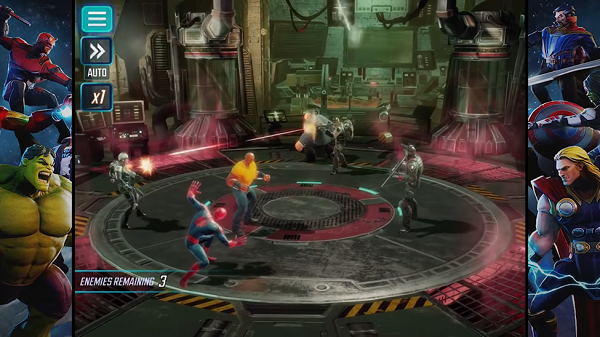 Marvel Strike Force has a large and loyal following, and for good reason. With regular updates to the gameplay, the world of Strike Force is always evolving. The combat feels great for a mobile game and the graphics aren't too bad, either. 5v5 battles with your carefully handpicked team allow you to experience the joys of the Marvel Universe all on a device you can fit right in your pocket.
Best Features of Marvel Strike Force
There are quite a few aspects of Marvel Strike Force that make the game very unique - it's awesome graphics, officially licensed superheroes, and tactical gameplay that allows players to get really stuck into the game. With its regular updates, that often include new hero and villain additions, there also comes lots of balancing updates and changes with responses to the community about the game.
The Graphics
Marvel Strike Force has awesome graphics when you consider it's a free-to-play game on the Android store. Every Hero and Villain has been carefully rendered to look just like their movie counterparts - the Hulk is vividly green, Iron Man has great lighting effects on his suit, and Thor's hammer crackles with thunder. The 5v5 battles are intense and look fantastic - as if you were choreographing an actual Marvel movie!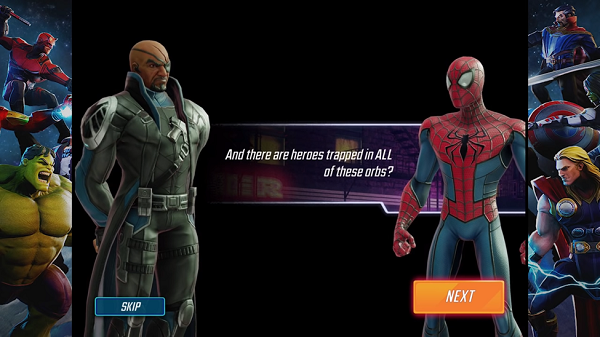 The Characters
It wouldn't be marvel without the super heroes and villains. Not to fear - Marvel Strike Force is packed full of all the most iconic members of the Marvel universe, from Iron Man to Doctor Strange. These characters all have their own unique skills and abilities that are related to their roles in the films - figuring out the unique aspects of each character will help you to build an unbeatable squad.
The Gameplay
Marvel Strike Force is more than a celebration of the success of the Marvel universe over the last decade, it also stands on its own two feet as a tactical RPG-style arena fighting game. You need to assemble a team of 5 of your ideal characters, tactically balancing who works well with who. Sometimes you might find it's a good idea to keep a balance of both super heroes and super villains!
Upgrade As You Play
Like all the best mobile games, Marvel Strike Force has a strong sense of progression as you move through the game. As you play more, and level your characters, you'll unlock all sorts of cool new abilities, outfits and other upgrades. Though the game is free-to-play, many of these upgrades can be purchased as a microtransaction if you don't want to grind through the game, although a lot of the content is available for free if you play a lot!
Marvel Strike Force Tips and Tricks
Learning how to get good at Marvel Strike Force isn't too complicated - first you need to focus on which characters are the best in the current meta, there is plenty of information online about which these are, as they regularly changed due to the consistent updates to the game. Unlocking the characters is possible through completing achievements, taking part in limited-time events, and competing in the regular raid mode.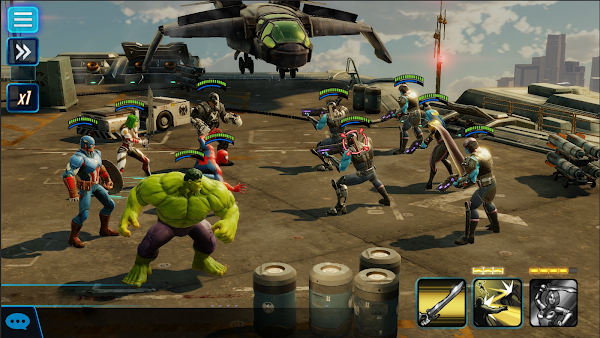 Marvel Strike Force APK - Auto win
Menu , Auto win, You can attack and Enemies do not attack to give you a big head start in Marvel Strike Force, build the ultimate SuperHero team.