Major Mayhem APK 14
Download Major Mayhem APK – latest version – for Android and experience military-style shooting and become the world's best major!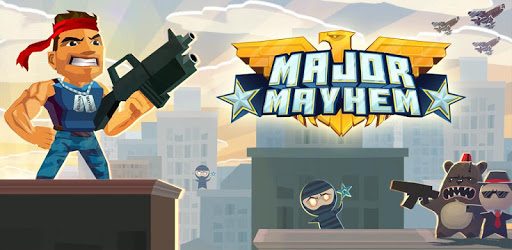 When we think of shooting games, we think Call of Duty, Fortnite and probably other popular ones. Shooting games are a popular genre even in the mobile gaming world. Usually FPS games can't be properly played without a mouse and a keyboard but somehow, developers are finding new ways to cope with this.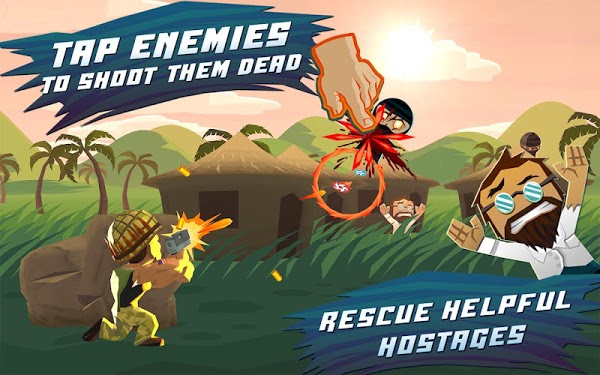 Meet Major Mayhem, a unique shooting game that isn't your typical first-person point of view shooting games. In this one, the mechanics are simple yet challenging. As a lone man, your task is to save the love of your life from the fleet of evil forces trying to stop you. Can you overcome all the odds to have a happy ending?
Minor controls, Major Fun
As mentioned earlier, the plot begins by having your girlfriend being taken by the enemies. You are a talent agent and you need to rescue your girlfriend from the evil forces. The dark forces are called the elite Ninja which are great at hiding and throwing things.
Unlike most shooting games, Major Mayhem is a casual type. In here, you don't need to move into different directions and aim your sights. The controls are as simple as touching the enemies. It's a simple game that works well because it uses 2D graphics but with 3D elements. You are always hiding behind something such as a rock. The only time you are exposed is when you shoot at enemies and you quickly go back to your hiding position when you're not shooting.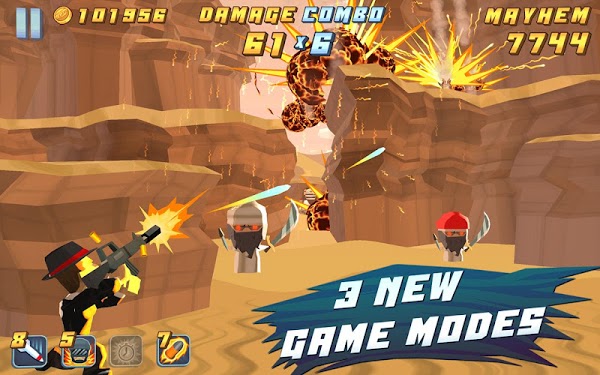 Aside from that, you can also use other types of weapons to help you in different situations such as grenades or missiles. It may seem simple at first but after you progress through the levels, you'll find that there will be more enemies and there will be hostages you need to watch out for. Can you rise up to this challenging task?
Features of Major Mayhem
Shooting games have always been difficult even with the rise of popular games such as Fortnite and PUBG. Thankfully, the developers are constantly looking for new ways to decrease the difficulty but still manage to present challenges. Major Mayhem is one of those games where the gameplay is as unique as the story itself. Here are the features of Major Mayhem:
45 levels to complete – As proof of its difficulty, Major Mayhem features 45 levels that you need to complete one by one. There are easy and difficult modes comprising of over 150 tasks of varying sizes. Completing the missions rewards you with weapons and achievements. Each level typically lasts for about a minute but that minute is jump-packed with action, guns and more action. You need to concentrate and be at your top condition in order to progress through the levels.
Stunning Graphics – Shooting games have been blamed for children's violent behaviors in the past. As such, developers are always trying new ways to present this game as just a game. Because of that, the result is a satisfying 3D design on a 2D plane. Each character in this game is carefully crafted to show their personalities as they are in vector form. The background locations are also delightful to the eyes as you get treated to different locations such as the desert, metropolis and the tropics. Everything is just well-designed adding to the enjoyment factor of the game.
Different game modes - Aside from the main story mode, you can also play other modes if you get bored in this game. There's the time battle where you have to complete the mission before the time's up which means that the bomb drops. Then there's the arcade challenges that lets you play challenging missions and the survival mode where your task is to try to stay alive as long as you can. Think you can become the ultimate Major?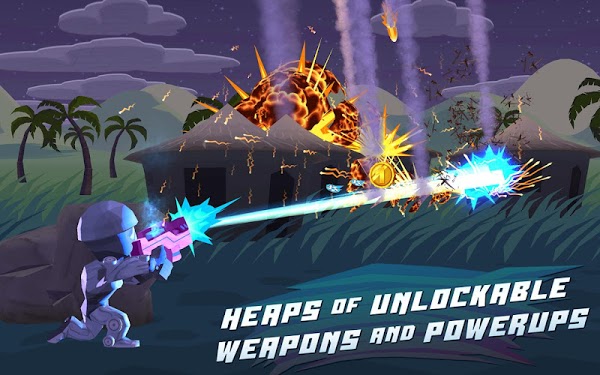 Customization – There's also an option to customize your character's costume with different ones and also add accessories to complete the ragged look. There are 42 costumes available for you to collect as well as a bunch of accessories that you can use. Try them all and see which one's the best!
Power-ups – For those tough situations, you can use up to 5 different power-ups to get an instant boost. These can increase your damage, shooting rate and flexibility.
Weapons – The game features 20 different types of weapons that you can use to destroy your enemies. Such weapons include the automatic shotgun, mini gun, and the powerful quadzooka. Also, don't forget that you can upgrade your weapons to increase their damage and firing rate.
Tips for Playing Major Mayhem
Major Mayhem is a fun and destructive game that you can enjoy for a long time. However, the levels get harder as you progress and you may find that your current skills may be lacking. That's why we're here to help with these tips:
Buy the Uzi – When you're just starting, we recommend that you immediately buy the Uzi. It only costs 750 yet it allows you to "shoot an enemy full of bonus" for greater combos and rewards. After successfully completing levels using the Uzi, then you need to upgrade and buy better weapons to easily kill enemies. But if you want to get more coins, then you should play the first mission using the Uzi multiple times so you can rack up on some coins. This is because the Uzi allows you to shoot even two airplanes at once. This allows you to get more mayhem allowing you to earn more coins.
Complete achievements – To get more coins, try to complete every achievement in the game. Completing these tasks can give you more coins than you can imagine. After completing them, you can reset them and then complete them again to double your rewards! The Uzi definitely helps you complete some of these missions since it's a rapid-fire gun.
Major Mayhem APK
Don't want to wait for a long time to unlock all the weapons and costumes? Download the unlimited coins now and rescue your girlfriend from the evil ninjas!