Magica.io APK 2.2.4
Battle other players in this Battle Royale style arena. Defeat them and grow in power as you collect more magic along the way. Download Magica.io for Android and try it out now.
Join the Battle Royale magical experience. Cast spells and take out your enemies at all costs. Be way, the map is constantly shrinking. So, players will eventually become bunched up in a cramped space. This makes destruction all the more inevitable. Download Magica.io to experience it all for yourself.
In the end, only the best magicians will come out superior and on top. Gain money and level up to earn more skins to utilize and show off your experience. Combine magic together and become a force to be reckoned with. Get your magical instruments ready and head into the arena.
Evolve and Improve
As you continue to gain experience, you'll gain more perks and magic slots to utilize. There are two main ways for you to level up in the game. These methods are done through: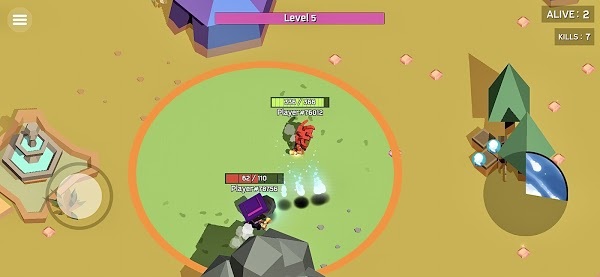 Picking up gems. These will grant you a small amount of experience as you progress through each level.
Secondly, killing your opponents will give you a HUGE boost in experience. Make sure to watch out, if you lose, you'll only have a limited amount of retires, at the cost of your own currency.
Master the Elements
Likewise, there are many different combinations that can be achieved through mixing different elements together.
The main elements at your disposal in Magica.io are: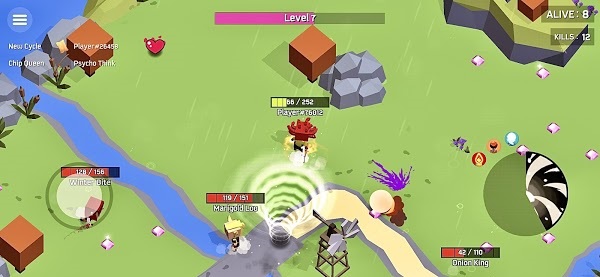 Mixing thee together can create devastating spells. For instance, mixing water and fire will cause lightning magic to fry your opponents. On the other hand, you can create burning boulders and lava balls by mixing fire and earth together. And you'll unlock the ultimate power of storms when you mix all three of these powers together.
But, you can stick with one type of element. This will cause for the ultimate in elemental magic. A level 3 Earth will grant you the power to bulldoze all of your enemies by transforming into a living rock. There are still many secrets to unlock with 20 different spell to master.
Magica.io APK Latest Version
If you want to get ahead in the magical arena, just use MAgica.io APK unlimited gems at your own discretion. Thus, giving you an unlimited amount of lives to continue playing, even after death. You'll be able to keep coming back until you've claimed victory for yourself.
That being said, there is no better way to become the best magician than to look death in the face and laugh. Go ahead and download the Magica.io APK latest version available on our page. The best mobile battle arena game for Android right now. At least, the most fun and addicting.