Lifting Hero APK 42.4.14
Download Lifting Hero APK latest version and build your muscles by lifting different weights. It has cute graphics, sensational challenges, and multiple rewards.
| | |
| --- | --- |
| Name | Lifting Hero |
| Updated | |
| Compatible with | Android 5.1+ |
| Last version | 42.4.14 |
| Size | 129.14 Mb |
| Category | Casual |
| Developer | Ponyom Games |
| Price | Free |
| Google Play Link | com.my.lifting |
About Lifting Hero APK
Do you want to build your muscles but don't know how to start? No problem! Lifting Hero APK will guide you and show you the way, albeit virtually.
This game simulates the weightlifting process, giving you an idea of how different exercises are performed. You will start with small weights and gradually increase the weight as you get stronger.
It has multiple levels, each with different challenges. You must be creative to complete the tasks and earn rewards. These coins & gems are necessary to progress in the game.
Gradual Progress
This game lets you progress gradually, and you are not expected to lift huge weights from the beginning. You will start with small weights and work your way up.
This ensures that you don't get overwhelmed and quit the game. Instead, you will be motivated to keep going and get stronger.
Even better, the introductory weights are interesting. For example, you can be asked to lift a shopping cart or a chair. Besides these being light items, they are not what you would typically associate with working out. This diversity gives the game a unique twist.
As you graduate through the different levels, the weights you lift will get heavier. Even then, they remain peculiar. For instance, you could be asked to lift a pick-up truck or even a lorry! The possibilities are endless, which keeps the game fresh.
Simple & Engaging Gameplay
This game is casual and can be played whenever you have a few minutes to spare. It does not require a lot of time or effort to get started. You can pick it up & put it down as you please.
The controls are facile, and you can play the game with simple one-touch controls. Clicking the screen once is all you need to do to make your character lift the weights. However, you should continuously click to lift the weight multiple times and earn more resources.
You will see a progress bar showing you how much money & resources you have earned. The bar will continue to fill up as you keep clicking. The more you click, the more muscles you will gain, and the more resources you will earn.
It is an endless cycle that gets you hooked on the game. You will be eager to come back and play again to progress further. Besides, it is satisfying to see your character getting stronger with each session.
Even better, your character will continuously rise above the ground as he builds muscles. Before you know it, you will be viewing the cityscape from a bird's eye view.
Sell & Buy Element
Lifting Hero is not only about lifting weights. It also has a business element to it. You will be required to sell the weights you have lifted and use the money to buy new ones.
The prices of the weights differ, depending on how heavy they are. The heavier the weight, the more money you will get for selling it. You can use this money to buy lighter weights, which are cheaper.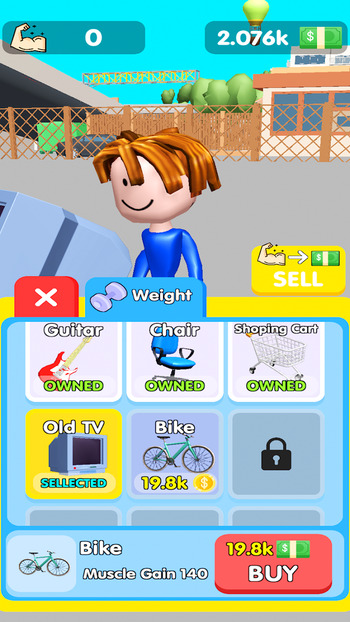 It is an excellent way to earn some quick cash, enabling you to buy the weights you want. Besides, it encourages you to keep playing the game for more money.
Cute Graphics & Great Soundtrack
This game has excellent graphics that will keep you engaged. The colors are attractive, and the characters are cartoony. The weights are also well-designed, and you can see the different textures.
The soundtrack is also great. It is upbeat and gets you pumped up to lift some weights! This way, you can enjoy the game while getting a workout.
Even better, the city background is dynamic. You can see beautiful buildings, lush backgrounds, and more. It makes the game even more fun to play.
Auto-Click Feature
As earlier mentioned, this game depends on your ability to quickly click the screen. The faster you click, the more money & resources you will earn.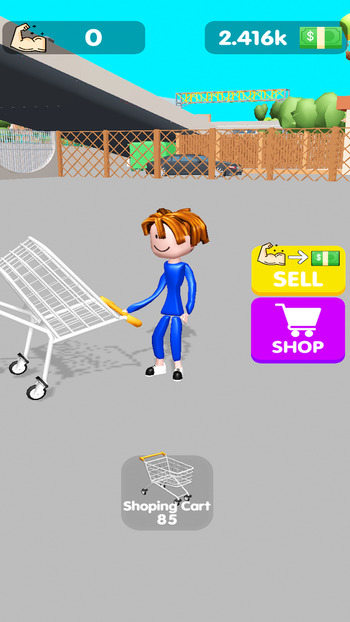 However, there are times when you need to take a break or do something else. This is where the auto-click feature comes in handy.
You can set it up so that the game will automatically click the screen for you. This way, you can continue to earn money & resources while attending to other things. It is a great way to multitask and make progress in the game.
Lifting Hero APK Download
This game is free to download and play. However, there are in-app purchases that you can make. These include buying new weights and other items.
If you do not want to spend money, you can download the Lifting Hero APK Unlimited Money. This version gives you enough resources to buy whatever you want.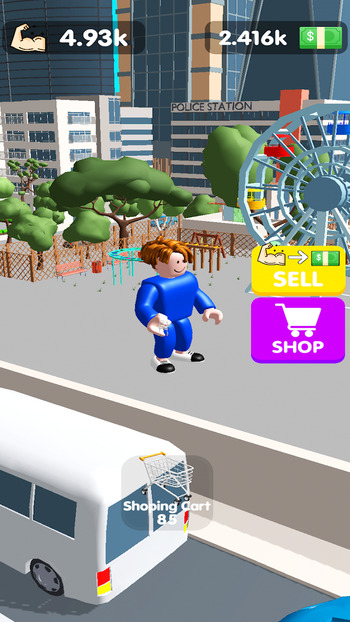 Additionally, the Lifting Hero APK free download removes all ads, ensuring you focus on building your muscles and becoming the strongest weightlifter in the city.
Conclusion
Lifting Hero is an excellent game that will keep you entertained for hours. It has a simple concept that is easy to learn but hard to master. You will be required to continuously click to lift weights and earn money. You can use this money to buy new weights or other items.
Even better, you can download the Lifting Hero APK to get Unlimited Money and remove all ads. This offers you the best gaming experience since you can concentrate on becoming the ultimate weightlifter.