My Talking Angela APK 6.8.1.5008
Download My Talking Angela APK – for Android to get the female version of Talking Tom. This cute pet will become your child's best friend.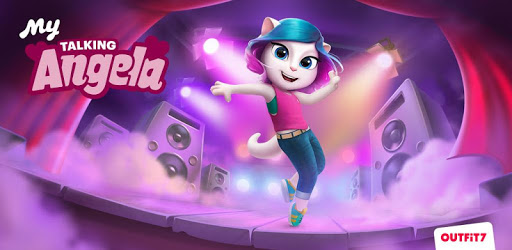 Want to get a fury best friend who you can develop and dance with? Download My Talking Angela APK for Android to get a cute cat that will respond to your actions, can be trained how to behave, and can even learn to sing and dance for you. What are you waiting for?
The female version of My Talking Tom, this game was developed by Outfit7 Limited – a veteran developer of children's games. The basic premise of the game is to pet, feed, and train your cat called Angela. This game is obviously well suited for young players and will keep your little ones entertained for hours on end.
If you're an older player, then dive in, the game is fun enough for anyone to enjoy – who doesn't want to train a virtual pet to dance for them? You can even decorate your cat's house and bathe her in this fun and friendly game.
Play puzzles and skill games
Not only does this game allow you to develop your pet and design their home, it also lets you play skill games designed to test reflexes and ability. This will help your pet to develop mentally and physically, as well as socially and intellectually.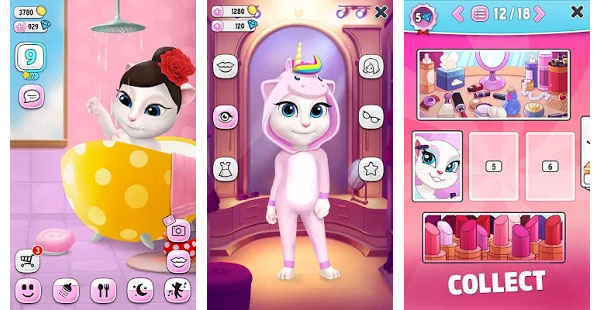 The games are obviously designed to help you develop your own problem solving as well, which makes the game even more ideally suited to younger players who are still developing. Help your pet to become the best version of themselves through playing skill games and solving puzzles.
Bathe them. You can look after your pet, making sure that they're fed and bathed and looking sharp all the time. This will keep them happy and clean and make them more pleasant to be around.
Dress them. There is a huge wardrobe to choose from, which means that you can choose any outfit that you want to dress up your pet. This will no doubt keep you entertained all evening as you figure out what your pet should wear.
Make her dance. Teach your pet to dance to your favorite music – whether it's K-Pop, indie, or disco. Take care of your pet and she'll gladly and happily dance for you like a Russian performing bear.
My Talking Angela APK
Want to experience the game with any limitations? Download the unlimited Money apk for My Talking Angela to be able to purchase any outfit or toy for your pet and decorate the home without having to wait to unlock stuff. Enjoy!