League of Stickman Free APK 6.1.6
Download League of Stickman APK Latest Version free for Android and start living the ultimate stickman life. This game will become your favorite under the action gaming category.
Attention to all fighting and action games lovers. These mysterious shadow stickmen brawling it out will surely tempt you. Are you intrigued to continue on with this epic game? If so, go ahead and download League of Stickman for Android.
Epic ninjas, warriors, and assassins take center stage in this amazing action-adventure side-scroller. Pick the best of the best and head out into the world!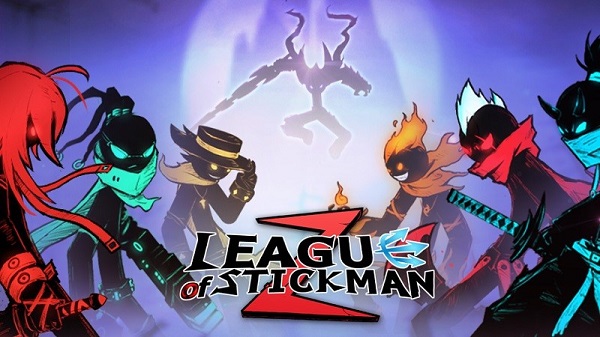 This game is dedicated to letting you live a life of a dark shadow stickman, who takes on any opposing threat. Furthermore, you'll be greeting to thrilling and exciting fighting sequences.
The best part about these mobile games is – they can be played anywhere! Take a load off from work and jump right back into the world of League of Stickman. Better yet, invite a few friends over to join in on your quest. The more, the merrier!
Whatever way you decide to play, you'll enjoy every aspect of this game, from beginning to end!
Become Part of the Stickman League!
First, you'll League of Stickman as, well…the character of a stickman. Once your character has been chosen, you dive straight into the beat 'em up style of gameplay. Defeat anything in your way and proceed through each level.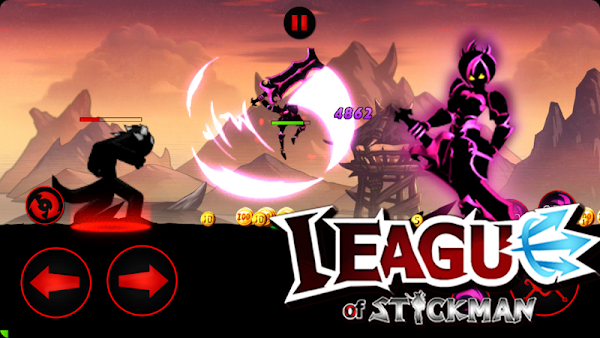 There is no storyline attached, this is an independent game, which features non-stop action. Meaning, anyone can become fully invested in the combat of this game. Play as much as you want until your need to fight is fully satisfied.
If you're not happy with the default player, there are various fighter options to choose between. Become any of the following:
Ninja
Gus
Athy
Feist
Bladey
Zilong
Shadow fighter
Monk
And the list goes on!
Everyone has a specific style of fighting, choose whatever suits you.
Even the controls are extremely simple. Since League of Stickman is designed as a side-scroller, simple taps dictate movement. Pressing the left button to move back, and right button to move forward.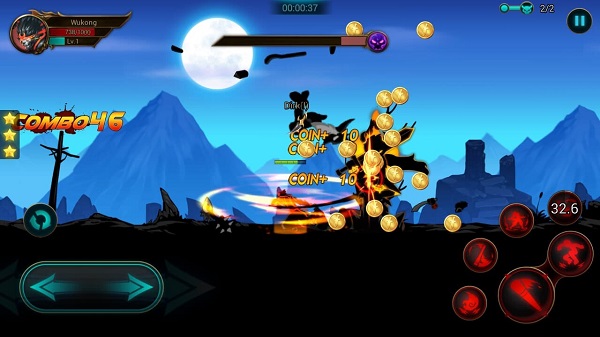 Pause the game in between if you need to. Perform slicing, dicing, and slashing with the buttons given.
More Details to Get Fired Up!
Get indulged into the game, as you do double-hits, Levitation, and deadly combos. Keep slaying the beasts and monsters in your track.
Team up with heroes, as you unlock them. For this, keep progressing and keep unlocking. Additionally, you can choose your own team to take on some super-powerful monster bosses.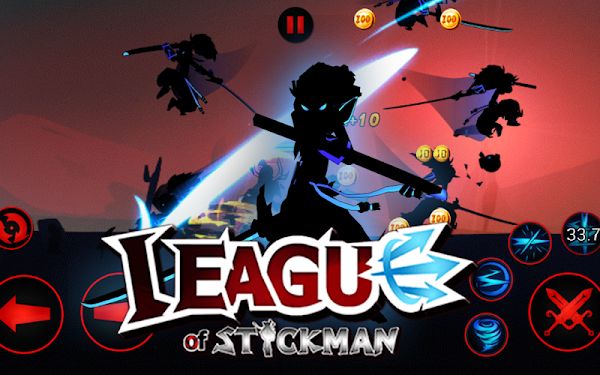 Also, characters can be upgraded with additional skills. There are 4 skills to master. Apart from that, compete against human players and teams from all around the world in a multiplayer mode.
Extremely simple graphics
Since the game theme is based on classic stickman games, you'll not be able to notice any features on human characters. They are plain black stick people, running and jumping all around.
Even the ground is totally black. The background is generally simple colored and undetailed. Again, these features are to fully-immerse players into the combat aspect of the game.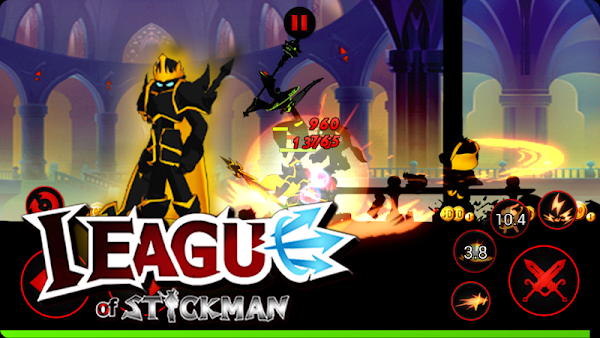 But you'll love the fast-paced animations, which will drive you crazy. Although they're just average. The color tone here is mysterious dark, and is never suitable for well-lighted environments.
League of Stickman APK
League of Stickman APK new version for loads of modified features.
Unlimited gems
Unlimited coins
Note: increase when spent.
Conclusion
Enjoy the supreme awesomeness of fighters and warriors. Take on the most grueling bosses ever. Ally with other heroes for backup and support. Do it all for free in League of Stickman APK download latest version.
Join the action now!