Kipas Guys APK 0.45.1
Download Kipas Guys APK for Android and play a fun-filled knockout game. It has many levels, generous rewards, and dynamic obstacles to keep you on your toes.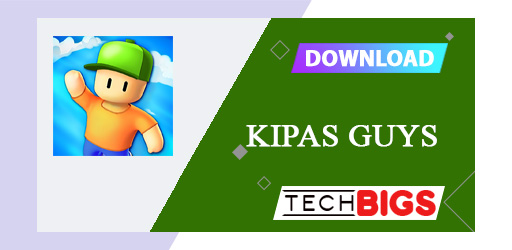 | | |
| --- | --- |
| Name | Kipas Guys |
| Updated | |
| Compatible with | Android 5.0+ |
| Last version | 0.45.1 |
| Size | 103 Mb |
| Category | Action |
| Developer | Kitka Games |
| Price | Free |
About Kipa Guys APK Download
Kipa Guys APK is a knockout game that resembles Stumble Guys. It was developed by Kitka Games to offer gamers a royale-themed game with a difference.
The game features multiple levels that are filled with obstacles. You must use your agility and reflexes to avoid these obstacles and progress to the next level.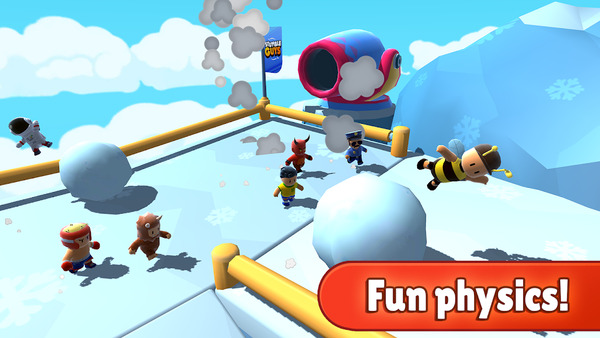 The objective is to be the last man standing. You should use your skills to eliminate your opponents and be crowned the winner. It will test your coordination and reflexes to the core.
Massively Multiplayer Gameplay
In this game, you will be competing against 31 other players for the ultimate prize. Every player has incredible abilities, and you should never undermine anyone's capabilities.
When you start, you will have equal opportunities to progress in the game. Beyond there, your chance will be determined by how effective your plans are. You must be strategic and use your skills to progress.
Customize Your Avatar
In this game, you can customize your avatar to make it unique. There are many clothes and accessories that you can use to achieve this.
You can also change the color of your avatar to make it stand out. This way, you will be easily recognizable, and other players will know who they are up against.
You can also use different hats and helmets to protect yourself from elimination. This way, you will have a better chance of winning the game.
Highly Chaotic Environment
This game thrives in chaos and confusion. When you are playing, anything can happen at any time. The environment is highly unpredictable, and this makes the game very exciting.
You must be on your toes at all times if you want to survive. The slightest mistake can lead to your elimination from the game.
Additionally, your opponents can knock you off. If they decide to play dirty, you must devise techniques to counter their strategies. Just ensure that you are always alert to avoid their traps.
Endless Fun
This game has numerous missions, ranging from football to running. You will have a lot of fun playing this game as it is very entertaining.
If you fail, you can always restart the mission and try again. You can also use different techniques to progress in the game. The possibilities are endless, and you can always find new ways to have fun.
Highly Dynamic Obstacles
What makes this game unpredictable and exciting is its dynamic obstacles. For example, you can have bouncing balls that you need to avoid.
The game also features many other obstacles, such as swinging ropes and moving platforms. You need to be very careful when navigating these obstacles. A single mistake can lead to your elimination from the game.
However, you can also use these obstacles to your advantage. For example, some obstacles will bounce you when you touch them. You can use this to your advantage and launch yourself toward other players.
This will allow you to knock them out of the game and progress further. Besides, you can use them to propel yourself and jump obstacles. This way, you can easily avoid elimination.
Other Features of Kipa Guys APK Android
Different Methods of Playing. In this game, you can use different methods to play. For example, you can slide, dash, or run past obstacles. This high level of flexibility ensures that you have viable gameplay options.
Battle Royale Format. This game uses the battle royale format, which is very popular among gamers. In this format, players are dropped into an arena where they must fight to be the last man standing.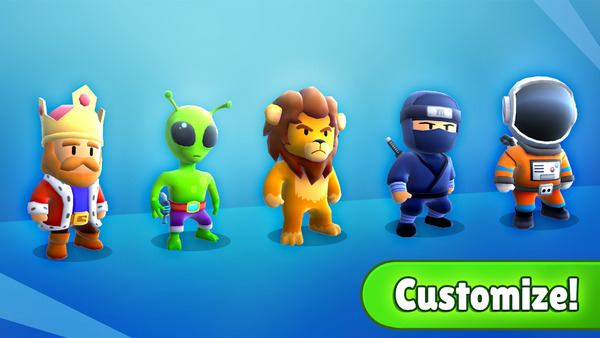 Colorful Design. This game has a cartoony feel to it, which makes it very colorful. The design is also pleasing to the eye, and this will keep you glued to the screen for hours. You will enjoy the fluid movement of your characters as they progress in the game.
Hilarious Falls. This game is not all gloomy and competitive. It has a lot of humor, especially when players fall. Some have compared it to 'Wipeout,' and this is very accurate. Falling off the edge of the map is hilarious, and you will enjoy watching your opponents do so.
Numerous Customization Options. You can play this game however you want. For example, you can change the background, improve your avatar, or use different hats and accessories. This game is very flexible, and you can tailor it to your liking. You will also have a lot of fun experimenting with the different options available.
Numerous Levels to Try. This game has many levels, and each one brings something unique to the table. You can play the levels in any order you want, and this adds to the replay value. You can also try different difficulty settings to keep things interesting.
Kipas Guys APK
Kipas Guys APK free download is the modified version of the original game. In this version, you will access all the features without making in-game purchases.
The game is also unlocked, and you can play any level you want. This way, you can explore everything the game has to offer without restrictions.
Even better, the version also comes with an infinite money supply. You can use this money to buy different items and accessories from the in-game store. This will give you a significant advantage over other players.
Conclusion
Kipa Guys APK is a game with numerous features, including dynamic obstacles, different methods of playing, and a battle royale format. You can customize your experience by changing the background or using different hats and accessories.
The best part about this game is that it is free to download (with optional in-app purchases). You can also get the version, which has an infinite money supply.