Jurassic Monster World APK 0.17.1
Download Jurassic Monster World APK – latest version – Free for Android if you want to participate in a world where dinosaurs roam! Can you survive in this world?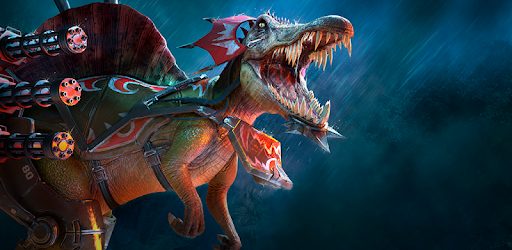 Dinosaurs are creatures that once ruled the Earth millions of years ago. Most of them are ferocious, scary and aggressive. And even after being extinct for millions of years, they're still part of our culture today. They are the topic of countless movies, shows and even games.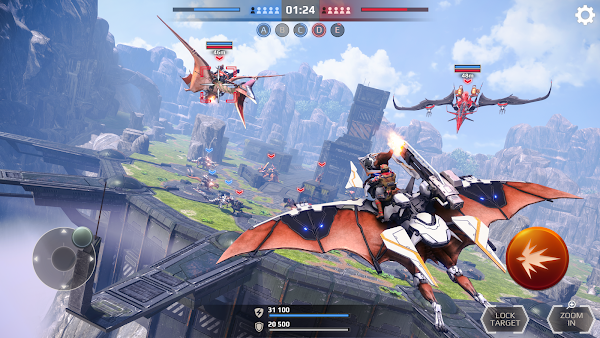 Jurassic Monster World is an action game by Azur Interactive Games Limited. This game has over 5 million downloads in Google Play Store alone! Because of that, this game is so popular and it keeps getting popular nowadays. In this game, you'll fight alongside dinosaurs to fight other people with dinosaurs. It's every kid's dream to do this and it's now a reality thanks to this game. Read on below to know more!
What is Jurassic Monster World?
Picture this, you're in a world filled with dinosaurs and you must survive. How do you do this? By taming dinosaurs and battling others of course! This is the ultimate dream of kids, to be able to play with dinosaurs and go on battles. Thanks to Jurassic Monster World it's now a reality!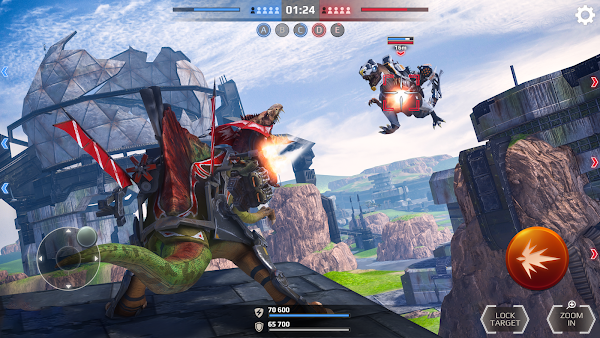 This game is a 3D FPS like you've never seen before. Normally, most FPS games only involves human-to-human combat. But in Jurassic Monster World, there are dinosaurs! Fight alongside 4 teammates to battle 5 others in an epic world filled with wonders. In here, everything is possible. You can even ride beasts that fly high in the sky. You can choose to ride a fully mechanized, augmented or organic ride! Command your beasts as you fight people out for insane rewards! Can you survive in this world?
Features of Jurassic Monster World
Jurassic Monster World isn't your typical FPS game It has all the makings of a unique game. But if you're still unconvinced, here are its features:
Unique gameplay – Have you ever played an FPS game featuring dinosaurs as your ride? There's a high chance that you haven't! Jurassic Monster World is just that type of game. In this game, you get to ride dinosaurs as you battle through a vast world filled with opponents. Make your way to victory by being agile and a sharp-shooter. Don't be afraid, you have allies who are there to help you. Go wild and unleash your inner beast!
Multiplayer – The best thing about this game is that you will fight real online players around the world! Every match consists of 2 teams with 5 members each battling each other to the death. There are plenty of ways the battle could go so it's in your best interest to formulate a strategy with your teammates beforehand.
Different creatures – In Jurassic Monster World, there are 3 main types of creatures: Full Meta, Organic and Augmented. Full Metal creatures are AI machines that don't have any biological tissue. They are equipped with an energy shield. While Augmented dinosaurs are half-human and machine. Lastly, the Organic dinosaurs are the old-school monsters that have evolved from the Jurassic Era.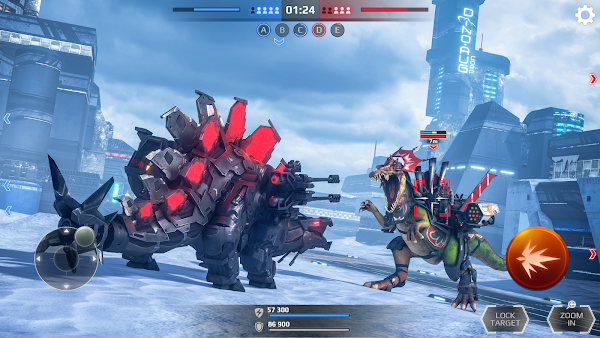 Weapons – In this game, there are plenty of weapons you can use to fight enemies. Choose rom traditional guns to next-gen energy blasters!
Graphics – In terms of graphics, Jurassic Monster World has one of the best 3D designs you can ever have on a mobile phone. The massive 3D world makes for some very awesome gameplays. While the dinosaurs themselves are epic as well.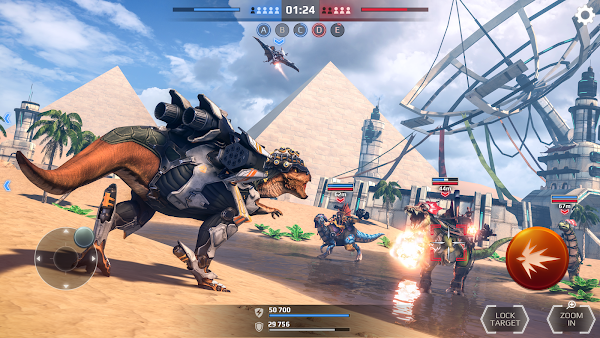 Easy controls – The controls are as easy as most FPS games. You have the virtual pad in the left side of the screen while the firing button is on the right side.
Download Jurassic Monster World APK
Jurassic Monster World is a unique FPS game that you can play right now. If you want to unlock every dinosaur!