Idle Transformation APK 3.6
Download Idle Transformation APK – Latest version – Free for Android and play a simulation game where you can transform into a werewolf, a mummy, a Yeti and many more!
Magical beasts and those that are products of our minds have always been the topic of many movies, shows and games. There are many conspiracy theories out there about the existence of these things which confuses a lot of people. But one thing's for sure, it's fun to play with them!
Don't you just love it when your favorite character suddenly transforms into something more powerful – say a beast? What if you can transform into not one but a lot of characters in a game? Now, you don't need to imagine thanks to Idle Transformation! This is a simulation game that allows players to transform a normal human being into a Yeti, a Werewolf, a Mummy and many more! Transform into your favorite hero now!
Ready, Transform!
As kids, it's always fascinating to see mythical beasts in movies, shows and games. Even if they're the bad guys, they are fun to see as they're powerful and exciting to see in action. But have you always wondered what it's like to transform a normal human being into one of these yourself?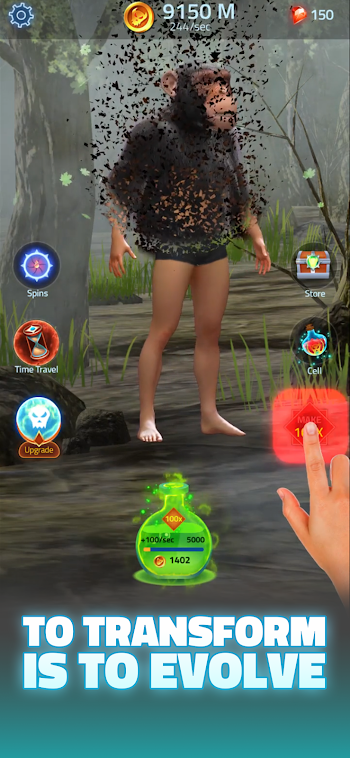 Thanks to Idle Transformation, you don't have to imagine anymore! Because in this game, you will transform a human being into tons of mythical beasts! The way this works is that you need to make money first in order to produce the cells that are needed for the transformation. Of course, you can only transform a part of the body at first then you can slowly upgrade them all until you reach the max point. Can you collect all the mythical beasts' heroes in this game?
Features of Idle Transformation
Idle Transformation is a totally unique and awesome simulation game because it allows players to see the transformation themselves! Here are its features:
A Unique Simulation – There have been plenty of games out there featuring mythical beasts in action. However, not a lot of mobile games feature a simulation one where you can simulate the transformation of a human to a mythical beast, right? Because of that, Idle Transformation is now here! This game is a feast for fans of mythical beasts and for those who are curious as to what the transformation looks like. Here, you can slowly build your mythical beast as you buy the cells to level it up. You can't fight with it however but you can show it to everyone and boast about it!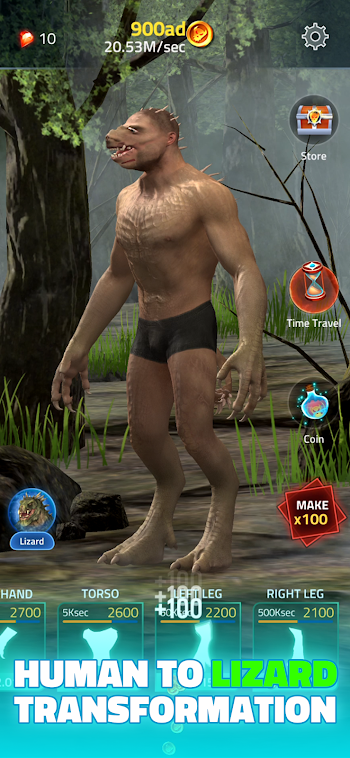 Plenty of Mythical Beasts to Collect – In here, there are plenty of mythical beasts to unlock! Of course, you'll start with a normal human being at first. But after that, you can unlock plenty of beasts such as the Werewolf, Ape, Lizard, Yeti, Mummy, Female and more! Each of these are unique in their own way and they're epic to look at! These mythical beasts are majestic in their own form and you can clearly see how they transform slowly.
Upgrades – Here, you need money and time to transform your hero into a mythical beast! Of course, you'd need to upgrade the different parts of the body gradually. Here, you can upgrade the torso, left hand, right hand, left leg, right leg, and the head! Once you max the levels, you'll fully see the transformed mythical beast right at your fingertips!
Incredible graphics – Here, you'll appreciate the 3D graphics of this game that allows you to slowly see the transformations. Here, you'll gradually see the transformations as you level up the different parts of the body. Aside from that, you can clearly see the transformation right at your screen!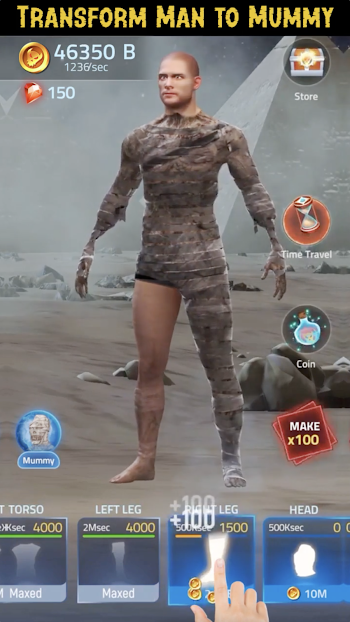 Ide gameplay – Since this is an idle gameplay, you can earn money even when you're not playing. Of course, you'll earn more if you unlock more mythical beasts!
Idle Transformation APK
Idle Transformation is an awesome simulation game about transforming a human into different mythical beasts! Download the latest version and transform now!