Idle Life Sim APK 1.3.9
Download Idle Life Sim APK - latest version - free to jump into a fun simulated world of unique avatars, each with their own life goals and ambitions.
Idle Life Sim is a game from Codigames, a game studio who specializes in fun idle games for Android, such as Idle Supermarket. In Idle Life Sim, you're given control of an entire life, experienced through a cute little avatar. You build and design the perfect house, find a dream job, and go about your social activities just like you might in real life. The options are endless, the potential is huge. Watching the unique lives play out, with some help along the way with you, is a fantastic experience and it works really well on Android!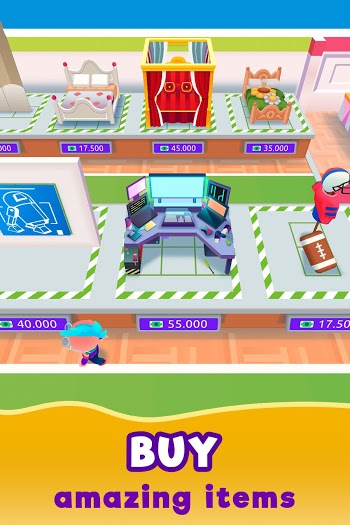 Idle Life Sim is a casual game which is great for passing time, but it also includes plenty of management and strategy. The success of your little avatar rests upon your shoulders, as you make executive decisions about their life, whether this be their career or choice of activities. Start out from a modest position in life - just getting started in a small rental flat and a job that does get on your nerves a bit. With hard work, persistence, and plenty of help from the hand in the sky, you can excel in Idle Life Sim! Upgrade your house, build your dreams, exceed in life! Download Idle Life Sim today to jump into this casual but hard-to-master strategy and management idle game.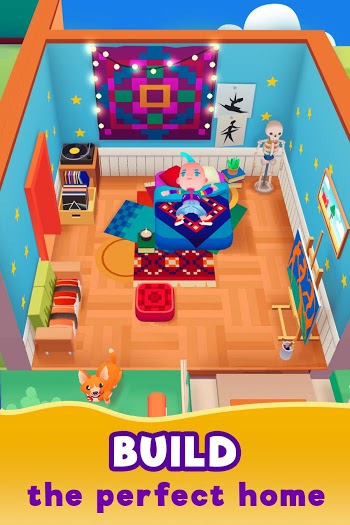 Best Features of Idle Life Sim
Idle Life Sim is an idle sim, a very popular type of game on Android and other mobile platforms. Idle games don't require you to be constantly playing to reward you with progress in the game, ideal for those who want to to pick up and play and not be glued to their phone around the clock. Time passes while the game is closed, meaning your avatar keeps progressing and living their life in the background, going to work, meeting friends, and heading to bed. Here are a list of some of the best gameplay mechanics and features to give you a better idea of what Idle Life Sim is.
A Simulated World, Running in the Background
Getting started in Idle Life Sim will provide the platform for the rest of your character's progression, which mostly occurs while you're away from the phone. First, customize your appearance, male or female, and choose a few basic decorations for your first home. Then start off by heading to work and letting the character do their job while you cook dinner, read a book, or journey to work. Part of the magic, and why idle games are so popular on mobile, is the fact they don't require all of your time to get a good sense of progression. Idle Life Sim does this well.
Create A Totally Unique Avatar
To make the characters really feel like your own, you can create an avatar at the start of the game with a bunch of different customisation tools. You can change their facial features, their hair, size, costumes, clothes and so much more. Throughout the game you'll be able to collect more and more items from them, such as new clothes to stock the wardrobes with or a new hairstyle and color to impress your brand new avatar friends! These avatars are cute and lovable, perfect for an idle game.
Customize Your Avatar's House and Home
One of the most fun aspects of Idle Life Sim is designing your avatar's home. There are lots of customisation options - not dissimilar to a game like Animal Crossing: New Horizons - and a solid sense of progression throughout the game. You start out in a small loft and over a period of time upgrade into an awesome and massive mansion. You'll have room to start out with a comfy bed, maybe some cushions and a TV. As your avatar progresses through their career and earnings, you'll have more space and more money to spend on cool and useful items for your home.
Choose the Ideal Career For You
There's no shortage of career choices, covering everything from sports to a techy desk job. Become a superstar athlete and train hard to be the best, or study books and computers to become the wealthy CEO of a tech start-up. Chase those promotions and take different paths through the world of work to achieve the best for your avatar. Earn pay rises to upgrade your house, buy new things, and keep your avatar happy. This is where the management and sim parts of this idle game come in - you need to make educated movements and keep progressing up the career chain to keep the wheels of life rolling.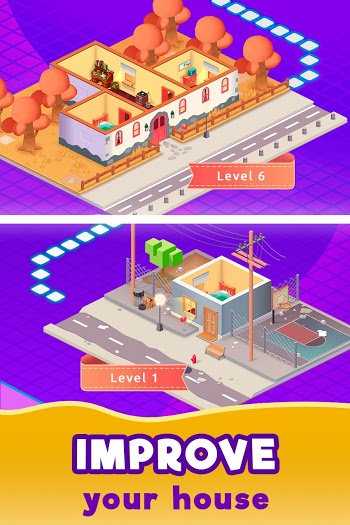 Make The Important Decisions
While some of the game keeps itself running even when you're not there, it's down to your decision making that determines the success of your avatar throughout the game. Tough decisions mean tough choices, and managing the microscopic parts of your avatar's life can have huge knock-on effects in their love lives and career. Each storyline is totally unique thanks to your choices, and you can witness the effects these choices have on your avatar's reality. Make a choice then let the game run in the background. Their lives will continue to develop and change as long as you keep logging in to check out the game!
Idle Life Sim APK
Don't want to wait around for resources? Download the Idle Life Sim apk to get unlimited money for your avatar! Win quickly!