Hitmasters APK 1.18.4-33-sdk
Download Hitmasters APK – latest version – for Android and experience the latest shooting game puzzle in your phone! Do you have what it takes?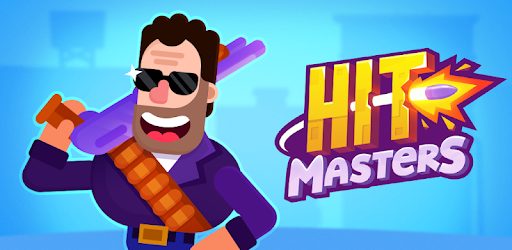 Shooter games are one of the most popular genres in the mobile gaming industry. There are a lot of games being developed and published every day in this genre. However, not all of them are worth your time. Most of them are created hastily but some of them are a gem.
Hitmasters is a shooting game unlike any other. In this game, your job is to eliminate all enemies. However, it isn't simple. The levels are littered with puzzles you need to solve while annihilating your enemies. As you progress, the challenges will get harder and harder. Think you have what it takes to be the best puzzle shooter?
A Unique Shooting Game
When we think of shooting games, we think of popular FPS games such as Call of Duty, Fortnite or even Counter Strike. However, some players will definitely get bored of these types of games after playing a while.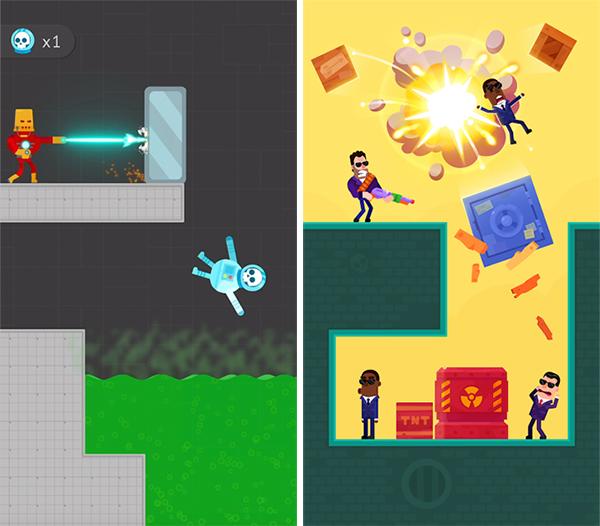 If you're one of them, meet Hitmasters. The hit popular game with over 5 million downloads on Google Play is here to give you limitless excitement. In this game, you will play as a hitman who needs to eliminate all enemies in this game. You can shoot them directly or think of creative ways to kill them using your surroundings. In this game, there are different challenges in each level, you need to use your creativity if you want to pass these challenges.
As you go on, you'll face many difficult levels that will bring out the best in you. There will be obstacles, detonating bombs, cutting strings and more that you need to do in order to clear them. It's up to you on how you do things but in order to clear the level, you must eliminate all the bad guys. However, you only have a certain number of bullets to shoot. So be sure to use them wisely and effectively.
Hitmasters Features
At first glance, Hitmasters is a very simple game. But upon close inspection, you'll realize that it has more to offer than it lets on. With this said, here are the awesome features of Hitmasters:
Simple controls – When we say simple, it's really simple. You just hold the screen and aim where you want to shoot and then release your fingers to shoot. It's that easy yet you need to take note of the protectories of your bullets otherwise it will be wasted. You also need to take into account that you can't freely move your character in here so you have to be precise and creative when taking shots. And as you move along the game, you'll be presented with challenges wherein there will be more enemies and obstacles that will hinder you.
Challenging levels & bosses – Aside from the already challenging levels, you'll get to fight a boss every 10 levels cleared. Although it looks like the normal bosses, these ones have more HP therefore more troublesome to deal with. If this doesn't faze you, it's worth mentioning that there will be even more hard obstacles you'll encounter on top of the bosses. It's not so easy and simple now, is it?
Different game modes to enjoy – This game isn't just a simple puzzle shooter. If you get bored with that easily, Hitmasters has 4 game modes for you to choose from. The Shotgun Mode is where your weapon is a shotgun that sprays bullets and is good only for close-range action. The next mode is the Gravity mode where you use an object-sucking gun that you'll use to eliminate the enemies. Then there's the Ricochet Mode where you'll use a sniper rifle to take out targets easily in long distances. Lastly, the Toxic Mode allows you to hold acid pitchers that you'll use to take out opponents. Sounds fun, right?
Wide array of outfit and guns – After clearing 10 levels, you'll receive offers from the shop about new guns. There are a lot of guns you can buy and each of them has their own purpose. For instance, you can buy new shotguns that you can use in the Shotgun Mode and so on. Then there's also a wide selection of outfits you can buy to accommodate your needs. You can change your look to however you want but you must choose wisely as they cost money. Take note though that the costumes will not increase your attack power or add any damage to your guns – their sole purpose is to help you look cool.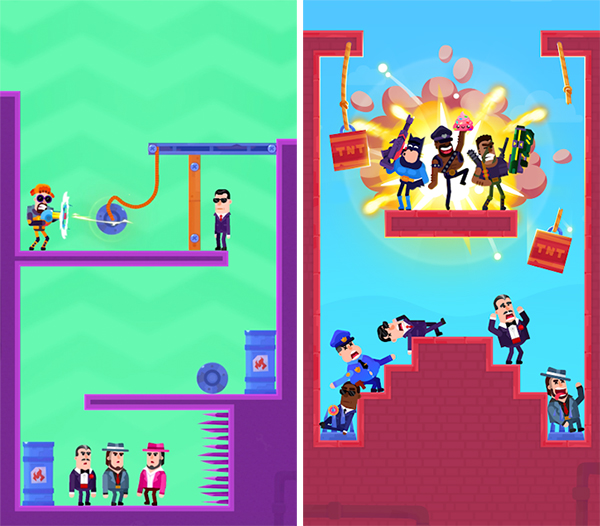 2D flat graphics – Yes, the graphic may not be 3D or the next cutting-edge technology but it suits the theme very well. Since this is a puzzle action shooter, you need to be able to see the whole level to complete it. Hitmasters does a very good job of designing the characters, the objects and the stage of every level. The meticulous detail of having everything down precisely is what makes this game such a popular one. The sound effects also add up to the intensity of every challenge and the enjoyment of it. You will certainly enjoy every aspect of the game as it's well-designed.
Tips for Playing Hitmasters
Although Hitmasters may look simple, it's actually a challenging game at most times. You'll constantly need to think outside the box if you want to solve the puzzle and eliminate the targets. That's why we're giving you these tips to help you:
Shoot with less bullets as possible – The goal of this game is to solve the puzzle and eliminate the targets. But it isn't as simple as that. You need to be able to do that with the bullets you're given with, which isn't a lot. So, before taking any shot, try to think of patterns around you. Look for anything that can kill your enemies with just one shot. Doing so will definitely give you more rewards.
Understand the weapons – In this game, the key to clearing the levels is your ability to use your weapons effectively. And the way to do this is by understanding how they are used and how to use them effectively. Some guns can even be totally confusing for some like the object-sucking gun. It's important to practice and be good at them.
Hitmasters APK – Unlimited money
Want to play Hitmasters but don't have enough money to buy all the weapons and costumes? Download the unlimited money now!