Happy APK 2.8.0
Do you want an app where you can install all the best mods? Download Happy APK now and you'll see many modified apps you can install.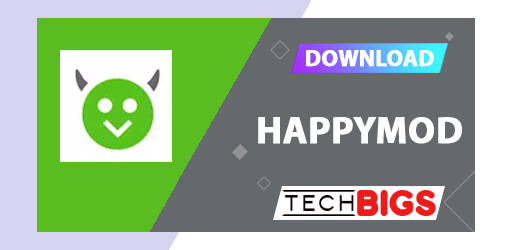 | | |
| --- | --- |
| Name | Happy |
| Updated | |
| Compatible with | Android 4.1+ |
| Last version | 2.8.0 |
| Size | 13 MB |
| Category | Tools |
| Developer | happymod |
| Price | Free |
Download HappyAPK – App Downloader
You can find many apps from the Google Play Store but if you want modified ones, you can browse from the internet. But Happy is an application store where you can download modified apps.
This app works like the Google Play Store but stores all the best modified apps and games you can download for free. Here, you can browse for your favorite apps and even get recommendations.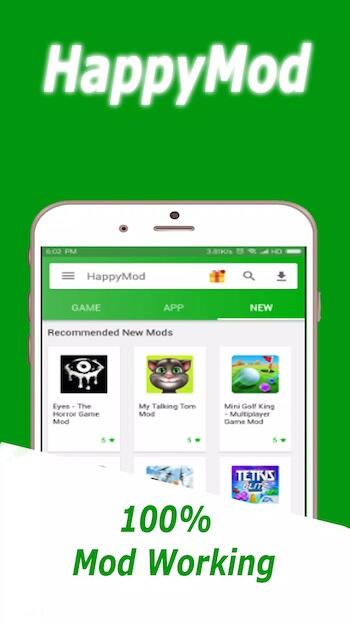 Since this works just like the Google Play Store, you can download apps that you find here. Some of the features that you can get are unlimited gems, money, free shopping and more.
Here, there are many categories for you to browse which separates the apps and games. Thanks to this app, you now have a place to conveniently find all the best modified apps and games.
How Happy Works
Users are free to browse and search for many apps in the Google Play Store. But there are a lot of people who want modified apps and games which provides more features.
The usual method to downloading these apps is by searching through the web. There, users can download from a variety of websites like this one. But now that Happy is here, you can find every app and game that you're looking for.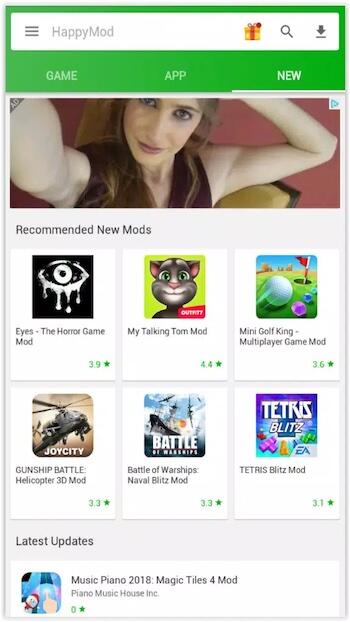 The way this works is that it functions just like an application store. This means you can find apps but instead of normal ones, they are modified. The app features thousands of apps for users to download for free.
They can search for them directly or browse through different categories. Once you find what you're looking for, you can click download and you can install it. This app will then install the game for you as you don't need to open any APK files.
Advantages of Happy
Now that you know how Happy works, we're sure that you're curious as to what it exactly it offers. Fret not, we've listed its excellent features here:
Thousands of apps – The usual way to download apps is through the Google Play Store. However, if you want apps that have more features, you can install Happy. This is an app store for all modified apps. This means that you can get all the features of your favorite apps unlocked.
Excellent games – Aside from apps, Happy features many games as well. There are many excellent games here from RPG to action to simulation. You'll also see the modifications done to the games like unlimited money, maps, free shopping, gems and more.
Different categories – Once you open the app, you'll see many categories to choose from. There's the Games, Apps, New, Paid, Exclusive and more. Under each category, you can browse the recommended apps and install them.
App ratings – We've mentioned that this app works just like the Google Play Store and it's evident in the ratings system. Users can rate any app that they've downloaded using stars with five being the highest. This is a useful feature since you'll know which apps are the most effective and popular.
Reviews – Aside from app ratings, users can also leave reviews. This lets you see whether there are any issues before you download an app. You can also leave reviews to provide feedback.
Search bar – Just like the Google Play Store, there's also a search bar here. You can type the name of the app and game that you're looking for here.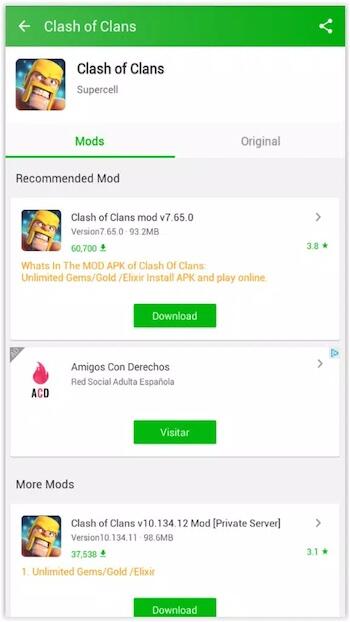 Install directly – Unlike using third-party sites, this app provides a seamless installation process for modified apps. You can find apps then download them. As they finished downloading, they will go to the Finished tab where you can install them, rate them, or delete them.
Lightweight – The app is lightweight, so you don't have to sacrifice other apps to install it.
Fast and safe – The app guarantees fast download speeds. It's also safe as every app has been tested before they even upload it to the store.
Disadvantages of Happy
As you've read, there are many advantages to having Happy But there are also a few disadvantages that you need to know about.
Limited apps/games – The most major drawback of the app is the lack of apps/games. Obviously, you won't find every game here from the Google Play Store. Only the ones that the developers modified are in here. Even so, you can find numerous apps to choose from and they're all free.
Presence of ads – Since this app is free to use, we can't deny the presence of ads. These helps keep the app running so the developers can add more apps in future updates. Thankfully, the ads aren't intrusive.
You can't create an account – Unlike in the Google Play Store, you can't create an account here. This can be a minor inconvenience to some people since they need to download every app again in another device.
Download Happy APK – free download
Looking for modified apps in one place? Happy is an application store that lets users download apps/games!