Grow Castle APK 1.38.10
Download Grow Castle APK – latest version – Free for Android and play the ultimate tower defense game on mobile! Ready to protect your tower?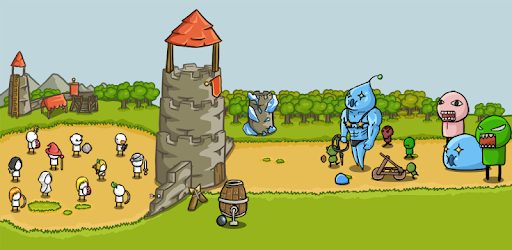 Tower defense games have been around since the dawn of mobile gaming. They are addicting and very easy to play with. They don't need to have the next-gen graphics or the smartest controls. They just need to be truly entertaining and unique to be enjoyed by many.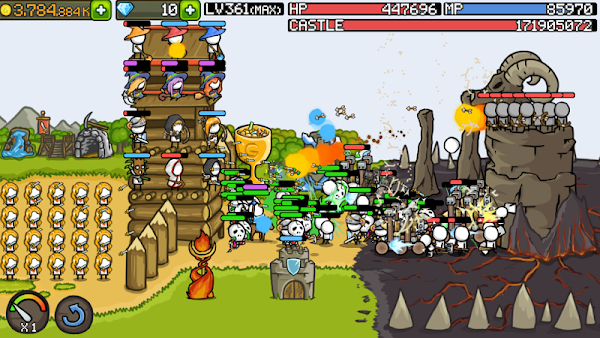 Grow Castle by Raon Games is a tower defense game that does everything right. The fact that it has over 10 million downloads on Google Play Store says it all. But the numbers aren't enough for some people. Don't worry, this game has significantly more to offer than the lackluster name. So, if you're interested in this game, read on!
Introduction to Grow Castle
Tower defense games aren't new. But that doesn't mean that developers can just making new games focused on this. Grow Castle is a tower defense game that brings new elements to the table. It's something that tower defense game lovers will truly enjoy.
Unlike other tower defense games, this game has a backstory. Once upon a time, there was a kingdom living in peace. Then one day, a horde of monsters decided to invade every other neighboring kingdom. Your kingdom seems to be their next target. Fortunately, you've been warned about this so you can prepare for their arrival. However, your kingdom's bases were quite weak against the hordes of monsters. Now, you're left with the castle as you try your best to defend it. You must do everything you can to stand your ground and defend your last base with all your might or else, you'll be overtaken by monsters.
The graphics in Grow Castle is 2D cartoon. It's not your typical 3D graphics that we're used to now. Even so, the characters and the effects are still as crisp as ever. Everything is well-designed and very pleasing to the eyes. Combine this with the sound effects and you're in for an adventure of a lifetime.
Features of Grow Castle
Grow Castle may look like every other tower defense game in existence. But It actually offers more than others. It has over 10 million downloads in Google Play Store because it revolutionized the tower defense game for the better. Want to know more about this? Here are the features:
Units – In this game, your units are your offensive pieces. You can't defend your tower without them so it's important to understand how they work. In Grow Castle, you can use up to 120 units. Each unit is unique and has its own stats that you need to be aware of. For instance, the magicians can freeze enemies while the wizards create thunderstorms. There are also Stoners that can throw large boulders at enemies smashing them to pieces. Each of these units has their own strengths and weaknesses that's why you need to strategically place them based on this.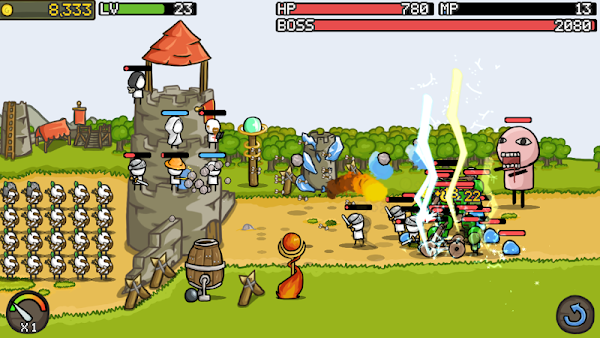 Impressive Graphics – What stands out about Grow Castle is the fun and entertaining cartoon graphics. It's like being a kid and bringing your imaginations to life in the form of this awesome game. But even though the graphics aren't as intense as other games, it maybe what you're looking for. A simple, easy to look at game that does everything you want to and more. And most of all, the effects will surely satisfy your cravings for an immersive battle experience.
Different game modes – In order to keep the game interesting, the developers added different game modes to the game. If you are getting bored in the normal mode, try the infinity mode. In this mode, the monsters will keep coming until you can no longer defend your castle. See how long you can survive while the monsters become stronger and stronger by the second. You have to do everything you can to survive such as promoting and crafting new heroes from the LAB room and building colonial areas. But whatever you do, don't let the monsters destroy your castle.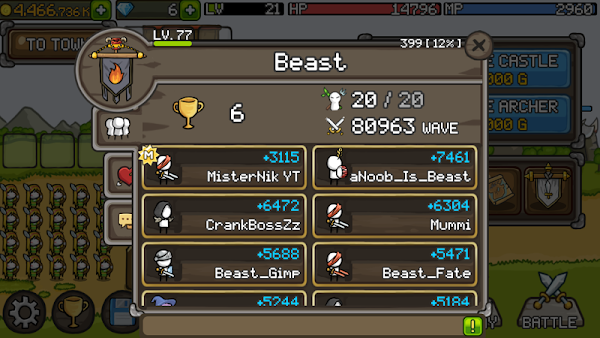 Rankings – Aside from the above, you can compete with others in the real time rankings in this game. You may not be able to fight them face to face but you can test your skills against the best in the world by seeing how you fare in the world rankings. This will help you to become the very best, by beating the high scores of others! Become the very best in Grow Castle in order to brag to your friends about it.
Hero promotion system – In this game, you'll face stronger enemies as you progress. Because of that, you'll find that your troops may no longer be able to hold off the enemies on their own. In these cases, it's important to upgrade your heroes in order to strengthen their stats. This will allow you to reach newer heights and high scores. If you want to get high scores in infinity mode, this is the secret of other high-ranking players as well.
Easy controls – In Grow Castle, the controls aren't that flashy. They're as simple as selecting and tapping the troops you want to deploy. That's how incredibly easy it is to play this game. You don't need some complex control schemes just to fight the enemies as it will be automatic. You just sit and watch and adjust accordingly.
Tips for Playing Grow Castle
Tower Defense games aren't as hard as it seems to be. Everything is automatic aside from your placement and your strategies. However, for beginners it might be difficult. Here are some tips:
Think before you promote – In Grow Castle, it's important that you be wise in promoting heroes because you can't un-promote them if you change your mind. Our tip is for you to try and promote the golem master so you can activate a power gem without having to equip it.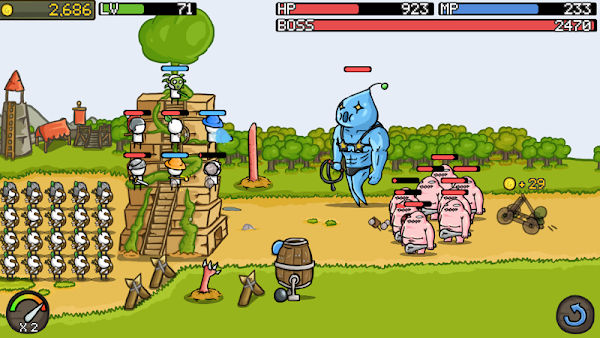 Purchase the most expensive units first – In this game, the best strategy is to purchase the most expensive heroes, towers etc. first. This allows you to finish waves like nothing and save money to buy more units later in the game.
Grow Castle APK
Want to download Grow Castle but don't want to play with limited money? Download the unlimited money now and enjoy!