Girl Voice Changer APK 1.0.11
Girl Voice Changer APK download lets you customize your voice to girls' tones. You can even edit the voices to meet your desired tonal variations.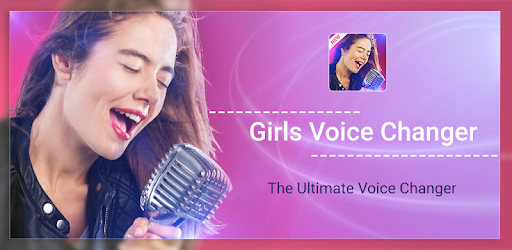 Detailed Description of Girl Voice Changer App
Girl Voice Changer Prank APK is an entertainment app offered by App Basic. It has several features that enable you to change your voice to sound like a girl. You can choose from the many variations available, ensuring that you get the most realistic voice ever.
As such, it will be difficult for anybody to notice that the voice is fake. Its realism allows you to prank your friends with unmatched ease! You can even save your voice recordings to play them later for optimum fun.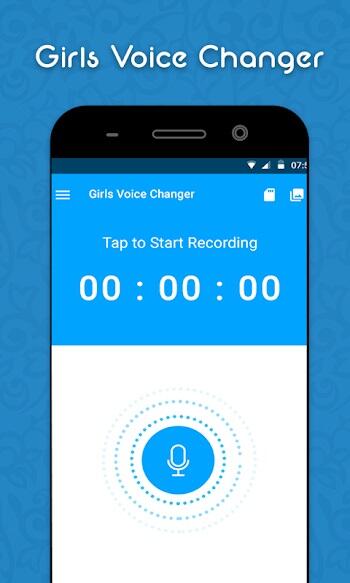 If you want an easy way to change your voice, you should get the Girl Voice Changer on Call APK. It is a simple app (8.1M) that works well with all Android 4.0.3 devices.
How to Use the Girl Voice Changer Mic APK
Girls Voice Changer is quite simple to use. It has a clean and straightforward interface that allows you to change your voice with ease.
To start using it, you should first download and install the app on your Android device. Once done, launch the app and select any of the available female voices.
You can choose from various categories, including a young girl, teenage voice, adult girl, professional girl, or even baby voice. You can even try each one until you find the most suitable one for your needs.
Once you do, select Record and start speaking! You will be surprised by how easy it is to change your voice once you download this app onto your device.
You can share your recordings with friends using any messaging app such as WhatsApp and others. The app also allows you to save your recordings for later use.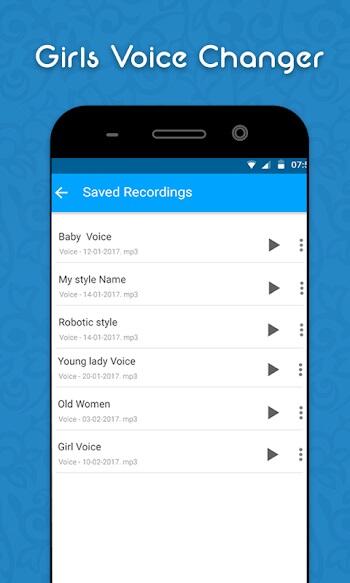 You can access the audio files via the gallery or file manager apps. The recording quality is top-notch. Even better, the app is super-fast. It enables you to customize your voice in minutes.
Why Download Girl Voice Changer?
Girl Voice Changer is perfect for creating humorous moments. It is one of the best entertainment apps that you can use daily. You will have a blast recording your voice and playing it back in different variations.
The app works amazingly well with just about all Android devices. It has plenty of amazing and humorous voice tones, ensuring that you get to enjoy this app for a long time.
Best of all, Girl Voice Changer APK requires no permissions at all! It is safe for use and will not cause any harm to your device. This makes it one of the most reliable voice changer apps around today.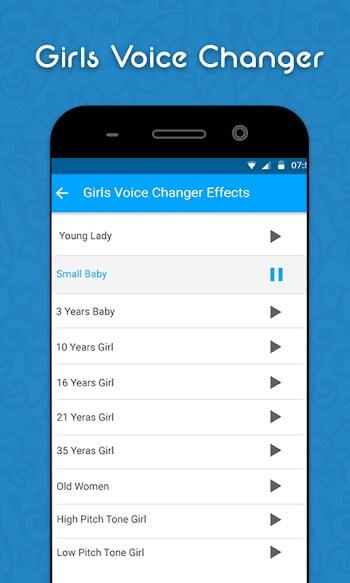 With this app, you will become the biggest entertainer at parties! You can record yourself saying various phrases and play them back using different voice tones. It will be hard for others to discern the real from the fake, making this a perfect way of pranking your friends with ease!
Change Your Voice in Different Ways
If you are looking for the best voice changer app, download Girl Voice Changer APK. It works well on Android devices and has an easy-to-use interface that will help you change your voice in just a few minutes.
You can even use it to record your phone calls for an added sense of realism. It allows you to use different voice controls. Here are some of the common voice types available:
Young lady funny voice sound
3 years Baby Funny Voice Sound
Small Baby Funny Voice Sound
16 Years girl Funny Voice Sound
10 Years girl Funny Voice Sound
35 Years Lady Funny Voice Sound
21 Years girl Funny Voice Sound
High-Pitch Tone girl Voice Sound
Low-Pitch Tone Girl Voice Sound
Old Women Funny Voice Sound
As such, you will have no trouble finding the perfect voice tone for your requirements. With the Girl Voice Changer APK pro version, it is even easier to make professional-sounding recordings, whether you are creating commercial or prank recordings!
Edit All Your Voice Recordings Easily
This app comes with a powerful audio editor that allows you to edit your soundtracks in multiple ways.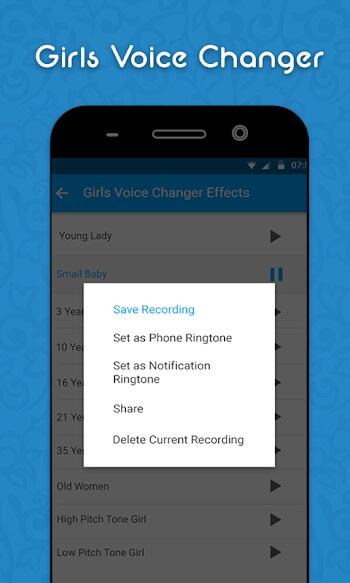 You can adjust the pitch, add effects, use filters, and choose from a variety of presets to get the best recording quality possible.
This app uses advanced technology to ensure that your tracks are free of noise or static. You can even set it up to save all your recordings automatically in case you want to access them at any moment in time!
As such, Girl Voice Changer is the perfect app if you are looking to make some prank recordings or listen to them later. You can even make your voiceovers for songs and other projects!
Girl Voice Changer APK
If you want to access all the pro features free of charge, you should get the Girl Voice Changer APK. This app has the following features:
Girl Voice Changer APK Free. Using the modded version is 100% free of charge! You can change your voice in no time at all.
Girl Voice Changer Unblocked. The app comes with fully unblocked functionality! Nothing is stopping you from enjoying its best features here.
No Ads. You can enjoy an ad-free experience with this app. This enhances your overall device performance and reduces battery usage.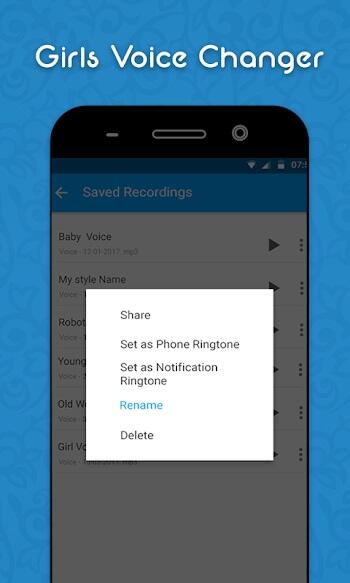 Wide range of voice tones. There are plenty of amazing and funny voice tones available for free use here! You can access all of them without having to spend any money whatsoever!
Conclusion
If you want the best voice changer app, download Girl Voice Changer APK no root needed for free today! You can also check out the pro version to access all of its amazing features.
However, the app contains ads. You can remove them by unlocking the pro version. Get this amazing app now and have a blast fooling around with your friends!