Gangster Squad - Origins APK 2.0.4
Download Gangster Squad APK - latest version - for Android and get access to lots of premium Gangster fighting action!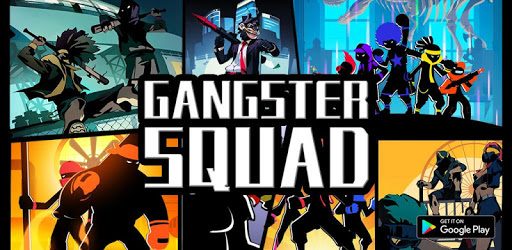 | | |
| --- | --- |
| Name | Gangster Squad - Origins |
| Updated | |
| Compatible with | Android 4.1+ |
| Last version | 2.0.4 |
| Size | 89.69 MB |
| Category | Action |
| Developer | LinKing |
| Price | Free |
| Google Play Link | com.Lingwan.KungfuKing |
Oh, the indomitable Stickman. A classic of video game history, of karate, of gang warfare, of bow and arrows. For many years the stick figure has been the go to for mobile gamers and desktop warriors, and Gangster Squad at last brings the impressive little stickman to Android. These are no ordinary stickman figures, but fully fleshed-out characters each with their own personality and design. In this fast-paced RPG fighting game it's up to you to assemble a host of gnarly stickman characters and complete gangster missions. There are potions, hidden maps, plenty of gear, and it's all up to you which path you choose through the missions.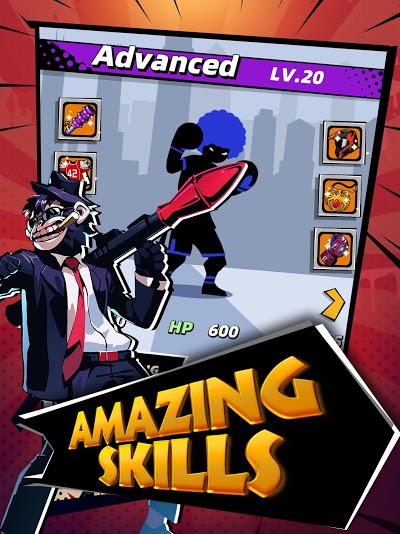 Combat resides at the heart of Gangster Squad, and each character has a different means of fighting. Whether it fists of fury or a high-powered automatic machine gun, your gangsters have one goal in mind: to take over the gangster underworld. Across plenty of different maps, and different combinations of gangsters, there's lots of fun to be had in this Android game from LinKing. The game is still being updated with new characters and new areas to explore along the way. To find out more about the game keep reading our list of its best features to see why it's worth downloading Gangster Squad on your Android phone.
Best Features of Gangster Squad
Gangster Squad has lots of great features to experience while you play the game and progress your characters through the storyline. You'll face off against a number of enemies which you'll have to beat to a pulp before unlocking new gear for your heroes. These are generic enemies, the bad guys, but they still pack a punch and you'll have to figure out the best fighting strategies to overcome your foes. Learn how to block punches, maneuver around the fighting field, and unlock brand new characters to aid you in your cause.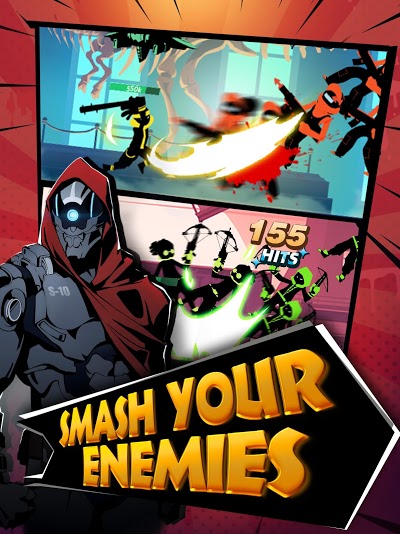 Easy Controls, Easy to Play
Gangster Squad goes to great lengths to make the gameplay compelling while also easy to pick up and learn. The controls are responsive and react well to your fingers on the screen, with well-optimized button controls to make your characters punch, kick and shoot. As well as computer enemies, you'll also face off against other real-life players of the game with their own upgraded heroes. This is where the excitement really begins, as you'll need to use even more strategy and fighting prowess to defeat them!
Immersive Stories Across Different Levels
As you progress through Gangster Squad you'll come against all sorts of different opponents and in different locations. Every level has been designed to be atmospheric and realistic, giving you the impression of actual gang warfare down in the alleyways and streets. There are messed up cars, graffiti, concrete hellscapes and much more. Your characters will interact with the landscape by discovering hidden loot and navigating secret maps that lead you to the best locations. Got what it takes to figure your way around the underworld?
Learn to Master the Combat
Although the principles of combat are pretty straightforward in Gangster Squad, there are more complex super moves and combos to learn that will maximize your fighting potential down in the grim alleyways. String together powerful moves to knock your enemies clear into the sky, and chain exciting power combos to handily defeat even the trickiest of enemies. When you are playing against fighters controlled by real people this is even more important, and often the battles will come down to whoever has the most skill with their squad. These different combos are easy once learned and repeated, much like learning a create fighting skill in real life karate!
Bosses and Wave Combat
Alongside the multiplayer combat, the story-based missions involve over 50 unique bosses to fight as well waves and waves of their gangster lackeys. Power through these levels and defeat the powerful bosses to unlock unique rewards, special currency, and the ability to upgrade and level up your squad members. There's funny RPG text as well as very serious moments, ideal for anyone looking to get invested in some hardcore gameplay.
Unlock Helpful and Powerful Pets to Assist your Cause
The world of gang warfare doesn't just come down to your fists, you can also unlock and train powerful pets who will help you in combat. Some pets are ideal for getting onto the legs of opponents and dragging them down into the dirt, while other pets will help you sniff out the secret location of treasure or show you the best technique to take down a powerful boss. You'll unlock new pets as you progress through the storyline, though some are only available with the purchasable unique currency Burgers.
Unique Weapons, Exciting Gear
You can also collect awesome weapons which deal lots more damage. You do this by completing missions, defeating enemies, and finding loot on each level. Some bosses might drop unique items which they've just been using against use, your pets might sniff a box out somewhere, or you might get super lucky and an ordinary troop will drop something seriously useful. Other weapons and gear are also purchasable through the in-game microtransactions, giving you a serious boost in the game.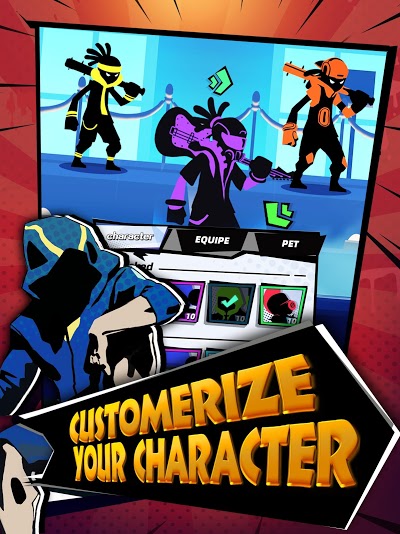 Quests, Daily Rewards and Missions
Gangster Squad is regularly updated with new content, and this includes daily missions, quests and log-in rewards. These are designed to keep you coming back to the game day after day, with stacking log-in rewards to eventually give you some really great items and in-game currency to purchase some powerful weapons or gear. The daily quests involve beating bosses and taking down enemies - how many can you complete in one day? Find out by downloading Gangster Squad today and giving it a try.
Gangster Squad APK
Download the latest version of the Gangster Squad apk and get access to the game's premium content and currency for free.