Fouad WhatsApp APK v9.52
Download Fouad WhatsApp 9.52 APK - Latest Version - Free for Android. Enjoy many updated features of the original WhatsAPP without any of the drawbacks.
| | |
| --- | --- |
| Name | Fouad WhatsApp |
| Updated | |
| Compatible with | Android 5.0+ |
| Last version | v9.52 |
| Size | 52 MB |
| Category | Communication |
| Developer | Fouad Mokdad |
| Price | Free |
Introducing – the most popular Whatsapp upgrade that anyone can use to this day, Fouad WhatsApp. As opposed to other custom apps like GBWhatsApp, there are no negative side effects from overuse of the features. Meaning, you can access all of the different features of the app without getting a ban.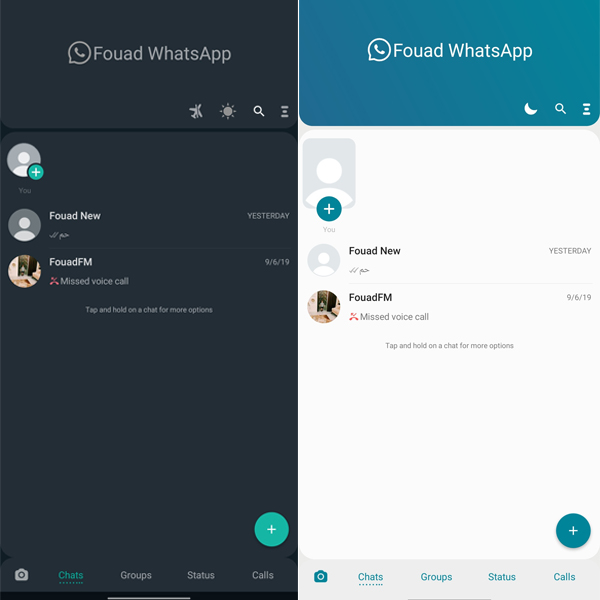 Not only this, but there are also extra additions placed within the app. Also, many of the older issues have been fixed up, not only the ban.
What is WhatsApp?
WhatsApp is one of the top messenger apps available in the world. Users from all across the globe can use this globe to contact and chat with any of their friends, family, and associates at any time.
But that's not all, WhatsApp also allows the use of video and voice calls between users. In addition, you can also share and save various forms of media between your contacts. These include videos, photos, and even files. As long as you have an internet connection, there is almost nothing out of the reach of WhatsApp.
Simply use a phone with mobile data, and the app can work even better than your own basic messenger.
So, messaging others has always been one of the most important forms of communication, especially during this generation. As such, the need for an app like this is of high demand. There is no reason why you shouldn't add this to your collection of useful applications on your Android. This will surely be one to be used on daily basis.
Fouad WhatsApp Additional Features
So, what exactly make this different from the original WhatsApp? Well, there isn't just one answer for this. In fact, there are a dozen different features that Fouad does better than the original app.
With that being said, we have listed the different benefits and additions that have been included in the upgraded application. Here is everything that's been changed to improve overall user experience.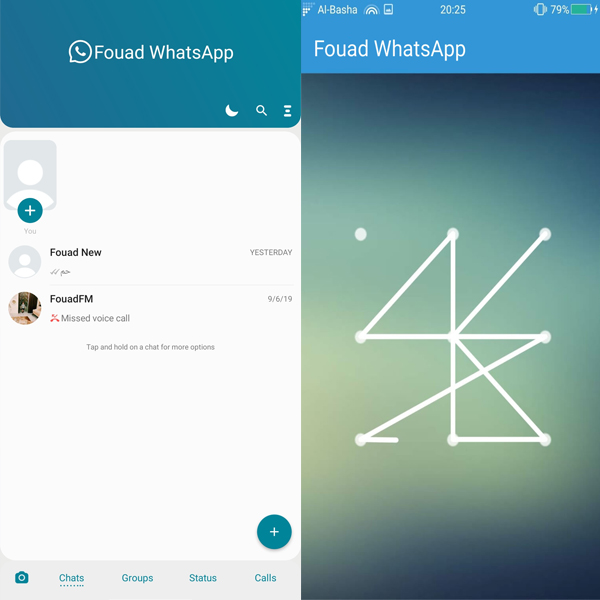 Access to anti ban. Keeping your account safe at all times.
Simple user interface makes the app extremely easy to use. Every option and feature is easy to locate, identify, and use; requiring little to no effort at all.
Every aspect of your settings can be fully customizable to your liking.
You can also get live previews of any changes to your app's colors.
As such, one of the color options available would be the main screen of your app.
Secondly, you will also be able to change the colors of the chat screen.
Any chats that you keep hidden will not be made available as an unread message on your home screen.
In addition, you can also hide away any media away from your gallery. If you don't want it to be shown, it will remain tucked away from any viewing.
Do you have a favorite picture of photo that you enjoy looking at? Select it and set that image as your permanent background for the app's home screen.
Fixes
Aside from the additional features of this Fouad WhatsApp update, there are also a few fixes to older issues. Look back on any previous problems, as they've been looked at, reviewed, and fixed to prevent themselves from happening again.
Anyways, here are the changes made to fix the previous problems of the app…
Previously, wallpaper lock settings error would occur. This issue has been removed all together and will no longer be a problem for users.
In addition, when using the white theme, a caller's name would not be displayed. This problem has also been fixed, so a caller ID will always be displayed, no matter the selected theme color.
Following these tweaks and fixes to previous issues Fouad WhatsApp has comfortable placed itself as one of the better upgrade to the original messenger.
How to Download Fouad WhatsApp
The process to download begin the Fouad WhatsApp install is surprisingly simple for anyone to understand. If you already have an interest in the application, follow along to begin. Otherwise, you can read along and decide for yourself later.
Without further ado, there are the step by step instruction to download, install, and set up your account for Fouad WhatsApp latest version update.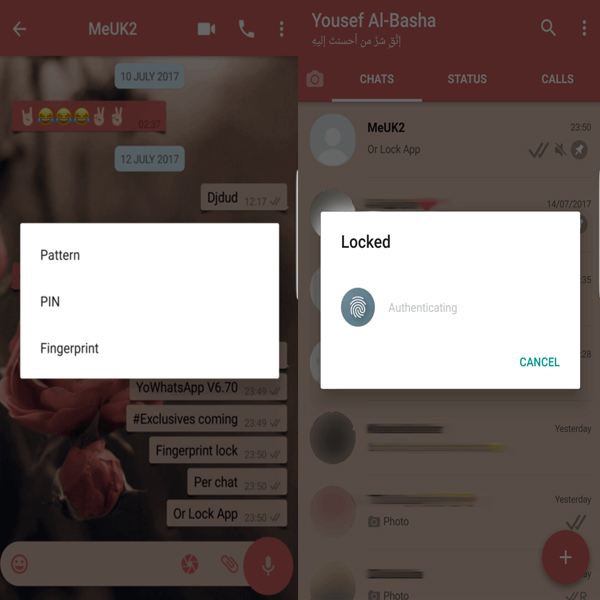 First of all, you will obviously need to download the application for your device. You can find the APK file here.
Once you have begun the download, wait until the process is finished.
While you wait, go ahead and head to your Android Settings. Form here, go to Security and then Unknown Sources. Go ahead and allow your device permission to accept files from unknown sources.
Now, the download should have been finished by this time. Open up the file to begin the installation process.
Afterwards, you will be able to open up Fouad WhatsApp. From this point, you can now create your account and profile.
In order to verify your account, you will need to enter and confirm your phone number.
The final step will be to add your name and any other information you find necessary. You can even head to the settings and begin customizing your app.
Conclusion
Go ahead and install Fouad WhatsApp APK latest version for your Android now to begin the influx of messages!
See more similar Whatsapp apps you can try: FMWhatsapp and Blue Whatsapp
Is Fouad WhatsApp safe?
+
The short answer would be, yes. But, that isn't entirely the case. Fouad WhatsApp uses the same servers as the original version. But, all information could be copied onto the creator's own servers. So, your safety isn't 100% guaranteed.
Is Fouad Whats App legal?
+
Technically, no. This app, as well as other modded apps like this use the original version source code without permission. Thus, they are not legally created applications.
Is Fouad WhatsApp free to use?
+
Yes, the application is 100% free to download, install and use for any Android device.