Psiphon Pro APK 390
Download Psiphon Pro APK 2023 Latest version – Free for Android to bypass any security and access your favorite websites in one click!
Have you ever wanted to visit a website but for some reason it's blocked in your country? We've all been there. We've all been disappointed at not being able to view or watch something from a website just because it's not allowed. But what if I told you that you no longer have to suffer that?
Thanks to Virtual Private Network (VPN), we can have internet freedom right at our fingertips! But the only problem with a lot of VPN software and apps is that they are paid! Some offer free trials but they have limitations too. Here's a solution, meet a completely free VPN – Psiphon Pro! In this article, we'll talk about what it is and what it offers. Are you ready?
What Exactly is Psiphon Pro?
Simply put, Psiphon Pro can help you bypass every blocked website in your country. For some reason, a lot of countries block websites such as YouTube, Facebook, Twitter and other popular ones. But with this app, you don't have to worry about not being able to enjoy the sites that everyone else is enjoying.
It's a revolutionary tool as well that allows you to call your friends and family in other places which bans these sites. Psiphon Pro solves all your problems by allowing you to fully access these sites without hindrance. It also protects your privacy by hiding your IP address from hackers, search engines and advertisers who might use your info.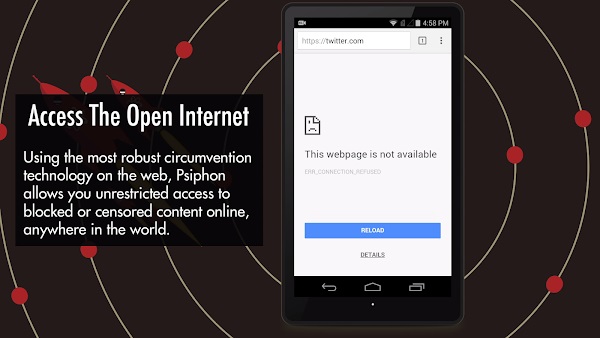 You don't have to be worried ever again that your data is being collected or you're being watched by the government. It's such a handy app to have wherever you are in the world. It was launched in 2004 but until today, it still gives peace of mind to millions of internet users worldwide.
Ways to Use Psiphon Pro
Even though the app is now everywhere and millions of people use it now, it wasn't always the case. In the first few years of its release, only a handful of people have access to this software because you need an invitation in order to have it if you live in an internet-banned country.
However, as years passed, this rule has now ceased to exist. Now, everyone can enjoy using this helpful app in a variety of different ways:
Browser – If you want to use this app to just search the banned websites in your country, you can freely do so! Just tap the Start to launch it. The red P means that the connection isn't ready yet but when you see it turned grey, it means that it's connecting! It'll then turn blue and the app will automatically open its built-in browser so that you can access banned websites in your country. It also allows you to protect your data by hiding your IP address and using random IP addresses from other places.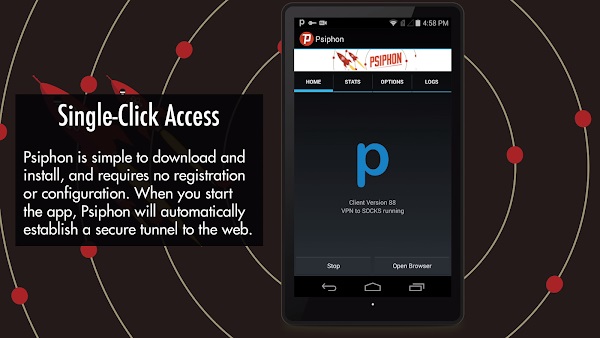 Tunnel Your Whole Device – In this way, you can use other browsers to visit your favorite websites unrestricted. You don't need to use the browser in the Psiphon app as you can use other third-party browsers. The only requirement is that your browser should be running Android 5.0 or else you need to root your device. But once you get past that, you can browse any website and protect your data from being stolen online.
Features of Psiphon Pro
In order to understand the full capabilities of this incredible app, we need to dive deep into the features it has. We're in luck because Psiphon offers a ton of features that makes our lives easier. Here are they:
Powerful and diverse servers – A VPN software and app is only as good as the quality and the number of servers it has under its belt. Psiphon Pro boasts incredible power as they have a global network of thousands of servers with diverse entry points so you don't lose connection at all. Once you're connected, you can expect that the service will continue without interruptions.
No registration – Most VPN apps and software out there require you to create an account to use their service. That's bothersome for most people and they don't want to give their personal details. But with Psiphon Pro, you don't have to bother with creating an account just to use their service! You don't even have to sign up for a free trial since the app is free to use forever!
Stats – Aside from the enticing features above, it also offers in-app usage stats. This means that you can get accurate data whenever you need of when you use the app to browse sites. This way, you can see for yourself how effective the app really is.
Customization – Psiphon Pro also offers customized proxy settings to truly make it your own. This is one feature that many other free VPN service out there don't offer.
Exclude apps – You can also choose to exclude apps from the VPN tunnel if you wish. This feature offers flexibility as to what app can use the VPN features. But if you don't want certain apps to use it, then you can exclude it. It's that simple!
Trustworthy – Since Psiphon Pro has been around for more than a decade now, you don't have to worry about your data being leaked. It's an open-source, peer-reviewed app that is trusted by many worldwide. It's also featured by top VPN review sites out there making this more trustworthy than ever. What more do you ever need?
Wider selection of protocols – Lastly, the app offers wider selection of protocols than a VPN only possible through their global Psiphon network that transcends that of a normal service. This means that you can get high-speed access to normally restricted sites all for free!
Psiphon Pro APK – Unlimited Speed, Unlocked
If you want to upgrade your Psiphon app to access more features, then download the unlimited speed APK of Psiphon now and access your favorite sites!