Zello PTT Walkie Talkie APK 5.19.6
Download Zello APK Latest Version fre for Android. The nostalgic and accessible walkie talkie app everyone needs for their phone.
| | |
| --- | --- |
| Name | Zello PTT Walkie Talkie |
| Updated | |
| Compatible with | Android 4.3+ |
| Last version | 5.19.6 |
| Size | 21.76 Mb |
| Category | Communication |
| Developer | Zello Inc |
| Price | Free |
| Google Play Link | com.loudtalks |
Remember those days as a child, where you would play with your friends. Camping, play army, spies, and many other types of games and features. All of these instances called for a certain something, but what could it be? Walkie talkie radios. Was that it? Download Zello to find out if it's nostalgia that that makes this great or not.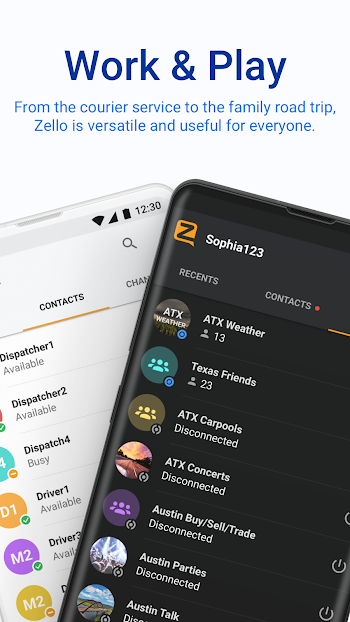 Zello is a radio app that allows you to instantly contact and call your friends from a distance. The communication works so seamless, you would rather be using this over the traditional phone call and texting. Zello, just might even give the FB messenger call a run for its money.
How to Use Zello
Here is a quick step by step to teach you how to use the Zello radio app. Follow along and you'll learn how exactly the application works and how, you too, can make seamless communications with your friends:
Download and install the app. Of course, you can begin using Zello, unless you download the application first. Download and install from this page.
Once you have installed and open the application, you will need to sign up for an account to begin chatting.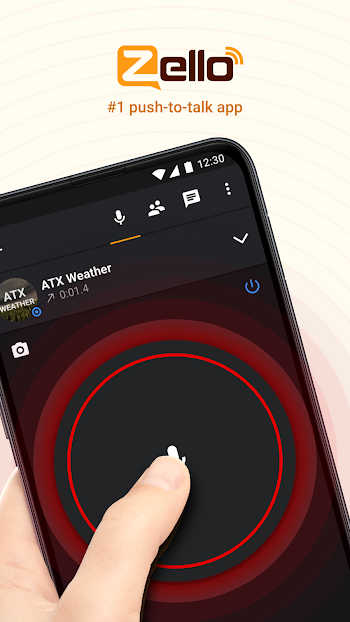 There will be many channels displayed, select your desired channel and connect to it. There will be a circle in the middle of the screen. This decides whether or not you want to join or leave a chat. Beeps will indicate when a person is speaking.
Though, you can even crate your own channel if you want to talk privately with your friends. You can even filter the age and password if you want the channel to be public or private.
Zello Features
You get real-time and high quality streaming with everyone who is involved in the call. We know walkie talkies can be annoying at times for their low quality. But, this is non-existent when using the application. It's almost better than making an actual phone call to your friends.
You can share your voice conversation to various social media accounts.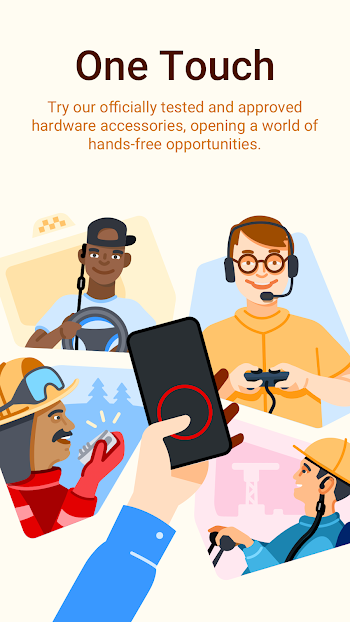 Additionally, contact available and texts statuses will be displayed. You can get text notifications, as well as view everyone and anyone available for a call.
Up to 6000 users can be on a public or private channel at one time. To be honest, do you even know 6000 people. Imagine all of the craziness and chaos that would go on just by having that many people in one chat.
Also, there is the option to toggle PTT (Push to Talk). With the simple tap of your device, you can get into contact with anyone connected to their walkie.
You also get call alerts. When someone tries to contact you and you aren't available, a quick message will let you know who you missed.
There's also a voice history, have a record of everyone who you've contact since you first started using the application.
Push notifications is also a thing. You'll get the latest news on any updates, past calls, or anything in-between.
Full Bluetooth headset support is available. So, you don't even need to carry your hone as you talk. Although, this feature is only compatible with select devices. Not all Android phones are able to utilize this feature.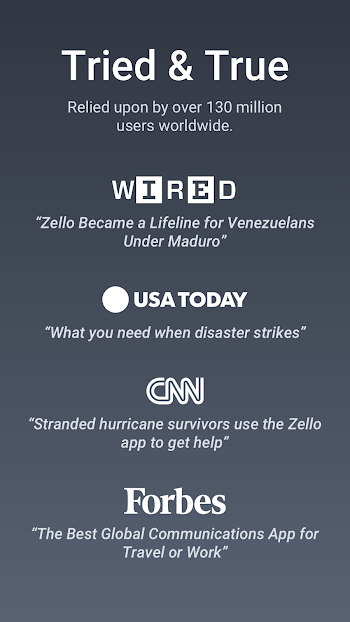 You can use Zello over WiFi and also through 2G, 3G, and 4G mobile data networks.
Zello APK Free Download
You can get the Zello Walkie Talkie APK for Android to enjoy a few extra benefits of the application. Although there is one noticeable addition to APK files – a smaller file size. This leads to a quick installation and less data usage.
So, relive the glory days of childhood and download Zello APK Android version now.