FM WhatsApp APK v9.52
Download FM Whatsapp 9.52 APK – Latest version – Free for Android if you're looking for a decent WhatsApp alternative to disable restrictions!
| | |
| --- | --- |
| Name | FMWhatsApp |
| Updated | |
| Compatible with | Android 4.4+ |
| Last version | v9.52 |
| Size | 42 MB |
| Category | Communication |
| Developer | Fouad Mokdad |
| Price | Free |
In today's age, if you own a smartphone, you probably have WhatsApp installed in it. According to a report, WhatsApp has over 1.5 billion active users in 180 countries! That's almost 2/7ths of the world that has this instant messaging app!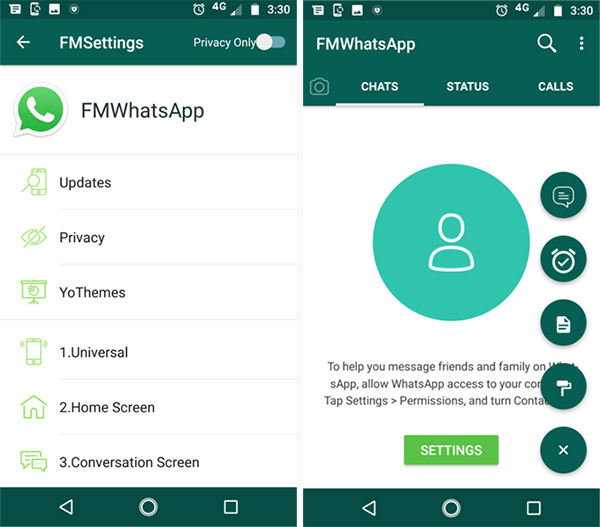 However ingenious this app is, it has its limitations. For instance, you can't send more than 30 photos at once. Then, there is the video size limit of only 16MB. Plus, there are plenty more restrictions that the developers have placed to avoid spam. For some this is fine but for others – it isn't! That's why a lot of people are looking for an alternative. Look no further! Meet FM Whatsapp, a WhatsApp alternative that offers all the features you love in the original one plus more! Curious? Find out more by reading this article!
The Ultimate Alternative to WhatsApp
WhatsApp is a very popular and a highly-used app worldwide. It's an instant messaging feature that does it all. From messages, calls, video calls and even sending documents online – it can do the job. And for most countries where Skype and social media sites are blocked – this is a lifesaver. However, as more and more people began using WhatsApp, countries started to realize this and so they started to block the app too.
That's why people are constantly looking for the next best thing. An app that will offer the same features that they love. Meet FM Whatsapp – a of the original WhatsApp that will help you get past restrictions and limitations set forth by the government and the developers. This is a revolutionary app that allows you to enjoy all the features that you'd expect from WhatsApp. But it doesn't end there, this app brings more to the table as it offers additional protection for you. Excited to know more? Read on about its features.
FM Whatsapp Features
FM Whatsapp allows you to enjoy every feature that you know and love from the original app. You no longer have to settle for those wannabe apps that doesn't even function properly. But did you know that aside from the normal features, FM Whatsapp includes their own features too? Here are they:
App Lock – This app is all about privacy. Sure, you can use third-party apps or your system settings to lock any app. But sometimes that's not available. In which cases, you can use the app lock feature directly on FM Whatsapp! Using this awesome feature, you can lock the app with a pattern or a PIN of your choice. This way, no one can read your messages even if they have your phone.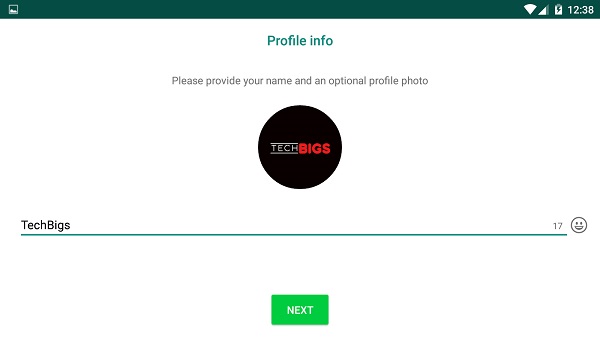 Privacy – Speaking of privacy, this app excels on protecting yours. Are you tired of people knowing you've seen a message because there's a blue tick next to it? Also, don't want others to see that you're typing a reply? Or even when you're recording, it's not a pleasant sight to see, right? Don't worry as FM Whatsapp got your back! You now have the power to hide the blue ticks, second tick, typing status and even the recording status! That's how protective this app is!
Media Sharing – As mentioned earlier, WhatsApp is a powerful app but has a lot of limitations set into it. That's why folks are trying hard to look for ways to find alternatives. FM Whatsapp allows you to send more than 30 images at once. What's more is that you can also exceed the file size limit for documents. You no longer have to worry about using third-party apps to send big media files because FM Whatsapp allows you to!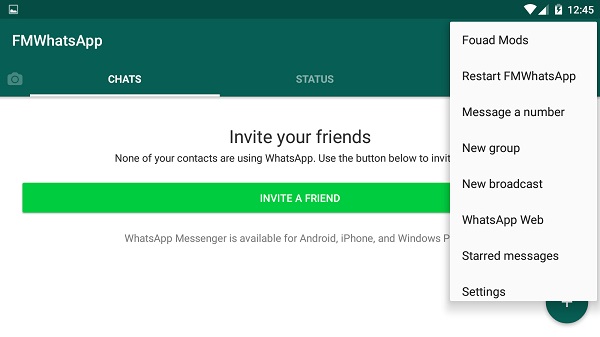 Emojis – Who doesn't love emojis? Aside from the emojis you have in your system phone, you can browse through the extensive emoji collection that FM Whatsapp offers! There are plenty of emojis from Facebook, Emoji One v3, Android 0 emoji, Stock and more! You no longer have to search or use third-party apps just to use emojis because this app offers tons of them. Explore and use emojis you've never seen before and impress your family and friends!
Anonymous messaging – What if you want to send a message or call someone without having to save their number? With the normal WhatsApp, this isn't possible. But thanks to FM Whatsapp, this is all possible! This feature is a lifesaver when you want to send a one-time text message to someone. To do this, click the 3 dots on the upper-right corner and tap "message a number". Then, you just need to enter the number and you can send your message! It's as simple as that.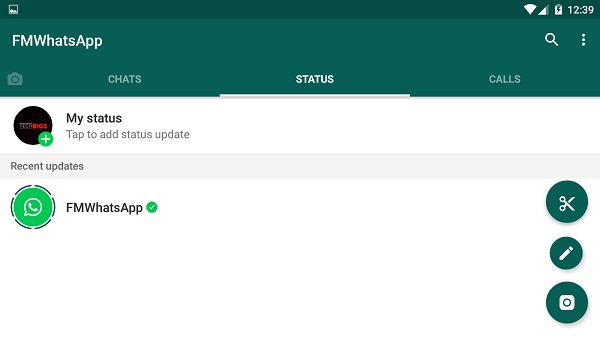 Disable forwarded tag – In WhatsApp, when we forward messages to others there will be a tag that says "forwarded". This isn't normally a problem except some people might perceive the message as untrustworthy or doubtful. Thanks to FM WhatsApp, we can hide this tag and forward any messages without worry! Forward messages all you want to your friends and family and enjoy this feature.
Select contacts that can call you – For some reason, you might not want to receive certain calls from certain people. We get it, you don't want to be disturbed while you're using WhatsApp. Thankfully, FM Whatsapp has a feature that blocks the call of certain people on your contact list. Now, you don't have to manually block the calls that you receive from people that you don't want to. It's automatic and the original WhatsApp app doesn't have this.
Anti-delete status – When someone posts a story on the status section and immediately deletes it, no one will see it. That's true for the original version of WhatsApp but in this one, you can see their post even if they deleted it! This gives you a lot of power and unfair advantage over others because only you can see the stories that others can't.
Anti-delete messages – Are you also annoyed by the fact that you can't read the messages that have been deleted by the sender? Are you dying just out of curiosity? Thanks to FM Whatsapp, you don't have to suffer that ever again! Now, you can read all the messages even the deleted ones. You'll know that the sender tried to delete the message as it will indicate that "this message was deleted". Pretty nifty, right?
Customization – In the original WhatsApp, you can't change the theme if you get tired of it. That's just the way it works. But thanks to FM Whatsapp, you can now browse through different themes. Choose any theme that suits your style and enjoy using the app to the fullest. It's all free!
Download FM W

hatsapp

APK – Latest version
Ready to experience the ultimate WhatsApp alternative? Download the latest version of FM WhatsApp now!
See more similar apps: whatsapp plus apk