edjing Mix APK 7.10.01
Who said that you need expensive equipment to be come a DJ? With Edjing Mix, you can learn how to be one instantly! Experiment and create your own hits now!
A lot of people dream of being a DJ since they're so cool and rich. They make our favorite pop and awesome songs that are on top charts all over the world. But the biggest obstacle that this dream poses is that the instruments are expensive. But if you have Edjing Mix, you can now pursue your dreams of becoming a DJ!
Normally, DJ instruments cost hundreds and even thousands of dollars for the top tier ones. But Edjing Mix costs only $10 and you can even use it for free if you don't mind the lack of features. But luckily you can download the full-unlocked app here! Read all about this awesome app here now.
Be the Best DJ Ever
DJs are the ones responsible for most of the songs today. They create hypnotic beats that become trends all over social media. If you've ever heard of the Chainsmokers, David Guetta, Martin Garrix, and Steve Aoki, then you've heard some awesome songs. The coolest thing about them is that they never seem to run out of ideas when creating hits.
Whether your dream is to stand at a stage someday like them or just try out the DJ instrument, then Edjing Mix is for you! The name may sound weird but this is one of the most popular DJ apps in Google Play Store with more than 50 million installs. For every aspiring DJ out there, this app is a must have especially when you're just starting out or when you're always on the go. This is the perfect app for you to create a hit when idea strikes you on the bus, on the way to the grocery or whenever you feel like it.
How Edjing Mix Can Help You
Creating catchy beats and hits is a rewarding experience for not just DJs but ordinary people too. So, whether your dream is to be a DJ or just to create something, learn how Edjing Mix can help you!
Access all your local music – In the music library of Edjing Mix, you can access all your local music. This will allow you to instantly upload and remix the songs you have. This allows you to easily experiment and create tons of hits!
Soundcloud and Deezer integration – If you use Soundcloud and Deezer, then you're in good hands! You can integrate your accounts to Edjing Mix for easier remixes. Now, you don't have to download the songs to your device just to remix the songs. But take note that you need to have a premium account on Soundcloud or Deezer in order to successfully integrate them to this app. But once everything is configured, convenience is just around the corner!
Remix millions of songs – In Edjing Mix, there are tons of songs you can remix to. Specifically, there are more than 50 million tracks! You can sort them by alphabetical order, BPM or time. This makes it easier to see which songs are worth remixing from your list. You can also create multiple playlists from songs on your device and streaming platforms that you integrated. This makes things a lot easier for you! Now, you don't have to go find songs to remix. Or you don't need to have a third-party app to download the songs for you.
The sampler – There's a new major feature in Edjing Mix which is the sampler. Here, you are free to use 16 unique samples such as kick, snare, gunshot, siren and many more. Aside from that, you can put the sampler to the crossfader to increase the effect. There are also more than 20 sample packs which were made by professional DJs! With so many samples in your arsenal, we're sure that you can create a stunning hit easily. Create and experiment as you like! If you don't like it, you can always change the samples in your songs.
FX and EQ – There are over 20 FXs and EQs in here that you can use to create sick remixes! All are available for you to use instantly. If you don't know how they work, there are plenty of tutorials online to guide you. But because of this feature, Edjing Mix is one of the most complete and advanced DJ apps in all of Google Play Store. There are so many unique beats and harmonies you can create thanks to its extensive tools.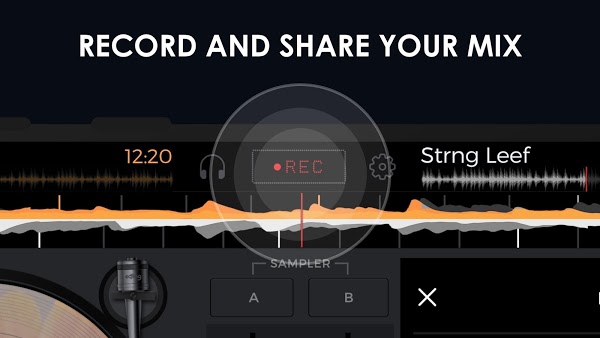 Hardware integration – You can also control the app through the portable fader which is called Mixfader. This tool requires Bluetooth and devices with Android 4.3 upwards. This feature is also suitable with your time coded and regular audio vinyl. This means you get to create super awesome songs without expensive gears!
Easy to use – Whether you're just an aspiring DJ or a veteran, Edjing Mix can accommodate all your needs. This app is the perfect one for artists that need an outlet to let their creativity in. This app will serve as your ticket to stardom and popularity! Create stunning hits now easily and remix a ton of songs.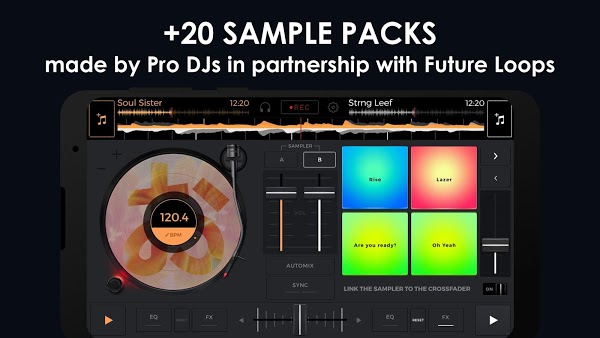 Automatic BPM detection – The app is also advanced enough to have a feature that automatically detects BPM for every song you have. You can also manually adjust the BPM of your songs for fine-tuning. There are also a ton of audio FXs you can use to enhance your tracks in every little detail.
4 Tips to Become a Pro DJ Using Edjing Mix
Nowadays, more and more people are looking at DJing as a viable profession. Thanks to celebrities like DJ Snake, Steve Aoki, Martin Garrix and more, we see a future of more ecstatic songs. If you ever want to become one, here are some basic tips for you.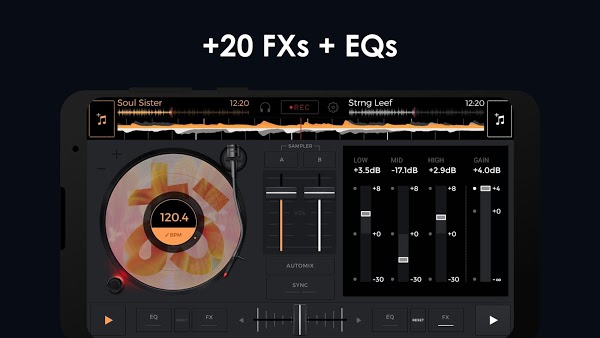 There are no rules – In the world of DJing, there are no rules. There are no rules that state that certain FXs should only be used or certain sounds shouldn't be mixed together. In fact, the best DJs have always experimented with different types of sounds and instruments to produce something unique. You should also do this too! This will help you find your own "tune" that may even rock the music world someday!
Film yourself – If you want to be a DJ someday, it's important to look the part. Don't just focus solely on the instrument, practice what it's like to be on a stage. To help you practice, film yourself while using Edjing Mix. This will let you see your bad habits and correct them easily.
Learn how to scratch – These days, not a lot of DJs scratch. Try to mix these with your songs and you'll get some compliments! But as with everything, it's important not to overdo it or you'll hear complains.
Learn multiple genres – As a beginner, it's understandable that you're only focusing on 1 or 2 genres at a time since you're just learning. But if you want to create stunning tracks, you'll need to learn how other genres work as well. Mix as many genres as you can when you're performing to not be repetitive.
Similar music apps: Youtube Music Apk and Smule Vip Apk
Edjing Mix is a popular DJ equipment app that allows you to practice your DJing skills easily. There are a ton of features here that you can use as a beginner or even a professional DJ.
Edjing Mix is free to download and use. But if you want to unlock all the features, you need to pay $10.
How to use Edjing Mix without premium?
+
If you want to use Edjing Mix without premium, you can. But the controls will be as basic as it gets which isn't a problem for beginners.