DomiNations APK 11.1260.1260
Download DomiNations APK Latest Version free for Android. Build up a civilization from scratch and watch it develop into a modern Nation.
Download DomiNations for Android and rule of various civilizations. Watch them thrive and progress, as you lead Nations through the generations.
Features of DomiNations
Tons of limited-time events and goals: The game is regularly updated with different events that players can participate in. From these goals, you can earn plenty of rare and exclusive items that aren't usually available.
Play through various eras: Begin by leading a colony of the earliest days of hunter gatherers. And end at the most modern era, where these first colonies would have never even dreamed of space travel. You'll start from the basic bare bones materials and begin to thrive and progress through the ages.
As such, there are plenty of historic monuments and landmarks available to build. It is your job to lead the nations through each generation.

Learn from many great leaders: There are many different historical figures that can guide you and improve your gameplay experience. Learn a little bit of history as you play through these various eras. Also, you can strengthen your Nation by devising a war strategy with these different assets by your side.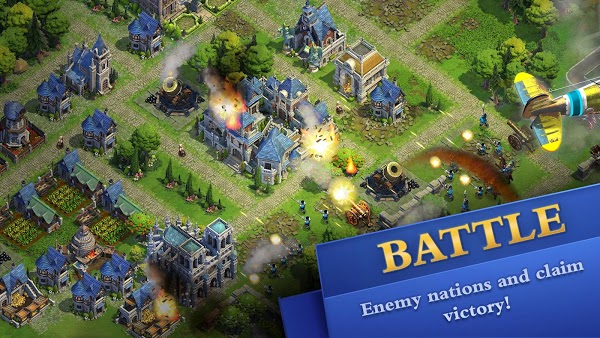 Choose which Nation to lead: You can battle from one of eight different civilizations and Nations to choose from. You can participate in the most historic battles in history, as you progress and advance with the culture.
Experience the history of: Rome, Britain, China, France, Germany, Japan, Korea and Greece.
Each of these civilizations offers unique strengths to assist you in progressing the Nation as a whole.
Experience the leaps in technology: Learn how each of these cultures has advanced and modernized through the introduction of various tech. Therefore, you will learn each civilization as you play and understand more behind their history and advancement
Through science and various resources, you will be able to advance your troops, buildings, and economy.
Form alliances and wage a world war: Test yourself and your Nation, Enter the PvP Mode and wage war against players from all over the world. Raid other civilizations and loot them of all their resources. Additionally, you can team up with your friends and form alliances to take on others in all-out warfare. Compete in 50v50 battles, where only the strongest Nations will survive. Reign supreme and conquer the world with your alliances. Claim the land which is rightfully yours.
DomiNations APK Free Download
Get the modified version of the game if you want to have a better experience. The DomiNations APK Latest Version guarantees:
A condensed download size for a quick installation
Smaller space, saving more mobile data and storage.