Boom Beach APK 50.101
Download Boom Beach APK 2021 - latest version - free to jump into the world of beach-based combat in this highly-rated Android game from Supercell.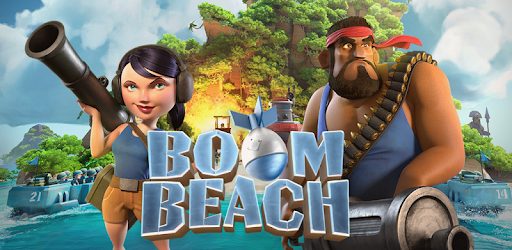 Boom Beach has over 50,000,000 installs on Android and millions of positive ratings, a game that has captured the imagination and attention of millions across the planet. Supercell are well known for their well-made Android games, but this one in particular provides an amazing gaming experience as you set out to conquer the various different battles and battlefields of Boom Beach. It's your goal to take down the evil Blackguard, collect plenty of loot, and spend this loot into investments for your own beach base. Got what it takes to overcome the evil forces and become the leading Beach in the sea?
So what is Boom Beach exactly? Well, it falls into the large and popular genre of Android games known as strategy, combat and base-building. Over time your base levels up, real-time that is, and you can send out task forces and groups of units to raid other bases and take down NPC enemies, in this case the Blackguards. As you progress through the game your base becomes susceptible to raids from other players, so you must improve and refine your forces, working together with others in clans to take down strong opponents. It's complex, unique, and a whole lot of fun. Read on to find out more.
Best Features of Boom Beach
With over 50 million installs on Android alone, Boom Beach is one of the most popular games on the Android store. Here's why. The game itself is very simple, with easy controls and easy strategy to learn. Buildings are straightforward, everything is clearly detailed, and the line of progression is clear once you've battled a few stronger Blackguard bases and seen your forces wiped out of existence. Boom Beach is a game that keeps you coming back, time and time again, to experience the battles and work hard to protect your base. Here are some of the best features and why you should download it today.
Simple Boom Beach Strategy and Getting More Complex Over Time
By far one of the most compelling aspects of Boom Beach is the fact the game starts out so simply and yet accelerates quickly to becoming a very complex strategic management sim over the course of a few days. Base design is obviously crucial, as well as managing your resources effectively, making sure to keep your stockpiles clear incase you get raided while you're away from the phone. There are thousands of guides out there on which type of base layout is the safest in Boom Beach, and we will include a few tips and tricks below.
Take Control of the Ocean, Against Millions of Real Players
There is no shortage of players in Boom Beach, and that means no shortage of islands. You only need to zoom out to the ocean map to see the thousands and thousands of islands, some of which are much too strong for you to attack, while others might be full of fantastic loot for you and your troops. Each island has different defenses, from mines to terrifying boom towers. You'll need to assess each island before you attack, sending out scouts to scope out of the defenses and risk factor. Then it's down to the attack…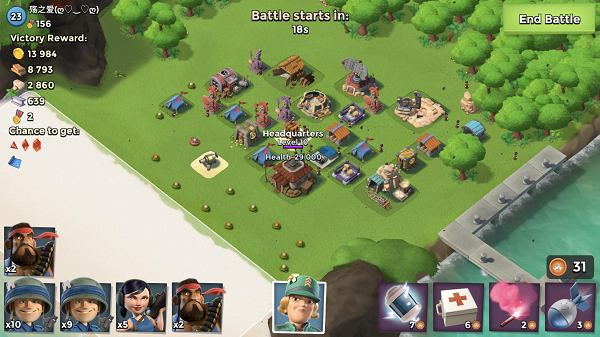 Attacking Is Fun, Easy to Learn, Hard to Master!
Other than the bundles of important resources on your island, like Wood and Gold, the other most crucial part of your Boom Beach empire is easily your men. These guys take time to train up, and if you're frugal with them (i.e sending them to their death against a strongly-defended island) you will need to wait around for ages to get more troops to send into battle. This can be boosted with microtransaction payments, though it's better to plan carefully so you don't lose too many men. From cannons, machine guns and spies, you need to effectively balance out your army to be the perfect attacking force.
Discover Life Crystals, Defeat the Blackguard, Max Out Your Island!
Out there in the wild seas of the Boom Beach world there are dozens of Life Crystal island, extremely important resources that greatly accelerate your progress. What is the mystery of these bizarre crystals? There's only one way to find out - download Boom Beach today. As well as discovering mystical crystals, you also crash your way through evil Blackguard bosses and forces, each with their unique abilities that are difficult to handle for your brand new army. Take time to expand, max out your base, and fine-tune the strategy of your Boom Beach empire
Enter into a Sophisticated Multiplayer World
With millions of players out there, there are no shortage of teams, clans and groups to get involved with. These guys will help you out at the start with resources and protection against other teams, while also expecting a fair share of return in the long-run, whether it be sending troops or resources later on. This complex multiplayer world is structured around leaderboards and regular events and championships, as each and everyone out there in the world of Boom Beach is pitted against each other to have the very best island defenses and attacking forces!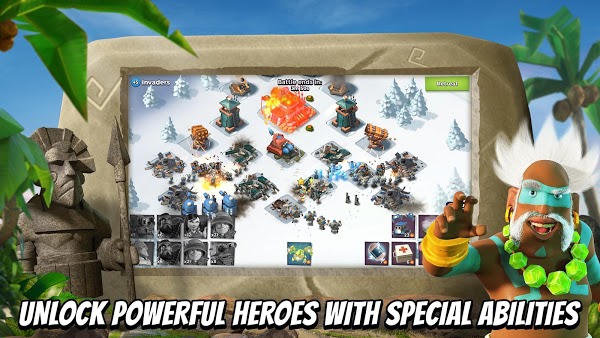 Tips and Tricks for Boom Beach
The road into Boom Beach success is a long and tricky one. While the game itself is pretty straightforward, making enough resources to effectively max out your base is almost 100% going to require some degree of in-game micro purchase. If you don't want to spend money right away, play the game a lot for the first few days, gaining log-in rewards, completing challenges, and getting through the first tutorial stages. Utilise your troops well, never sending more than necessary, and being careful around well-defended islands. If you throw your troops away you'll be sitting around for hours, even whole days, before you can attack again.
Boom Beach APK Private server - Unlimited Money to Max Out Your Base
Download the Boom Beach apk latest version to unlock everything, speed up troop production, and get unlimited gold and premium currency to be the best!