Dentist Bling APK 1.0.2
Download Dentist Bling APK - latest version -for Android and learn how to become a top dental surgeon!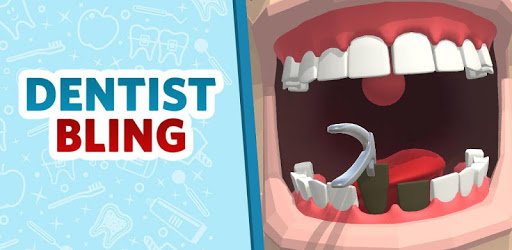 Dentist Bling is a fun dentist game for Android, and it'll require plenty of skill when it comes to cleaning teeth and kitting out your patient's teeth with all sorts of funky mouth bling. Developed by Crazy Labs by Tab Tale, Dentist Bling combines relaxing gameplay with lots of fun different tasks that your dentist is probably used to!
This fun APK download for Dentist Bling gives you the chance to enjoy all the levels in the game right away. You'll unlock plenty of dentist coins and you won't have to wait around to earn enough for the best bling in the game. From diamonds to jewels, there's a huge range of different accessories for your patient's teeth.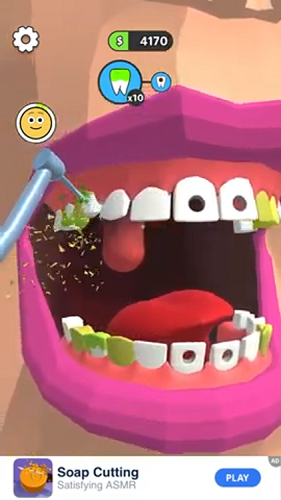 Dentist Bling starts off as an ordinary dental simulator. You'll have to clean the plaque off teeth, make sure the gums are healthy, and check for any holes or gaps in their teeth. Fill cavities, pull out teeth...you name it, you're the dentist in charge! Levels get progressively more complicated, and the requests keep rolling in from your patients.
Heading to the dentist isn't always a much-loved affair. It can be a bit nerve wracking knowing you might need to have a tooth taken out, and even getting your plaque cleaned can drive you crazy with nerves! However, in this fun Dentist Bling APK mod download, you get to enjoy all the fun and excitement of being a dentist without haven't to sit in that scary chair.
How to play Dentist Bling
Dentist Bling is pretty straightforward, especially if you've ever been to the dentist before. Different patients jump into their chair and you have to look into their mouths...it's that simple. Each patient will have a different degree of problems with their mouth, some might like braces put in, and others might be looking for something a little extra special.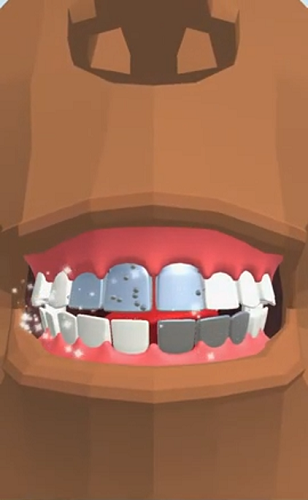 Thankfully, there's a handy counter at the top of the screen. This keeps track of how many changes you still need to make to your patient's mouth. It makes it a bit easier to know how your work is going, and how much more time you need to spend with your patient. Next to the counter you'll also see a little emoticon - this notifies you whether your patient is happy or sad, keep a close eye on it!
A Proper Dental Simulator
While Dentist Bling does have lots of fun gameplay mechanics when it comes to making fancy accessories, first and foremost it is a dental simulator. That means you need to make professional decisions about what method is best for your patient. You'll need to start by cleaning plaque, installing braces, and even filling cavities. Remember, some problems are more apparent than others.
Decorating your patient's teeth with bling
You're no ordinary dentist. At your surgery, you also offer lots of fun accessories for teeth. It's almost like you get to wallpaper teeth with funny patterns, decorate teeth with jewels and gems, and make teeth straight and beautiful again. You'll be judged on the happiness of your patient and how accurate you were with those straight, sharp dentist tools!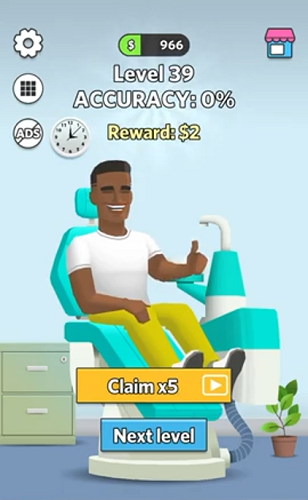 Dentistry isn't all that easy
Although Dentist Bling is designed to be fun and relaxing (with maybe even a few ASMR elements), the game is also about how professional you are as a dentist. After each patient you'll be judged on your accuracy and success with your patient. You'll receive an accuracy rating from 0% to 100%. Make sure not to hurt your patient with the sharp tools or you'll knock down your accuracy rating.
Level up your dentist skills
Like all great Android games, there are so many different levels to complete in Dentist Bling. Each level can be completed even without hitting a perfect accuracy score, but you'll receive less money as a reward. The money is used to buy brand new accessories for your patients and keep them happy while they're sitting in the dental chair. Whether it's fancy gems and braces, or fancy teeth wallpaper, you want to make sure you're earning plenty of money!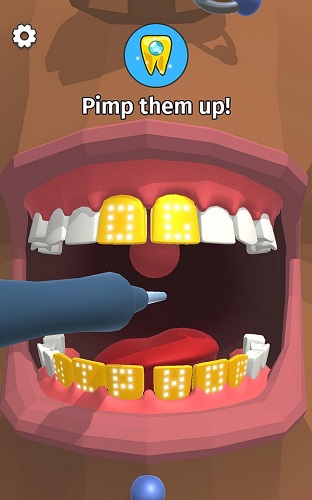 Dentist Bling Mod APK - Unlimited Money, No ads
Want to have unlimited money in Dentist Bling? Want to show off with the fanciest teeth decorations possible? Download the Dentist Bling mod APK for Android now!