Car Simulator 2 APK 1.47.6
Download Car Simulator 2 APK - latest version - free to get the most out of this realistic and exciting car game, with awesome cars, tracks and upgrades.
Car Simulator 2, from Oppana Games, bills itself as one of the most realistic car games available on Android. While the graphics are nothing to go crazy for, the extensive detail put into the performance, appearance and sounds of the cars is pretty impressive. It also boasts a relatively fleshed out game world, much more than other car games on the web. Car Simulator 2 tries its hand at performing like a Grand Theft Auto game, where you complete missions for the mafia, go on races, or complete tasks to gain money.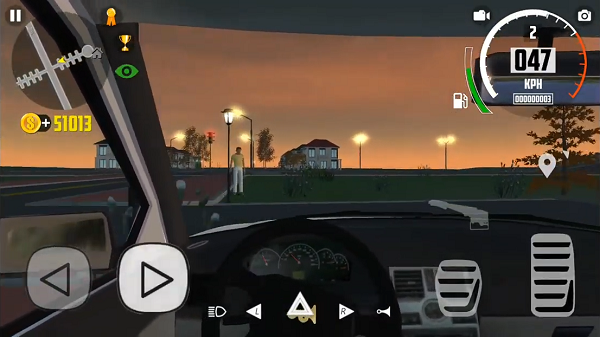 Like any great car game, there is a wide number of cars available to buy, unlock and upgrade. You start out with a simple yet effective white four door saloon, which the tutorial teaches you how to refuel, drive and fine tune. The main aim of the game is to upgrade your car, or purchase new ones at the car dealership. These car dealerships are dotted around the map and show off some of your potential future purchases, but you might have to do a little work before you can just turn up and buy a brand new sports car!
Best Features of Car Simulator 2
Car Simulator 2 is a very hands-on game. You have to get into your car by opening the door, close the door, set the gear, press the accelerator and then steer around the streets. It gives you a clear tutorial at the start of the game and also prompts you that changes can be made in the settings menu for sensitivity and other controls. Overall, Car Simulator 2 has a lot of great features that make it stand out from other car games on Android, and here's a list of the very best features and why you should consider downloading this game.
Comprehensive and Realistic Controls
Time and effort has been put into these driving controls, with the steering and brake/accelerator responding to different finger positioning. This makes it easier to drive your car than you might expect. While the graphics aren't stunning - this is an Android game - the game does make up for it with smaller details inside the car, and you do get the impression you are actually driving this little virtual car. The controls are smooth, and can be easily tweaked in the settings menu if you need to make a small change.
Free-to-play, Free to Explore
If you had to compare this game to a more substantial title, the devs have obviously taken some inspiration from Grand Theft Auto. The open world is quite impressive for an Android game, and there are a variety of missions to complete such as deliveries, work for the mafia and crime underworld, and competing against other cars in fast-paced street races. If you progress well through these missions you'll earn coins, which can in turn be used to buy faster cars, upgrade your garages, and even buy yourself a lovely house.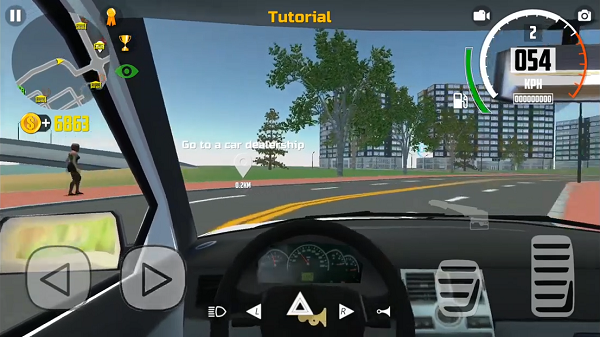 Single Player and Online Modes Available
Yep, you read that right, Car Simulator 2 can be enjoyed in offline single player or online against friends and other drivers from across the world. These involve races and challenges which are much more competitive when you're up against other skilled drivers. Careful out there though, you might want to get a few upgrades on your cars before you head onto the international stage, there are going to be some amazing cars out there!
Daily Rewards and Challenges
Log in to Car Simulator 2 every day and you'll get your hands on plenty of rewards and be able to take part in daily refreshed challenges, making the grind towards your new cars much easier. Of course, there are micro transactions which speed up the progress, but if you give the game plenty of time to get started there's no reason why you can't earn a great car all on your own hard work.
A Realistic World
The cars are realistic, and the world is realistic. Night turns to day and day turns to night, you'll see pedestrians going about their everyday lives, and other cars zooming past with passengers on their way to work or school. Like Grand Theft Auto you can take part in some criminal activities, but there is no physicality to this, like stealing cars or doing other such horrible things. It's mostly deliveries and challenges for a few local gangsters, so the game is pretty suitable for all ages.
Regular Updates from the Oppana Games Team
So far the game has received a few updates over its lifecycle, including new cars, missions, villas, guns and other items. These updates are always looked forward to, because honestly the game has a lot of potential that could be filled over time. It's true that some of the challenges expire too quickly, and you need to use your coins wisely because you may not have enough left to buy every vehicle in the game by the time the challenges end. Fans of the game would like to see this changed, but it's probably because the devs want players to spend money on the game.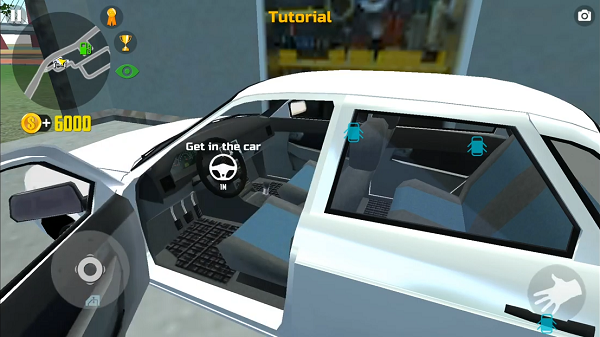 Tips and Tricks for Car Simulator 2
Work hard to earn enough coins to upgrade your cars before taking on the more difficult challenges or facing real players online. Drive carefully in the city - you don't want to attract negative attention from local police. Keep your car refueled at the gas station, or you might have to pay for someone to come and collect you and your car. And remember, bribes are usually cheaper than the official tickets!
Car Simulator 2 APK
Want to unlock all the cars in Car Simulator 2? Look no further than this download for the latest version APK of the game to get yourself unlimited money and all the best upgrades.
Similar good car games: Car parking apk and Bus simulator ultimate