Deliver It 3D APK 1.9.7
Download Deliver It 3D APK latest version and deliver parcels to eager customers. You will have fun exploring new regions while making people happy!
In-Depth Details about Deliver It 3D Game
Deliver it 3D is a racing/arcade game offered by VOODOO. It has realistic graphics with super cool asphalt roads and greeneries.
You will also have many bikes to enable you to select one that suits your needs the best. Choose the race mode to unlock more torque and horsepower.
If you want a game that combines the racing adrenaline with the satisfaction of happy customers, you should download Deliver It 3D APK for android! The game is only 182M and works optimally with all Android 7.1+ devices.
Highly Engaging Gameplay
Deliver It 3D is a highly engaging racing game characterized by the thrill of fast-paced racing and delivering parcels. In the game, you will enjoy many great bikes that are fully customizable with different colors, stickers, tires, rims, and engines to enable you to create your ideal bike.
You will also have different regions where you can deliver the packages a bike. In the beginning, the tasks are easy, but they gradually become more challenging as you progress.
You will have to deal with traffic, tight schedules, and other challenges that will push your limits. Always ensure that you circumnavigate all the obstacles you encounter.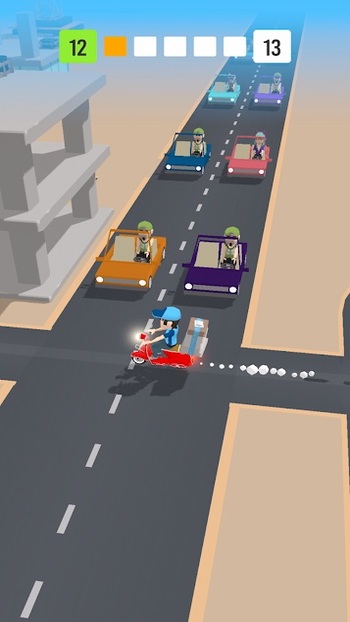 The bike/truck is super-fast, and you have tight schedules, which means that you have to make all the deliveries in time. Always remember that your customers are waiting eagerly for their parcels. Ensure that you find them, deliver the package, and get paid in time!
Unlock New Bikes & Better Features!
You will start with a ruined bike and fewer deliveries. Try hard to make all the deliveries in time and without mistakes to unlock new bikes and better features.
There are different types of bikes, each with unique features. You can try out all of them to find the one that you are most comfortable with. As you make more deliveries, you will also unlock new maps where you can make deliveries.
The game is free but comes with in-app purchases for better bikes, better skins to customize your bike, and other extraordinary features. The in-game purchases cost $3.49 per item.
Challenge Your Creativity!
As earlier mentioned, this game's difficulty increases as you make progress. The number of deliveries increases, and the areas become more challenging to circumnavigate.
Additionally, the parcels keep getting bigger & heavier, making it harder to make the deliveries in time. The increase in their heights and widths make it hard for you to avoid collisions with oncoming vehicles.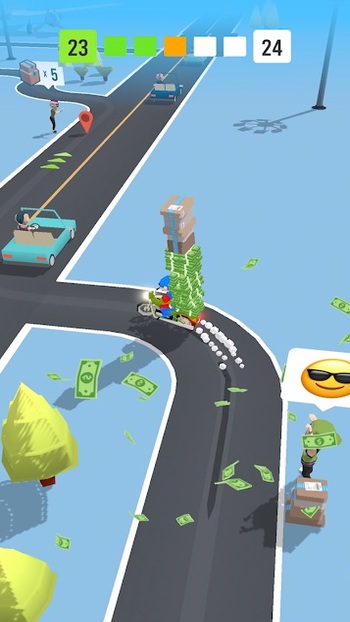 You need to be very creative in how you plan your routes and use all the shortcuts to be able to deliver the parcels on time. The vehicles are also many, and intersections are plenty! If not careful, you can slam oncoming vehicles.
Super Simple Controls
VOODOO developed this game with simple graphics, ideal for 10+ years. It makes picking and dropping off packages fun! These simplistic controls ensure that you earn coins fast, enabling you to level your gameplay.
To play the game, you can long-press your screen to drive and release it to brake your bike/truck. Additionally, you can swerve your phone to move the truck sideways and avoid collisions.
The game has automated cash collection! Immediately after the customers pick up their parcels, they smile and discharge the coins. The controls are smooth and very responsive. You will not have to worry about accidentally stopping when you wanted to swerve!
Highly Realistic 3D Graphics and Sound Systems
The sounds are crystal clear, and the visuals are lifelike! VOODOO used a leading 3D rendering engine to ensure that you have a true-to-life experience as you make deliveries.
The bike/truck also handles realistically. You will feel every bump in the road due to its realistic physics and dynamics. You will also feel the difference in balance when you have a full or empty bike/truck.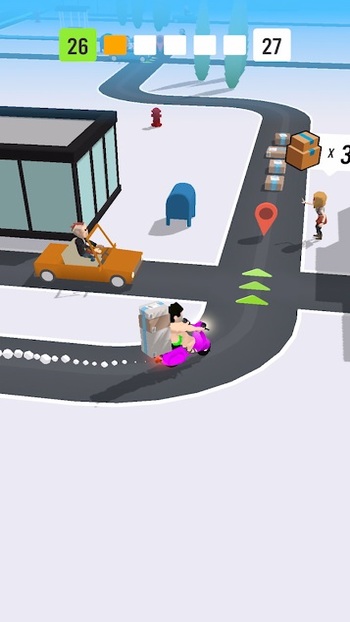 You will have to navigate complex routes full of realistic obstacles. With high parcels that seem to defy gravity, oncoming vehicles in a hurry, and seemingly inhospitable areas, this game has everything you need to remain at the edge of your seat.
Download Deliver It 3D APK for Android
The modified version of Deliver It 3D is available from different third-party app stores. It has the following characteristics:
Deliver It 3D APK Unlimited Money. This game will let you unlock all the motorcycles, including the rare ones. You also get unlimited coins in this game. This means that you can take any assignment with complete confidence!
No Ads. The Deliver It 3D APK download will give you an ad-free game experience. You will not have to endure those pesky pop-ups and video ads that break your concentration.
All the Map Unlocked. In the regular version of the game, you have to complete several levels before you can access new maps. However, in this modified version, all the maps are already unlocked.
All Bugs Fixed. This game is typically very stable. If you've experienced issues with the original version, they are all fixed in this modified version.
To download this improved version, you can follow this comprehensive guide:
Enable Unknown Sources on your device. Go to Settings > Security and check the "Unknown Sources." This setting will allow you to download apps from third-party sources.
Identify a reliable third-party app store. Once you find a reliable platform, click on the Deliver It 3D APK download link to begin the process.
Open your download folder and install the app. Once the installation is complete, you can launch the game and enjoy its awesomeness!
Conclusion
This game is an adrenaline-pumping thrill ride that will keep you entertained for hours. With its simple controls and high replay value, it is easy to see why this game is so popular.
Its APK version takes the game to a whole new level. Its unlimited resources allow you to enjoy the game without worrying about money constraints. It's also ad-free!