Dead Cells APK 3.3.13
Download Dead Cells APK – latest version – Free for Android and embark on an epic adventure as a fighter on a journey to combat evil forces. Can you survive?
Action platformer games are not new. In fact, they're one of the pioneers in the gaming industry. In the mobile gaming industry, one of the first action platformer games include Limbo, Spelunky, Trine and many more. These games are popular because they are fun and they provide adventure like no other. Think of these games as the modern versions of Mario.
Dead Cells is an action platformer game developed by Playdigious. It has over 10,000 downloads in Google Play Store but that's because it's a paid game. However, don't let that misled you into thinking this game isn't fun! In fact, it has everything you can hope for an action platformer. The gameplay is fluid and the graphics are smooth – what more can you ask for? Read on below to know more!
What is Dead Cells?
We all love a good action platformer. Adventure and action games are some of the most overdone genres in mobile gaming. However, if done right, it can become an epic game! That's exactly the case with Dead Cells!
In this epic slash game, the protagonist's body consists of a parasite in the form of a mucus. You're originally a dead warrior but when this mysterious being entered you, you suddenly became full of life again. But don't underestimate your body, you're now a flexible and strong warrior capable of decimating hundreds of villains at once! In this game, you begin with a weapon to kill the bad guys. This is probably second nature to players that are used to these types of games by now.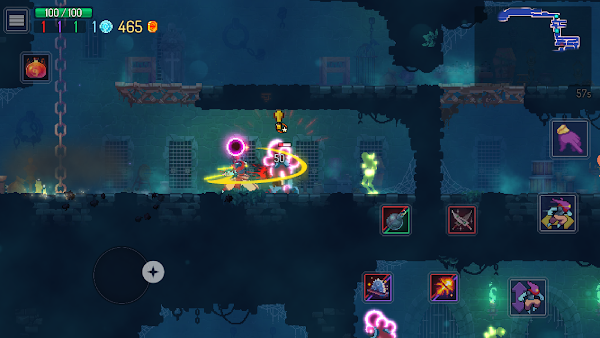 But in this game, you're going to explore dungeons as you upgrade weapons and fight enemies. The map of Dead Cells is huge which is divided into several areas and branches. You can freely explore whichever area you like first without having problems. But as you progress, you'll face stronger monsters. This is why you need to constantly upgrade your weapons and look for stronger ones. But the most enjoyable thing about this game is the easy controls and the fun graphics. Yes this game may be common by now but Dead Cells is a fun one to play!
Features of Dead Cells
Dead Cells isn't just your typical action platformer. The developers did a great job of incorporating a lot of features that are cool. Here are the features:
Dynamic 2D Graphics – At first glance, you'll be attracted by the beautiful graphics of this game. And it is a gem among action platformers! The game blesses your eyes with dynamic 2D action that will never get boring. The dungeon designs are not repetitive. They are designed well with your enjoyment in mind. Most importantly, the characters and the monsters are all you could hope an action platformer to be. Everything is as realistic as possible including the physics of this game although there are magic involved. But all in all, the graphics alone is enough for you to tell that this game is a sight to behold.
Upgrade – As you progress in different stages, you'll find that the enemies become much stronger. Your sword and arrow can no longer kill them in an instant. This is where you need to upgrade your weapons! Or better yet, buy newer and stronger ones that suit your tastes! They cost tons of money but if you can kill tons of monsters, you'd have rewards you can spend.
Game Modes – In this game, you can choose to play 2 modes: Original and Auto-hit. In the original version, you need to fight enemies as you master the controls. You are manually fighting them using your blade or your magic. But in the Auto-Hit mode, you'll just run and you'll automatically hit your opponents in the way. It's your choice on what mode to play.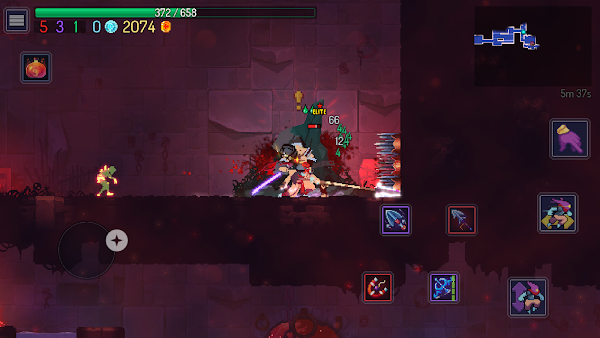 Custom controls – The controls are relatively easy to master in this game. They're just like every other action platformer! You'll find the virtual joystick on the left-hand side and the attack buttons on the right. But if you want to customize the controls, you can freely do so! In Dead Cells, you can adjust the button's position and size and edit other controls. This lets you play the game according to your preference and device!
Plenty of stages – The map of Dead Cells is huge! It's divided into several areas that are sub-divided into branches. It's called Roguevania and it has a lot of stages for you to clear. Each stage becomes increasingly difficult to clear to give players a challenge. But the best thing about this game is that it doesn't force you to finish the game. You are free to go anywhere you wish depending on your mood or your current level. It's entirely up to you whether or not you should clear a stage now or not.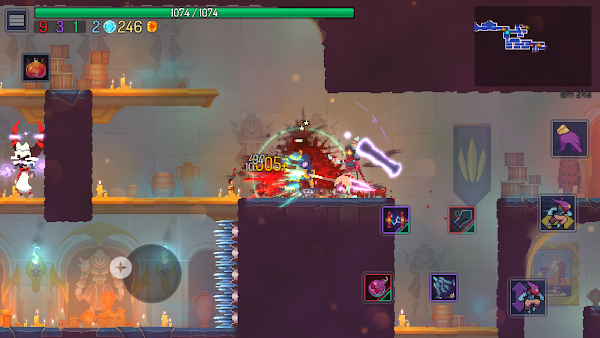 Enjoyable gameplay - Dead Cells is an action platformer game that offers unique gameplay. Once you play this game, you'll likely play it for hours on end. That's how addictive this game is! There are tons of places to explore, weapons to unlock and monsters to kill!
Tips for Playing Dead Cells
Dead Cells isn't your ordinary action platformer. Here are some tips for beginners:
Prioritize general improvements – As you clear dungeons, you are rewarded with cells. At first, it can get confusing as there are a lot of things you can upgrade. But our tip is to focus on general improvements as much as possible. These upgrades will give you healing potions, bonus gold and to sell useless weapons for money.
Take your time – This game doesn't have a timer that you should race against. That's why it's best if you are smart about your movements. Don't rush through levels if you know you're unequipped. Go to every nook and cranny to net more rewards!
Dead Cells APK – Unlimited money
Dead Cells is a unique action platformer that allows you to clear dungeons for insane rewards! Download the unlimited money to become insanely strong instantly!